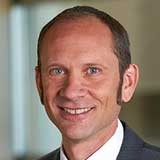 'Running Lines' podcast: On live theatregoing habits
Welcome to episode No. 177 of Running Lines, our regular series of conversations about the Colorado and national theatre communities. Today, DCPA NewsCenter intern Olivia Jansen dives deeper into a report by the National Endowment for the Arts that found Coloradans attend theatre at a higher rate than the national average.
Theatre attendance is still low compared to other entertainment and lesiure activities. John Ekeberg, Executive Director of DCPA Broadway (pictured right), believes that's because Colorado attracts residents and visitors who want to get outside and be active in their communities.
"One of the unique challenges, specifically to Colorado in getting people to the theatre, is there really truly are so many things that people in Colorado do other than theatre that involves being with friends and family," Ekeberg said. But there are advantages theatregoing offers that no other entertainment can.
We went to the 16th Street Mall and asked passersby about their live theatregoing habits to find out if they correlated with the NEA report. Our guests come from as far away as Austria. Find out more about what people had to say on the topic by pushing the "play" button above.
About the Podcaster: Olivia Jansen
DCPA NewsCenter intern Olivia Jansen, right, is a junior at Wartburg College in Waverly, Iowa, where she is studying multimedia journalism. She is from Johnsburg, Ill. Among her previous contributions are profiles of actor Karen Slack, actor Paige Price and DCPA Stage Manager Rachel Ducat. She has also addressed disability with the Phamaly Theatre Company and reported on the DCPA Director of Education's teaching trip to China, among others.
Most recent 'Running Lines' podcasts:
Michael J. Duran and Nick Sugar of BDT Stage's Peter and the Starcatcher
Michael Bouchard of The SantaLand Diaries
Geoffrey Kent and Benjamin Bonenfant of the Colorado Shakespeare Festival
Tony Award winner Annaleigh Ashford
Emma Messenger and Haley Johnson of 'Night, Mother
Margie Lamb of Next to Normal
Jane Lynch of Glee
Cyndi Lauper of Kinky Boots
The cast of Lord of the Flies
Jeremy Palmer, Ed Mills and J Murray d'Armand of Wit's L.A. Diner
Laura Norman and Josh Hartwell of Grounded
Dramaturg Allison Horsley of Animal Crackers
Director Christy Montour-Larson of Shadowlands
https://www.denvercenter.org/wp-content/uploads/2018/04/featured-image-3446.jpg
160
160
John Moore
John Moore
2016-04-06 20:22:00
2016-04-06 20:22:00
'Running Lines' podcast: On live theatregoing habits