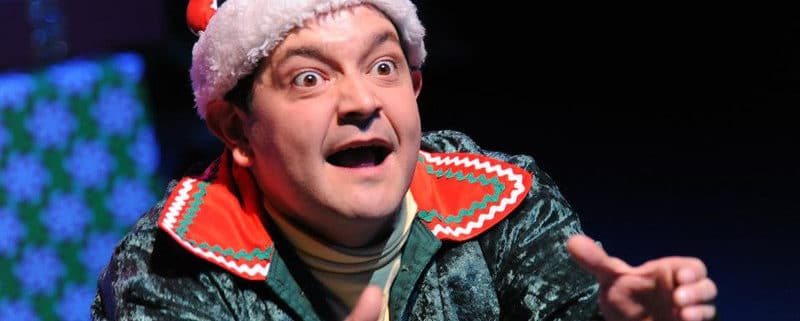 'SantaLand Diaries': Same cynical elf, new magical location
Photo by Michael Ensminger
Denver native Matt Zambrano is returning to the DCPA this month for his third annual go-round playing David Sedaris' famously snarky Macy's elf in the caustic, comic holiday monologue, The SantaLand Diaries.
This year's production will be staged in The Jones, making for the third different venue Zambrano has played Crumpet in the past three years. The Jones features 200 seats and a thrust stage, meaning that, for the first time, there will be audiences on three sides of Zambrano, who recounts in uproarious detail the hilariously humiliating experience of a grown man's descent into Macy's holiday hell.
"The heart of the show is the same, but it will be a different show than people have seen before," Zambrano said. The challenge of staging the story's signature reveal – when the audience finally gets to see the Macy's Department Store's famous SantaLand display, falls to director Stephen Weitz and scenic designer Nick Renaud.
The Boulder Ensemble Theatre Company originated this annual seasonal production of The SantaLand Diaries in 2009 at the Dairy Center for the Arts. It became a co-production with the DCPA last year and was moved to Denver in the Galleria Theatre. This year it is being presented at The Jones as a co-production between BETC and Off-Center @ The Jones, the hipster group that's described as "on the edge of the DCPA."
Zambrano said this year's production will be a bit edgier, accordingly. "I'd say that we are re-focusing on the original source material," said Zambrano, a graduate of Wheat Ridge High School and the DCPA's National Theatre Conservatory masters program.
"I am so happy to be back in a city that I love with people who appreciate good theatre," said Zambrano, who now lives in New York. "I'm especially happy to be performing in The Jones. That's where I saw my first-ever one-person show, Last of the Red Hot Lovers, in 1998."
With this year's production, Zambrano matches his predecessor and friend, frequent DCPA actor and fight director Geoffrey Kent, with three straight seasonal runs as BETC's Crumpet. "Only seven more and I'll match Gary Culig," Zambrano said, referring to a landmark, 10-year run by Culig playing Crumpet at the Bug Theatre.
The SantaLand Diaries opens Nov. 28 at The Jones and runs through Dec. 24. Several performances are already sold out.
Click here to see our full gallery of SantaLand Diaries opening-night photos from last year
​
The SantaLand Diaries ticket information:
When: Nov. 28 through Dec. 24
Where: The Jones, 13th and Arapahoe streets
Showtimes: 8 p.m. Tuesdays through Thursdays; 8 p.m. Fridays; 3 p.m. and 8 p.m. most Saturdays; 3 p.m. and 7 p.m. most Sundays. Also: 3 p.m. and 7 p.m. Dec. 23; and 3 p.m. Dec. 24. Check the web site for exact performances
Tickets: 303-893-4100, or visit the Denver Center's web site
Note: Contains adult subject matter and explicit language. Strobe light used.
Video highlights of Matt Zambrano's 2013 appearance at Page to Stage talking about last year's "The SantaLand Diaries."

https://www.denvercenter.org/wp-content/uploads/2018/04/featured-image-1226.jpg
533
800
John Moore
John Moore
2014-11-13 20:15:00
2014-11-13 20:15:00
'SantaLand Diaries': Same cynical elf, new magical location