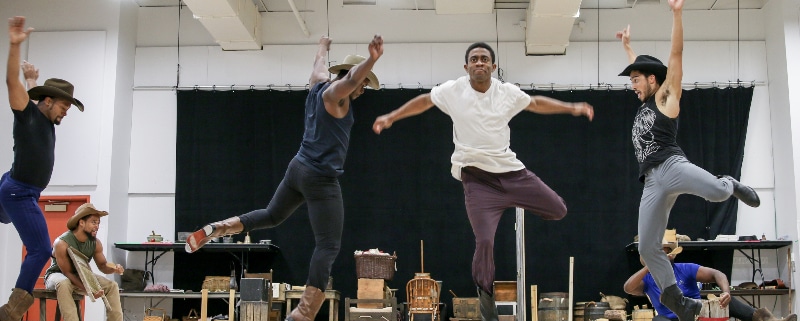 Here, a 'beautiful morning' is about the satisfaction of getting one more day to work and live as a free man
When Chris Coleman formed his unique vision of an all-African American cast for his Theatre Company directorial debut of Oklahoma!, it was rooted in a little-known but significant historical fact: In the years after the Civil War, more than 50 small black townships arose across the Oklahoma Territories. African-Americans in Oklahoma and Indian Territories created their own communities for many reasons, but especially to escape from discrimination and abuse in the deep South and Midwest.

Exploring this historical context has deeply influenced Wilson Chin, the set designer for the Theatre Company's upcoming production of Oklahoma! "The most important thing is that we're setting it in all all African-American town," Chin said. "So every design decision is based on what that means."
For Chin, who also designed sets for The Secret Garden and The Great Leap, African-American history is American history.
"Every chapter in American history has been informed by the legacy of slavery and civil rights and by the way America has interacted and treated African Americans," Chin said. "I wanted to make sure we are not just simply highlighting an interesting footnote in American history but, instead, we're showing how this moment in history was informed by and continues to inform the timeline of American history."
Looking at the characters in the play through this lens gave added depth to their back stories: "These are people who were one generation away from slavery. Aunt Eller, for example, would have been born a slave. They were newly 'freed men of color,' so being American becomes a deeper, more loaded state of being. They were just discovering what it means to be American landowners in the Wild West."
Looking at the physical world of the musical from this perspective meant throwing out some assumptions about this American classic. "Typically Oklahoma! is done with bright colors and beautiful costumes," Chin said. "I think our production will be a little grittier and more real. These are people who work day and night tilling the farm and raising the cattle, so we are leaning into the reality of these people's everyday lives. It's hotter and drier and grayer. When Curly sings, 'Oh, what a beautiful morning,' it's not necessarily about the most beautiful morning — it's about the satisfaction of getting one more day to work and live as a free man."
One of Chin's influences was the movie Mudbound because he liked the way it evoked the hard work it takes to live off the land.
This more realistic approach also applies to the big sky that forms the backdrop to the ranch, which the designer says will look real, visceral and raw: "We're experimenting with doing a cloud drop that is dimensional and real. Having real clouds that can be lit in a dimensional way." So the clouds will have no color; color will come from the lighting alone. There will be scenes in which the sky is fairly gray, as well as super-saturated with reds and yellows and oranges for some of the more fantastical scenes like the "Dream Ballet."
A giant rustic wooden frame outlines the stage. For the first scene, the frame is filled with actual historical newspaper ads from the period announcing the founding of black towns, heralding "An Opportunity for the Colored Man." "It's an artifact of American history," Chin said, "and I think it's an informative, grounded way to enter into the show."
The stage is wide open and uncluttered, with Aunt Eller's simple ranch house looming upstage, which is pushed to the side to make room for Jud's smokehouse and cleared away entirely for the climactic party scene. The focus here will be squarely on the actors, and much of the action will be played close to the audience on the Stage Theatre's prominent thrust. And since this musical is in part a celebration of statehood, the American flag, with all 46 stars, will make a splashy appearance.
"Oklahoma! is set right up at the cusp of statehood, and I think there's a reason for that," Chin said. "I think deep down, this play is about what it means to be American."
Douglas Langworthy is the Literary Director for the DCPA Theatre Company, where he helps manage the theatre's new-play development program.
Oklahoma! Ticket information
Written by: Richard Rodgers (music) and Oscar Hammerstein II (book and lyrics). Based on the play Green Grow the Lilacs by Lynn Riggs. Original Dances by Agnes de Mille
Dates: Sept. 7-Oct. 14 (Opens Sept. 14)
Where: Stage Theatre, Denver Performing Arts Complex
Information: Call 303-893-4100 or BUY ONLINE
Groups: Call 800-641-1222
More Colorado theatre coverage on the DCPA NewsCenter
https://www.denvercenter.org/wp-content/uploads/2018/08/Oklahoma-rehearsal.-Photo-by-John-Moore.jpg
458
800
Douglas Langworthy
Douglas Langworthy
2018-08-27 16:28:35
2018-08-28 09:28:55
Scenic Designer: This 'Oklahoma!' will look real, visceral and raw