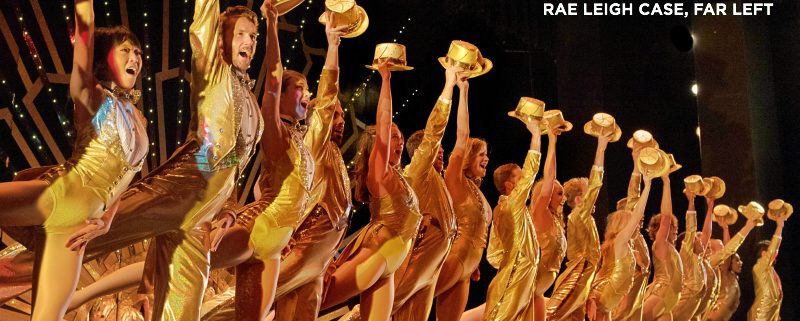 Second time around, actor Rae Leigh Case kisses today hello
Arvada Center's Rae Leigh Case returns to role she first played in 25th anniversary production of 'A Chorus Line' 
A Chorus Line tells the story of how eight dancers are exactingly chosen to perform in a Broadway production over one exhaustive and emotionally invasive audition.
Funny, but 19-year-old Rae Leigh Case was cast to play Connie Wong in the 25th anniversary production of A Chorus Line over dinner.
"Yep. It was a Korean bar-be-cue in New York," she said with a laugh.
Suckers.
OK, so she did go through an audition first. "And I guess I did a good job," she said of her big break in 2004. But get this – it was her first audition. For anything. Ever. She had been in a few local shows as a kid, but she never had to work for it.
This bears repeating: Rae Leigh Case's first audition in her life got her a leading role in the 25th anniversary production of A Chorus Line that originated in Houston.
"Yes, sir," she said matter-of-factly. And at the time, Case was by no means thinking, "God, I hope I get it." Instead, she was thinking, "Great. I get to go to New York and hang out with Uncle Mike."
Uncle Mike is not her blood uncle. Michael Gorman is a former Colorado choreographer who by 2004 was the assistant to Baayork Lee, who was an original Broadway cast member originating the role of Connie, a character based on Lee's own life story. A year after A Chorus Line opened in 1975 and won every prize that can be bestowed upon a musical (including the Pulitzer), creator Michael Bennett turned the whole franchise over to Lee, and overseeing it has been her life's mission ever since.
By 2004, Lee's alter ego, Connie, was known throughout the world as the petite sparkplug from Chinatown who wanted to be a ballerina but stopped growing at 4-foot-10.
And somebody was going to have to play her. Gorman knew who it should be.
Gorman had known Case since she was a 5-month-old baby adopted from Korea by Laurie Klapperich, who has designed costumes for more than 200 local theatrical productions over the past three decades. "He called me out of the blue and said, 'Hey, you're a tiny Asian, and you are a dancer – is this something you would be interested in?' Case said. And she casually replied … "Sure, what the hell?" After all, it would be the first time she ever had a hotel room to herself.
After the audition, Lee and Gorman invited Case to join them for dinner. There was some table talk about who might play some of the other roles, but there was never a doubt that Case would play Connie.
"I was a tiny Asian after all," she said with a laugh.
Fast-forward 13 years and Case, now 32, is playing Connie again in a lauded production of A Chorus Line that runs through Sunday at the Arvada Center for the Arts and Humanities. It is directed by Rod Lansberry, otherwise known to Case as Uncle Rod.
"My second day in America after my parents brought me over from Korea. I was at the Arvada Center sitting in Rod's lap," Case said. "By then my mother was the resident costume designer there, so I have spent many a time in Rod's lap over the years."
Case was cast in Boulder's Dinner Theatre's The King & I when she was 8 (without an audition). She admits it all came a little easy for her, without a whole lot of hustle.
"I didn't have a care in the world when Michael called me," she said. "I just happened to be an OK dancer and was in the right place at the right time."
And soon Case was in the presence of Baayork Lee.
Now, when it comes to A Chorus Line, Bennett was, is and always will be . . . the "One." But it was Lee, who herself made her Broadway debut at age 5 in The King & I, who was by Bennett's side from the time they took dancing lessons together at age 12 to his death in 1987. And since then, it has been Lee working to preserve both his legacy and that of the longest-running American musical in Broadway history.
In Houston, where the anniversary tour originated in 2004, Case got a first-hand look at the woman she would essentially play on the road. So did Alicia Albright, currently in Denver as a member of the company introducing the world to Disney's Broadway-bound musical Frozen at the Buell Theatre. Thirteen years ago, Albright was Case's castmate, and one of Lee's chosen dance captains.
"Baayork very much has that hardcore ballet mistress mentality, and I dig that," Case said. "She's really intense and critical – in the best way. Her key phrase was something like, 'Dig nails!' and she just shouts it at you. She left no stone unturned, and I loved it. There was always a reason for everything, like why you rotate your elbow in a very specific way during the song 'One.' She even has a specifically designed warm-up for every show that she teaches the dance captains to pass on."
If Case only knew then what she fully understands now about Lee, she would have been as nervous playing Connie in 2004 as she truly is now in 2017. The script for A Chorus Line was derived from extensive interviews by Bennett and others with real-life dancers, including Lee. But Lee was the only original cast member who was hired to play her own story in the original Broadway production. That only adds to the self-imposed pressure the more enlightened Case puts on herself now.
"I am playing a person who is alive and well, so I feel a daily responsibility to not (bleep) up," she said.
The challenge, she said, is that Connie is cheerful, funny and liked by everyone. "And in truth, I'm a little more like Sheila in real life," Case said of the sassy, sexy and  aging dancer with … a bit of an attitude. I am constantly reminding myself that Connie is Baayork through and through, and to leave myself out of it."
Now 32 and happily married to Aurora Fox Technical Director Brandon Case, Rae Leigh Case brings a whole new level of understanding – to her Arvada Center experience.
"I hate to admit this, but back then, I didn't even understand what the song 'What I Did for Love' even meant," she said. Because I didn't love it yet. Not really. I wasn't really sure that I wanted this life until my later 20s. This career is so much more important to me now because of what I have put into it, and what my family has put up with, and everything that goes along with it.
All that 'What I Did for Love' nonsense? Now it's real.
John Moore was named one of the 12 most influential theater critics in the U.S. by American Theatre Magazine in 2011. He has since taken a groundbreaking position as the Denver Center's Senior Arts Journalist.

A Chorus Line: Ticket information:
• Sept. 12-Oct. 1
• Arvada Center, 6901 Wadsworth Blvd.
• Call 720-898-7200 or go to arvadacenter.com
• Conceived and originally directed and choreographed by Michael Bennett
• Book by James Kirkwood and Nicholas Dante
• Music by Marvin Hamlisch and Edward Kleban
Video bonus: Matthew Dailey of the Arvada Center's A Chorus Line:

https://www.denvercenter.org/wp-content/uploads/2018/04/featured-image-5198.jpg
649
800
John Moore, Senior Arts Journalist
John Moore, Senior Arts Journalist
2017-09-27 22:28:00
2019-07-31 12:39:46
Second time around, actor Rae Leigh Case kisses today hello