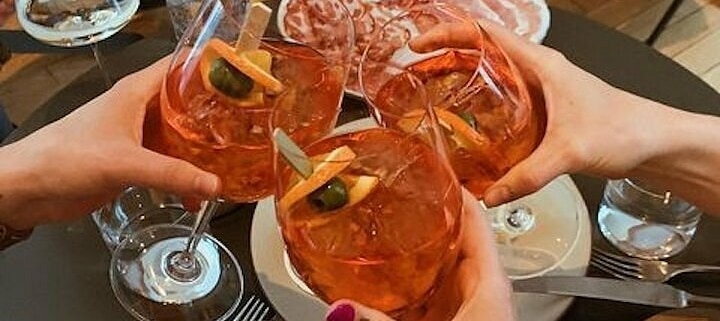 Sip, Step, Repeat: Grownup drinks and walking tours in Denver
Take advantage of the lingering warm weather by scheduling a walking tour that includes some of the Mile High City's best wines and cocktails. What better way to capture Denver's love of the outdoors with its robust nightlife scene? Double your fun when catch an early matinee before capping it off with your evening libations.
Delicious Denver Food Tours has a two-hour tour that starts at Union Station with butter pecan old fashioned — almost like a combo bite and sip? — then heads to the Oxford Hotel and ends at the Dairy Block. Although it's only about two blocks of walking, you'll be well nourished with heavy appetizers like flatbreads and sliders, while staying hydrated with craft cocktails. Note: available 4:30-6:30pm on Wednesday-Friday and Sunday
If you prefer wine, Delicious Denver Food Tours reserves Saturday evenings for a special tasting of eight wines and six food tastings through downtown and into the LoDo neighborhood. The tour starts with a classic French onion soup at a European bistro and a paired wine, and then it's a short walk to Union Station for more wines and small plates, before you end with a perfect dessert wine and locally-made chocolates at the Dairy Block. The tour includes both red and white wines.
The WeVenture Denver Cocktail Tour promises three drinks and a small appetizer and lots of outdoor walking time while learning about the city's Prohibition-era drinks and today's speakeasies. These tours are typically available Wednesday-Sunday and last two-and-a-half hours. Note: available at 4pm daily. Comfortable walking shoes and a light jacket are recommended attire.
Mile High Wine Tours has an array of wine tastings and pairings to choose from, but to create your own experience, check out their private group options (think birthday party, bachelorette party, or corporate event). If you're staying downtown, you might be able to walk back to your hotel from Wild Women Wine or Corridor 44. Note: some of these tours are lunchtime, others in the evening.
Can't choose just one? Try a different tour each week and see what different information about Denver's bar history you can learn and sample an even bigger variety of wine and cocktails.
Or, plan ahead for the Colorado Wine Walk, which is hosted by Blanchard Family Wines and takes place annually in Denver and represents wineries from around the state. There is also the Southlands Wine Walk in Aurora, put on by the Wine Experience Café & World Cellar in September.
For those who prefer a sudsy beverage, there are tours for you too!
The Denver Microbrew Tour is a 1.5-mile walk through the Lower Downtown (LoDo) and Ballpark neighborhoods with four stops that include Wynkoop Brewing Company and Rock Bottom Restaurant and Brewery. Your tour guides will take you through the history of brewing beer in Denver with glimpses into beer being made.  Note: Friday-Sunday at 3:15pm, Saturdays at noon.
Also check out the Denver Beer Trail with dozens of participating breweries: just download a map and create your own walking tour.
Mindy Sink is the author of Walking Denver (Wilderness Press), which includes 32 original and free walking tours that educate you about the city's history, culture, and latest food and drink stops along each route.
https://www.denvercenter.org/wp-content/uploads/2022/09/caption.jpeg
480
720
Mindy Sink
Mindy Sink
2022-09-15 12:43:22
2022-09-23 08:03:39
Sip, Step, Repeat: Grownup drinks and walking tours in Denver