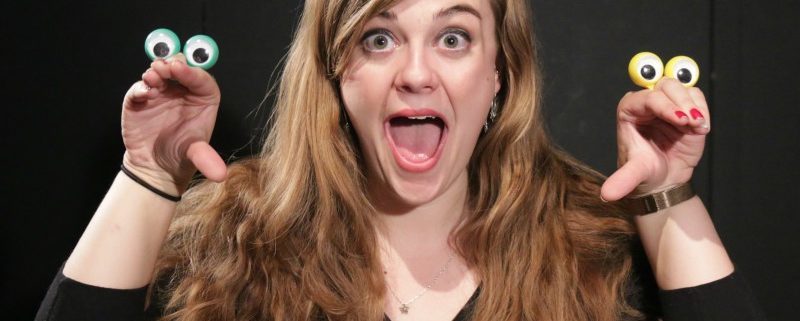 Slamming puppeteering myths on eve of Denver's first Puppet Slam
Editor's Note: The DCPA NewsCenter offers regular guest columns from a variety of local and national voices covering a wide range of theatre topics. To submit a proposed guest column, email your name and proposed topic to jmoore@dcpa.org.


Saturday's Rocky Mountain Puppet Slam wants you to marionette on the idea of this budding adult art form
By Katy Williams
For the DCPA NewsCenter
"Puppets? I thought those were just for kids!"
"A puppeteer? You mean like creepy dolls in basements?"
"You probably shouldn't tell people about your puppet hobby on first dates … It might scare them off."
These are actual quotes I've heard when I talk about my job as a puppeteer. I'm here to prove those statements wrong.
Being a puppeteer is one of the coolest and most magical jobs out there. While I have been known to house a life-size cow puppet in my car for days on end (storage is a real struggle when you're professional puppeteer), it's all made worth it when I get to create life out of bits of foam and fabric. Or when I get to make people's fantasies a reality when they meet my life-size Pegasus puppet and tell me they thought it was real. I get create art that comes to life.
Puppetry, while ancient in its roots, is a continually growing art form that has been steadily rising in prominence in the American theatre for the past couple of decades. Puppetry  has been a central part of landmark Broadway productions such as The Lion King, War Horse and Angels in America.
Far from being just for kids, puppetry is capable of deep expression and poetic exploration. Puppetry arguably requires the most imagination above any other storytelling form. Perhaps kids gravitate more easily to puppets because they innately have freer imaginations than adults, but one does not have to be a child to suspend disbelief and embrace a child-like sense of wonder. Some adults seem scared of the art form. This Saturday's Rocky Mountain Puppet Slam seeks to change that.
When I saw my first puppet slam at the National Puppetry Festival (that's right, puppetry festivals are a thing), I was inspired, but also frustrated that Colorado was somewhat lacking in puppetry arts in general. So I made it my mission to bring more puppetry to my home state. I vowed to perform more puppetry myself, to find more local puppeteers, and to make puppetry better known within the Denver theatre community.
I want local theatre companies to realize puppetry is a real option for their shows, even when it's not obvious like Avenue Q or Little Shop of Horrors. Puppets do not have to be described in a script or have eyes. They can be created out of objects as simple as a scarf or a newspaper. You can have a life-size horse onstage (War Horse), or a crocodile made of forks and knives straight from a child's imagination (Peter Pan). By bringing inanimate objects to life, theatre practitioners can invigorate even the most traditional theatre stories.
I started to reach out to the few puppeteers I knew in Colorado, and soon found many others creeping out of the woodwork. Before I knew it, I had a large group of Rocky Mountain puppeteers I never knew existed. Now was the time to try out a puppet slam.
So what is a puppet slam?
It's a night of curated short-form puppetry for adults. It's a variety-style show that brings puppetry artists together to network and introduce audiences to the vast arrays of techniques and styles. You might see a comedic and raunchy hand-puppet piece; a dramatic and moving marionette; a life-size animal — you just never know. Like poetry slams where professionals and budding enthusiasts alike share their work, puppet slams are the perfect place for artists looking for exposure and the chance to meet others in the field.
This first Rocky Mountain Puppet Slam will also feature a "Puppet Lab" before and after the show where audience members can experience a unique behind-the-scenes interaction with the puppeteers and see the mechanics of the puppets. Unlike magic, puppeteers love to share their secrets.
While a puppet slam for kids is planned for later in 2018, this edition of the Rocky Mountain Puppet Slam is geared specifically toward adults. And the timing is perfect, with World Puppetry Day coming March 21.
Moving forward, we are planning to present at least three slams a year.
The Rocky Mountain Puppet Slam
6:30 p.m. Saturday, March 24
Syntax Physic Opera, 554 S. Broadway
Tickets: Pay what you can by donation at the door
For more information, go to the Rocky Mountain Puppet Slam Facebook page or email katy@katywilliamsdesign.com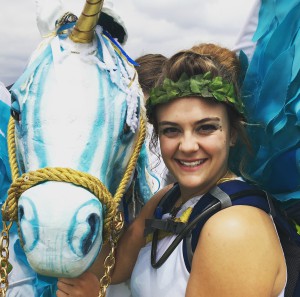 About the author:

Katy Williams is a puppet, makeup, and props designer based in Denver. Most recently she consulted on Little Shop of Horrors at the University of Denver, created puppets for Into the Woods at Northglenn Youth Theatre, was a featured makeup artist at Denver Zombie Crawl, and was a puppeteer in People's Theatre of Denver's Death Goes on Strike. While studying at DU, she created four life-size puppets for her original show The Myth of Pegasus. During her time with the Education department at Portland Stage Company in Maine, she created three 4-foot long lobster puppets for shows and children's museums. Find her work at katywilliamsdesign.com. (Photo by Katie Walker.)
https://www.denvercenter.org/wp-content/uploads/2018/04/featured-image-5797.jpg
571
800
John Moore
John Moore
2018-03-19 15:14:00
2019-12-23 09:47:25
Slamming puppeteering myths on eve of Denver's first Puppet Slam