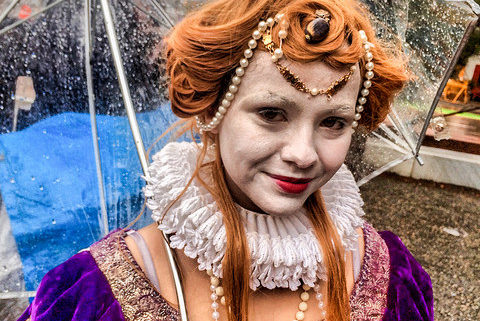 Soggy skies can't shake 5,000 students' Shakespeare spirit
Photos by John Moore for the DCPA NewsCenter. To see more, click the forward arrow on the image above. Photos may be downloaded and recirculated with source attribution. Click on any photo to download.

"April hath put a spirit of youth in everything." – William Shakespeare, Sonnet 98

Michael Berger grew up with a stutter. On Friday, the high-school senior stood ebulliently in the rain and welcomed thousands to the 32nd annual Denver Public Schools Shakespeare Festival.
"This is the greatest honor I have ever had in my theatre career," said Berger, a senior at Denver School of the Arts who was chosen from hundreds of DPS students to perform as none other than the Bard himself at the festival's opening ceremonies in Skyline Park.
"My first performance as an actor was here. It was in the fourth grade, I was 8 or 9, and I performed Romeo and Juliet, Act 3, Scene 1," he said definitively. "Because of that, I was inspired to continue in the theatre. And it was through Shakespeare that I learned how to speak clearly. So this is very much full circle for me."
The rain-snow mix didn't dampen the students' spirits, but the chill surely put the shake in the Shakespeare as nearly 5,000 chilly students from 80 schools in grades kindergarten through high school braved the cold to perform more than 640 short scenes, dances, soliloquies and sonnets on stages in and around the Denver Performing Arts Complex while bundled in an array of colorful costumes that were often covered in parkas.

DPS Shakespeare Festival opening ceremonies: Michael Berger as Shakespeare, Vicky Serdyuk as Queen Elizabeth I, and DCPA CEO Scott Shiller. Photo by John Moore for the DCPA NewsCenter.
Denver Center or the Performing Arts CEO Scott Shiller served as Grand Marshall for the three-block opening parade alongside Berger and George Washington High School senior Vicky Serdyuk, who won the annual honor of playing Queen Elizabeth I at the oldest and largest student Shakespeare festival in the country.
"Shakespeare was the first live performance I ever saw – and I was in daycare," Serdyuk said with a laugh. "I remember that the actors talked funny, but that they made it sound so good."
Shiller told the students that by participating in arts-education programs like the Shakespeare Festival, studies indicate they will be more likely to graduate, enroll in college, contribute meaningfully to civic life and volunteer. "Plus, children who are exposed to live performance are 165 percent more likely to receive a college degree," he said.
Gillian McNally, who served as a festival adjudicator and general encourager, was undaunted by the cold. Despite the gloomy weather, she declared Friday to be the most beautiful day of the year.
"This might be the only time most of these students ever perform on a stage in their whole lives – and we celebrate that," said McNally, an Associate Professor of Theatre Education at the University of Northern Colorado in Greeley. "Just look at these wonderful, handmade costumes," she added, indicating young students from the DaVinci Academy dressed as a human forest. "That tells me teachers collaborated with students and their parents, and they made something together. That's what this is all about: We are making something together."
More than half of all students enrolled in Denver Public Schools speak English as a second language. Serdyuk says it makes sense that many DPS English teachers use Shakespeare as a language-learning tool in the classroom. "Shakespeare's English follows a lot of the same rules as many of these students' first languages," she said.
Berger serves as student teacher for Denison Montessori School's Shakespeare program. He says Shakespeare is less intimidating for students whose native language isn't English because they are already learning one foreign language – so what's another? "It's neat seeing kids learn to speak Shakespeare while they are learning English at the same time," Berger said.
Christine Gonzalez, who teaches kindergarten through 6th grade students at Denison, said Berger has been a big help to her students. "He keeps it light and fun and inspirational," she said. "It's easier to learn when you make it fun."
Mary Louise Lee, an accomplished performer and also the First Lady of Denver, addressed the crowd about the importance of arts education. "I am a proud product of the Denver Public Schools," said the graduate of Thomas Jefferson High School. Lee, wife of Mayor Michael B. Hancock, has made restoring arts-education programs in schools her top priority since founding her nonprofit, Bringing Back the Arts.
The DPS Shakespeare Festival draws students of all ages and experience levels. While hundreds were performing for the first time Friday, Denver School of the Arts senior Jimmy Bruenger was performing in his seventh DPS Festival.
"I remember feeling nervous my first year because I was performing Shakespeare for the first time," said Bruenger, who was born in Mexico. "But I looked around and I saw younger kids who were only 6 or 7 years old and they were completely into it. That gave me confidence that I could do it, too."
Seven years later, Bruenger is not only a recent winner of a True West Award and Denver Mayor's Award for the Arts, but also a full scholarship to the University of Oklahoma from the Daniels Fund. After he performed in his final Shakespeare Festival on Friday, he was off to star in the opening of a world premiere musical about the Armenian genocide called I Am Alive.
This is the first year the DCPA served as a full producing partner in the DPS Festival. The DCPA's Education Department offered up its Teaching Artists to assist all 80 participating schools in their preparations for Friday.
"We are proud to partner alongside the largest school district in the state," Shiller said. "Colorado's commitment to arts integration outpaces the national average in nearly every category. In fact, 64 percent of our high schools offer theatre education, just like our own Shakespeare Festival."
Friday's crowd was peppered with prominent figures in the local theatre community. Susan Lyles, founder of the city's only company dedicated to female playwrights (And Toto Too) was on hand to root on her son, Harrison Lyles-Smith, who played a shepherd with a wicked death scene in As You Like It.
Lyles said Harrison and his 5th-grade classmates at Steck Elementary School have been practicing for two hours every Friday since February. "It has given him self-confidence and a fearlessness when it comes to Shakespeare that a lot of adults don't have," she said.
Sara McPherson Horle, Executive Producer of The Catamounts Theatre Company of Boulder, happened to have a nephew in that same class at Steck. For her, one of the great rewards young Samuel Davis has gotten out of the experience is the lost art of listening.
"You have to be self-disciplined to be an actor at any age," Horle said. "Learning to listen is a huge thing, but especially at this age."
McNally said the emphasis of the festival is not on producing professional-quality performances – although many of the older students come awfully close. What the judges want more to encourage is passion, which leads to the development of useful life skills such as public speaking and boosted self-esteem.
More Colorado theatre coverage on the DCPA NewsCenter

But occasionally there are performances that make even the Shakespeare purists turn their heads. DCPA Head of Acting Timothy McCracken was particularly impressed with the 3rd through 5th graders from Isabella Bird, a "heart-centered" community school where teacher Rebecca Sage says students are all made to feel valued for their own specific, individual talents.
"The general clarity of their storytelling was astounding, and their delivery were astounding," McCracken said after watching Sage's students perform a Cinco de Mayo-informed take on A Midsummer Night's Dream in the Ricketson Theatre. "That was an amazing throughline for elementary-school actors."
Sage said her approach to the project was not unlike the approach of any director who takes on a full-fledged theatrical production: "It all starts with table work," she said. That means working through the script with the students line-by-line, making sure they understand the meaning, the innuendo and most important, the comedy of the words they speak.
Sage's students fully bought into the project, she said, in part because Friday's festival was only the start of their reward. Next week, the students will perform the full story back at the school for parents and friends. Sage said her students have been putting in half-mornings two days a week since January.
"It was hugely gratifying for them to put in the work, both at home and at school, and then to get that kind of validation and respect once they got here today," she said. "This whole experience is a huge incentive for them to continue doing things that challenge them and take them to their edge."
DCPA Teaching Artists John Hauser and Jenna Moll Reyes starred in Shakespeare in the Parking Lot's 'Romeo and Juliet' at the DPS Shakespeare Festival. Photo by John Moore for the DCPA NewsCenter.
Also new this year was the evening Shakespeare After-Fest program, when arts organizations from across Denver came together to continue the celebration of the Bard. The program included music from DeVotchKa's Tom Hagerman and the Colorado Symphony Orchestra, mini-performances from The Catamounts, The Black Actors Guild, DCPA's Off-Center, Stories on Stage and PHAMALY. DCPA Education also performed its hour-long production of Romeo and Juliet from its outreach program called Shakespeare in the Parking Lot.
The First Lady of Denver left the kids with a Shakespeare quote whose authorship has been disputed over time – but its meaning was indubitably apropos for Friday's occasion:
"The meaning of your life is to find your gift," Lee told the gathered crowd. "The purpose of your life is to give it away."
John Moore was named one of the 12 most influential theater critics in the U.S by American Theatre Magazine in 2011. He has since taken a groundbreaking position as the Denver Center's Senior Arts Journalist.
Our 2015 DPS Shakespeare Festival coverage

Our 2014 DPS Shakespeare Festival coverage

https://www.denvercenter.org/wp-content/uploads/2018/04/featured-image-3396.jpg
640
480
John Moore
John Moore
2016-04-29 19:13:00
2016-04-29 19:13:00
Soggy skies can't shake 5,000 students' Shakespeare spirit