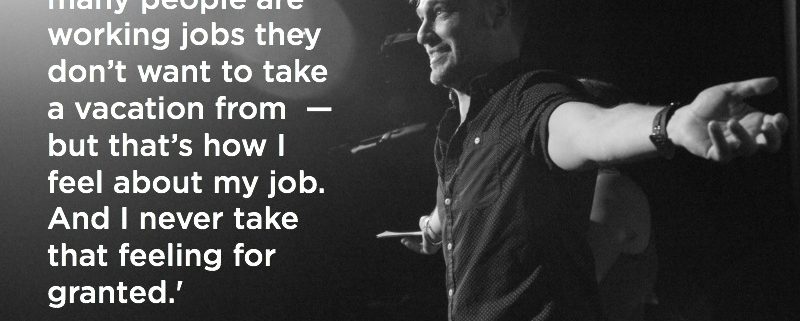 Steven J. Burge following in God's footsteps

Steven J. Burge is shown co-hosting the Colorado Theatre Guild's Henry Awards in July. Photo by Brian Landis Folkins.
The Denver Center for the Performing Arts announced today that award-winning Denver actor Steven J. Burge will assume the role of God in the comedy An Act of God when Broadway star Wesley Taylor's contract ends on Jan. 22. Burge will assume the supreme role in the Garner Galleria Theatre starting Jan. 24.
God takes human form in An Act of God, the "sinfully funny" and critically acclaimed new play direct from Broadway. It opens with the King of the Universe tackling His greatest challenge yet: The Mile High City. He's finally arrived to set the record straight about the commandments and other quotes that have been attributed to Him over time … and He's not holding back. The script is based on the critically acclaimed book written by God (otherwise known as "The Bible") and transcribed by David Javerbaum, a 13-time Emmy Award-winner for his work as a head writer and executive producer for "The Daily Show with Jon Stewart."
Since making his Colorado debut in 2003 as Seymour in Little Shop of Horrors, Burge has appeared on stages throughout the Denver metro area including the Denver Center, Curious Theatre, Arvada Center, Lannie's Clocktower Cabaret and many others. He is also the co-host of the Colorado Theatre Guild's Henry Awards.
Taylor, a Broadway star and fan favorite in the NBC-TV show "Smash," will play God as scheduled through Jan. 24. Westword's Juliet Wittman said of Taylor's performance: "He is so charming, sometimes puckish, sometimes tough … and has such magnificent abs." Taylor has been seen on Broadway in Rock of Ages and The Addams Family. On Nov. 14, he presented a star-studded evening of own short plays in New York City, raising thousands of dollars for charity.
Burge has been serving in the understudy roles of God and Michael. Local auditions to understudy for these roles will take place from 10 a.m to 2 p.m. on Wednesday, Dec. 21. For more information visit Denvercenter.org/about-us/careers.
The cast of An Act of God also includes Steven Cole Hughes as the angel Michael and Erik Sandvold as the angel Gabriel. The director is Geoffrey Kent. The creative team includes the DCPA's Lisa M. Orzolek (scenic design), Meghan Anderson Doyle (costume design) and Charles R. MacLeod (lighting design). Making his DCPA Broadway/Cabaret sound design debut is Anson Nicholson.
The play premiered on Broadway on May 7, 2015, and ran for a limited run with God occupying the body of Jim Parsons ("The Big Bang Theory"). The play returned to Broadway June 6, 2016, for another limited engagement starring Sean Hayes ("Will and Grace"). This production in Denver is one of the first regional productions of the hit comedy.
MEET STEVEN J. BURGE
God starting Jan. 24, understudy God/Michael through Jan. 22

The award winning character actor landed in Denver following national tours of … And Then They Came for Me and A Christmas Carol. He was the recipient of The Denver Post Ovation Award for Best Solo Performance in Fully Committed (Aurora Fox), a one-man show in which Steven portrayed more than 30 different characters. The piece also earned him a Henry Award nomination, Westword's Best of Denver Award and an Out Front Colorado Marlowe Award. Steven has also been recognized for his work in Contrived Ending (Buntport Theater) and Dog Sees God: Confessions of a Teenage Blockhead (Avenue Theater).

Hometown: Martelle, Iowa. It's a cute little farm town with fewer than 300 people in it.
Training: I have a Bachelor's Degree from Cornell College in Mount Vernon, Iowa
How do we follow you on social media? I don't do the Twitter or the Instagram. I'm firmly and archaically planted in the land of the Facebook. Friend me here! <3
What was the role that changed your life? In 2003, a tour I was doing ended and I came to Denver to take a three-month contract playing Seymour in Little Shop of Horrors. The plan was for me to do the show and hit the road again. Colorado was so beautiful, however, and the people were so great, that I just kept postponing my departure date. I kept forgetting to leave. Now, 13 years later, I consider myself a proud Denverite. I guess that role didn't just change my life … it sort of created it.
Why are you an actor? Because I would do it even if I weren't getting paid to do it. Sometimes I feel like I'm pulling a fast one on the universe when I cash a paycheck from a theatre company. I love being in a room with other creative, passionate, interesting people. I look forward to rehearsals. I look forward to performances. And I'm bummed out on days off and closing nights. I don't know how many people out there are working jobs they don't want to take a vacation from — my guess is, not many. But that's how I feel about my job. And I never take that feeling for granted.
What would you be doing if you weren't an actor: I'd like to find a job where I got paid to sit down and listen to people tell me their stories. I think people are fascinating and I would love to learn about as many of them as possible. Is that a job? If it is, and you're reading this and you're the boss of that job … invite me in for an interview.
Ideal scene partner: Denver is known for its sports teams and outdoorsy activities. That's for certain. But we are also home to a thriving artistic community. I have met and worked with some of the best, most inspiring, most creative actors anywhere, right here in Denver. It might sound like a cop-out, but honestly? I'd love to roll up my sleeves and work with any one of Denver's own resident performers, any day. (But if that answer isn't good enough, then I'll say Elvira, Mistress of the Dark. She cracks me up.
Why does An Act of God matter? Everybody believes in something, right? You either believe there is something bigger than us out there somewhere, or you believe there is not something bigger than us out there somewhere. I think An Act of God does a great job of creating a space for everyone — regardless of spirituality or religion or lack thereof — to explore those beliefs in a safe and often hilarious place.
What do you hope the audience gets out of seeing it? I hope it provides a few good belly laughs, as well as a few quiet moments to contemplate. And if there is a lively discussion or spirited debate on the car ride, home, all the better. That is when theatre is doing what theatre is meant to do.

Finish this sentence: "All I want is …"
"… All I want is a room somewhere,
Far away from the cold night air.
With one enormous chair,
Aow, wouldn't it be loverly?"

That's from My Fair Lady. Yes, I am a #MusicalTheatreGeek


An Act of God: Ticket information


• The story: God takes human form in this critically acclaimed new comedy direct from Broadway. He's finally arrived to set the record straight.
• Through March 12, 2017
• Garner-Galleria Theatre
• Tickets: 303-893-4100 or BUY ONLINE
• Groups: Call 303-446-4829
(Please be advised that the DenverCenter.org is the ONLY authorized online ticket provider for the Denver engagement of An Act of God.)
Selected Previous NewsCenter coverage:
Meet Wesley Taylor, An Act of God
Meet Steven Cole Hughes, An Act of God
Meet Erik Sandvold, An Act of God
Casting announced for An Act of God
A day in the busy life of Director Geoffrey Kent
Interview: Geoffrey Kent on a laugh-a-minute God
Geoffrey Kent's 2015 True West Award



Follow the DCPA on social media @DenverCenter.
https://www.denvercenter.org/wp-content/uploads/2018/04/featured-image-3550.jpg
519
800
John Moore
John Moore
2016-12-02 13:11:00
2016-12-02 13:11:00
Steven J. Burge following in God's footsteps