Students 'Come From Away' to a new feeling of pure optimism
Pomona High School students says Come From Away actors helped students see beyond the horror of terrorism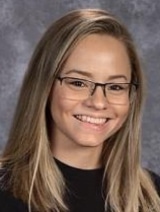 Editor's note: Before the Denver arrival of the national touring production of 'Come From Away' last November, DCPA Education Teaching Artist Andre' Rodriguez engaged with Barbara Taylor's Pomona High School journalism students in learning activities to prepare them for seeing the performance at the Buell Theatre. It was all part of the musical's 'I Am an Islander' project, which connects classrooms in the United States with classrooms in Newfoundland, culminating in direct interactions through digital streaming. The Pomona students also happened to attend the show on World Kindness Day, and so, in response to musical's 'Come From Kindness Challenge,' they used found objects such as bottles, cardboard and string to create an original art piece that captured the essence of their collective identity. They also issued kindness video challenges to other Colorado high schoolers. Here, Pomona senior Mary Mansfield (pictured at right) writes about her experience at the Denver Center.
Sitting in an open room on a chair surrounded by my fellow classmates, I felt my hands become sweaty in my lap. Before me stood James Earl Jones II, who brought such life and vibrancy to the room. But suddenly that energy changed when we remembered the very event that made the stellar and life-changing Broadway musical Come From Away possible. He told of that fateful day, September 11, 2001, through his perspective, and tears were not absent from many eyes. Regardless of the fact that those of us listening were either very young or not yet born at the time of the terrorist attack, his experience of one of the worst days of his life effectively changed ours.
We were given an incredible story, and with that story we had the chance to make something out of it. While it may have incited fear, it more importantly elicited a strong sense of hope and the will to be conscientious of what is right in the world. Come From Away is not only a reminder of past terrors, but an implication of the good humankind is capable of in times of crisis.
We had the opportunity to meet some cast members prior to viewing the extraordinary show. Having learned the back story and what this play meant to the actors, that they were gracious enough to deliver this message to the world was immensely powerful – and only made the entire experience that much more impressive.
It is easy to focus on past events, but it proves onerous to bring light to what those past events have brought into the present. America as a whole was morphed into a different nation after 9/11, and generations to follow will continue to be affected by itsf aftermath. The earliest memories many young millennials have of September 11th are whispering teachers, classroom televisions, early dismissal and confusion. Now, when those attributes are put to practice today it is the regrettable truth that it all feels so familiar. Fear is familiar.
Come From Away demonstrates how that same fear can be sated by welcoming arms and compassion. This story taught the ability to trust others among distress and the unknown, and brought to the attention of thousands that differences aren't nearly as important as camaraderie. The children of 9/11 are today's young professionals and parents. They've come of age during the "War on Terror," which skyrocketed student debt and created a new age of accessible information. Innocence was lost, and replacing it was a firm sense of maturity. Young Americans grew up too fast. They were given the role of the hero generation, brought into a time of disarray when the nation needed fixing. Something needed to be changed and fresh minds were given the dilemma of what.
Family also became more important. Watching the actors on stage play characters who lose loved ones and imagining what that kind of pain that would feel like is only intensified by the fact that you can't fathom the reality of it. That aching pain caused by the pure horror of a familial loss traveled down my face in the form of tears as actor Danielle K. Thomas sang about her loss; it felt as if it were my own.
Now I stand among thousands in the Buell Theatre, facing the stage where history is re-enacted each night. Instead of sweaty hands and nervous jitters, my heart beats with a surge of hope. The show ends with a cacophonous uproar, everyone is on their feet celebrating love, empathy and the pure togetherness of the human race. Suddenly a new feeling resonates within me. Instead of the fear that had gripped my heart with an iron fist, it is an overwhelming sense of pure optimism that wraps me in a blanket of security. Finally, there is something to look forward to in this world: The rebuilding of it.
Mary Mansfield is a senior at Pomona High School who participates in Student Council, National Honor Society, Pomona Arts and Humanities, Journalism, Cross Country and Track and Field. She is a triplet and a future dentist.
Photo gallery:
Go to our complete gallery of Come From Away workshop photos
Video bonus: Pomona High School on World Kindness Day challenge
Pomona High School students participated in a World Kindness Day challenge as part of their theatregoing experience on the very day they were attending the national touring production of 'Come From Away' at the Denver Center. Here are two examples of the messages they sent out into the world that day.
https://www.denvercenter.org/wp-content/uploads/2019/03/800-Come-From-Away.-Pomona.-Photo-by-John-Moore.jpg
436
800
Mary Mansfield
Mary Mansfield
2019-03-20 11:25:58
2019-03-24 08:58:53
Students 'Come From Away' to a new feeling of pure optimism