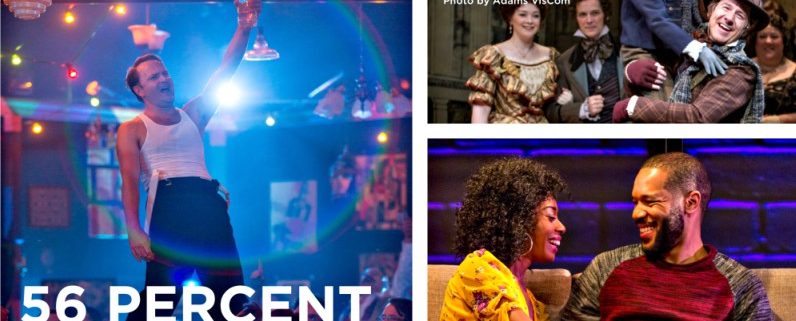 Study: There's a lot of Denver in Denver Center casts this fall
Survey of DCPA cast lists shows 56 percent of all available jobs this fall have gone to actors who live in Denver area
By John Moore
Senior Arts Journalist
There has been a lot of Denver at the Denver Center this fall. An analysis of cast lists for the eight shows presented since the start of September shows that 56 percent of all actors who have taken to a DCPA stage also call Denver home.
That doesn't even include the eight child actors who currently populate the Theatre Company's A Christmas Carol. And when you add in all the actors who grew up in Colorado but are now based elsewhere, the number of actors with local connections jumps to 67 percent.
"The Colorado acting community is such a multi-talented group, and that is evident in all the amazing work featured across the entire state and on every one of our stages at the DCPA this fall," said DCPA Director of Casting Grady Soapes.
The survey includes all homegrown programming offered by the DCPA, totaling 73 adult actor slots. Much of the local infusion this year can be traced to Off-Center's immersive musical The Wild Party at the Stanley Marketplace, as well as DCPA Cabaret's newly launched musical First Date at the Galleria Theatre, both of which cast entirely local actors.
First Date director Ray Roderick, who is based out of New York, is responsible for the longest-running musical in Colorado Theatre history, I Love You, You're Perfect, Now Change, also at the Galleria, as well as The Taffetas, Five Course Love and many others. And while he is always empowered to cast actors based anywhere around the country, he almost always fills his Denver cast lists with Denver actors. Why? Because he can, he says.
(Pictured above and right: Local actors Seth Dhonau and Adriane Leigh Robinson will be taking their 'First Date' through April 22. Photo by Emily Lozow.)
"There is no question that there is a wealth of talent here in Denver," Roderick said. "When I work at other regional theatre centers and I choose my cast, I'm often told, 'Well what have they done on Broadway?' I never get that here at the Denver Center. The fact is, when you are casting a show, what matters is the story, period. And we have beautiful storytellers in Denver. That they happen to live in Denver has nothing to do with their level of talent."
It was the Denver Center's Jeff Hovorka who convinced then-DCPA President Randy Weeks that the first staging of the Galleria Theatre's Always…Patsy Cline back in 1997 could be effectively cast with local actors. Melissa Swift-Sawyer and Beth Flynn made Denver musical-theatre history when their show ran for three and a half years, only to be surpassed by I Love You, You're Perfect, Now Change, another all-local show that opened in 2000 and became Denver's longest-running musical by 2004.
"The three biggest successes in the Galleria Theatre history, including Girls Only: The Secret Comedy of Women, all have had local casts," said Hovorka, now the DCPA's Director of Sales and Marketing for Broadway and Cabaret. "Denver always has had an incredibly strong talent base, and we are always proud to celebrate the homegrown talent we have in this city."
The Wild Party Director Amada Berg Wilson, also the founder of a Boulder theatre company called The Catamounts, put 15 local actors to work on Off-Center's risky plunge into immersive musical theatre, which was attended each night by 200 live party guests.
"Having an all-local cast is evidence that we really do have the talent right here to pull off a show like this," said Wilson. "And I think it is great that as the Denver Center continues to experiment with immersive theatre, we are developing a base of talent right here who have the tools and the vocabulary to make this specific kind of work. We are discovering that audiences are really hungry for more of it, and now we have the people here to do it."
The list of local actors working for the Denver Center this fall spans beloved veterans such as Leslie O'Carroll, who is again playing Mrs. Fezziwig in the Theatre Company's A Christmas Carol, to first-timers such as longtime BDT Stage favorite Wayne Kennedy and Adriane Leigh Robinson, who just played Sally Bowles for the Miners Alley Playhouse's Cabaret.
(Leslie O'Carroll, right with 'A Christmas Carol' castmate Michael Fitzpatrick, is now the longest-tenured actor in the DCPA Theatre Company.)
Longtime Galleria Theatre favorites Jordan Leigh and Lauren Shealy, now appearing in First Date, have built sustainable acting careers around steady work at the DCPA, including occasional crossover roles in Theatre Company productions. Shealy, headlined the Lone Tree Arts Center's summer production of Evita that was nominated for Outstanding Musical by the Colorado Theatre Guild's Henry Awards.
Colorado theatre favorite Steven J. Burge, who joined the Denver Center earlier this year to play none other than God in the long-running Galleria Theatre hit An Act of God, is back in First Date, which runs through April 22. This is a job, Burge says, "that I would not quit even if I won the lottery, because I love it so much."
Each May, the Denver Center holds three days of "general auditions" that are open to local actors to sign up for. This year a record 100 union and 275 non-union actors participated, directly resulting in many of the fall hirings.
Many of the Denver Center's current crop of actors have tentacles that reach throughout the Colorado theatre community from Creede Repertory Theatre (Diana Dresser and Emily Van Fleet) to Phamaly Theatre Company (Leonard E. Barrett), which exists to create performance opportunities for actors with disabilities.
Michael Bouchard and Luke Sorge, the two actors playing David in Off-Center's The SantaLand Diaries, are both company members with the Boulder Ensemble Theatre Company, which was co-founded by occasional DCPA Theatre Company actor and Director Stephen Weitz.
The Theatre Company's season-opening production of Macbeth included local playwright Steven Cole Hughes, also a longtime Teaching artist for DCPA Education and graduate of the Denver Center's National Theatre Conservatory. Robert O'Hara's cast was a Denver Center reunion of sorts that also brought home Colorado natives Gareth Saxe, Erik Kochenberger and Skyler Gallun.
Saxe, a graduate of Colorado College and Denver East High School, played Scar for two years on Broadway in Disney's The Lion King, but his DCPA Theatre Company roots go back to Cyrano de Bergerac in 2001. Kochenberger also graduated from East High School — but his was in Pueblo. Gallun, who previously appeared in Lord of the Flies, led a talkback with students from his alma mater, George Washington High School, after one Macbeth matinee (pictured at right by John Moore).
DCPA Education head of acting Timothy McCracken, who has recently performed with both BETC (Outside Mullingar) and Local Theatre company (The Firestorm), landed this fall in both the Theatre Company's Smart People and A Christmas Carol. His Smart People co-star Jason Veasey graduated from Coronado High School in Colorado Springs and the University of Northern Colorado in Greeley. His many past local credits include playing Jesus in Town Hall Arts Center's Godspell.
This fall also has brought the launch of DCPA Education's new Theatre for Young Audiences program. The three-person cast of The Snowy Day who performed Ezra Jack Keats' beloved story for 19,000 pre-kindergarten through third-graders included longtime DCPA Teaching Artist Rachel Kae Taylor (also an NTC grad with three Theatre Company credits) and Robert Lee Hardy, who was recently seen in Vintage Theatre's A Time to Kill In Aurora.
"This has been an exciting year not only for the local actors but for myself and the DCPA," Soapes (pictured right) said of his local casting. "The dedication this organization has made to further highlighting the talent we have here in Denver has also deepened our appreciation for the artists who are working hard every day to entertain our audiences — my hat goes off to them," he said.
Soapes said his top priority always will be to cast the best person for every role, regardless of ZIP code.
"We here at the DCPA are excited to continue to tap further into the local talent pool, open our doors wider and show the entire industry why Denver is a destination for quality theatre," Soapes said.
John Moore was named one of the 12 most influential theater critics in the U.S. by American Theatre Magazine in 2011. He has since taken a groundbreaking position as the Denver Center's Senior Arts Journalist.

Denver Center Fall 2017 Casting:
Macbeth: 17 actor jobs
Actors living in Colorado:
Steven Cole Hughes as Doctor of the Psychic/Ensemble)
Actors from Colorado:
Skyler Gallun as Donalbain/Ensemble
Erik Kochenberger as Hecate Two/Ensemble
Gareth Saxe as Duncan/Ensemble)
The Snowy Day: Three actor jobs
Actors living in Colorado:
Rachel Kae Taylor as Archie, Amy, Mom and others
Robert Lee Hardy as Peter
Smart People: Four actor jobs
Actors living in Colorado:
Actors from Colorado:
The Wild Party: 15 actor jobs
Actors living in Colorado:
Brett Ambler as Gold
Leonard Barrett Jr. as Oscar D'Armano
Allison Caw as Sally
Laurence Curry as Black
Diana Dresser as Miss Madelaine True
Katie Drinkard as Mae
Trent Hines as Phil D'Armano
Drew Horwitz as Burrs
Wayne Kennedy as Goldberg
Sheryl McCallum as Dolores
Jenna Moll Reyes as Nadine
Marco Robinson as Eddie Mackrel
Emily Van Fleet as Queenie
Aaron Vega as Jackie
Erin Willis as Kate
Girls Only: The Secret Comedy of Women: Three actor jobs
Actors living in Colorado:
Barbara Gehring
Linda Klein
Amie MacKenzie
A Christmas Carol (through Dec. 24): 21 adult actor jobs; eight youth jobs
Actors living in Colorado:

Sam Gregory as Ebenezer Scrooge
Chas Lederer as Swing
Kyra Lindsay as Martha Cratchit/Ensemble
Chloe McLeod as Swing
Timothy McCracken as Ebenezer Scrooge understudy
Leslie O'Carroll as Mrs. Fezziwig/Ensemble
Jeffrey Roark as Jacob Marley/Ensemble
Shannan Steele as Ensemble
Marco Robinson as Ensemble

The SantaLand Diaries (through Dec. 24): Two actor jobs

Actors living in Colorado:
Michael Bouchard as David
Luke Sorge as David understudy
First Date (through April 22): Eight actor jobs


Actors living in Colorado:
Adriane Leigh Robinson as Casey
Seth Dhonau as Aaron
Steven J. Burge as Man 1
Aaron Vega as Man 2 (Nov. 11-Dec. 3)
Jordan Leigh as Man 2 (Dec. 5-April 22)
Lauren Shealy as Woman 1
Barret Harper as Male Understudy
Cashelle Butler as Female Understudy
https://www.denvercenter.org/wp-content/uploads/2018/04/featured-image-5537.jpg
531
796
John Moore
John Moore
2017-12-13 16:14:00
2018-06-15 09:56:19
Study: There's a lot of Denver in Denver Center casts this fall