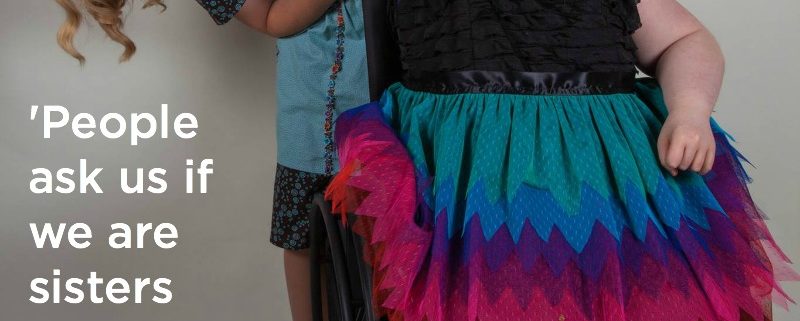 Tapestry: A theatre company that applauds all abilities ​
Katie Ellis, 15, right, and peer mentor Fiona Cubillas, 14, have been paired together for three summer musicals, including 'Honk Jr.,' above.



Young special-needs actors are paired with peer mentors and discover talents they never knew they had.
By Ann Morrill
For the DCPA NewsCenter
CenterStage's Tapestry Theatre is a unique program that casts young actors with special needs in lead roles, alongside peer mentors in support roles. By cultivating a safe and inclusive community, these young actors discover talents they never knew they had and form long-lasting friendships.
"Isn't it a more natural way to live in the world when people of all abilities interact together every day?" asks Elizabeth Goodrich, who has served as co-director with Lynne Niston on all eight of the company's musical productions.
Beginning with You're a Good Man, Charlie Brown in the summer of 2012, this unusual theatre model has strived to hold up individual strengths, challenge societal perceptions and embrace the philosophy of applauding all abilities.
Through Sunday (July 16), Tapestry Theatre is presenting the family-friendly musical How to Eat like a Child at Boulder's Dairy Arts Center.
Goodrich is a St. Vrain Valley special-education teacher and Niston is a former professional actor and director who works in special education in Lyons. Their mantra: Moving beyond what each actor thinks they can achieve. This is not about what a person is unable to do, says Goodrich. It is instead about the belief that the actors will continue to grow if given the chance.
"The tendency when working with people with special needs is to make things easier for the person," Goodrich says. She tells them instead: "I know it's hard, but we know that you can do this."
The young actors are paired with peer mentors throughout the rehearsal and performance process. Sometimes these mentors may need to provide a lot of support – or only occasionally.
Katie Ellis, 15, and peer mentor Fiona Cubillas, 14, have been paired together for Tapestry's past three summer musicals: Bye Bye Birdie Jr., Honk Jr. and How to Eat like a Child. Ellis' favorite role so far has been Grace in Honk "because I got to be a beautiful duck and be really sassy," she said. "I love to make people laugh."
Her mentor's favorite assignment has been watching Ellis grow into the role of Mrs. Peterson in Bye Bye Birdie Jr. She credits the directing team for helping the actors connect and understand how they work together.
Niston says the goal at Tapestry is always a high-quality, professional production in every way — including acting, music, costuming, set design and lighting. "These actors' eagerness, their desire to be involved, and their hours of hard work inspire and challenge me to give my best as a director," she says.
Tapestry productions often have shorter rehearsals spread over more weeks than typical theatre companies to accommodate the actors' differing abilities, other commitments and therapies. Although participating is a major time-commitment, Tapestry has grown from an average of 15 actors per show in 2012 to nearly 40 today. Tapestry families have become a close-knit community through picnics and potlucks throughout the year.
For Ellis and Cubillas, being paired has helped them to forge a friendship that has extended to sleepovers, playdates and birthday parties. "People ask us if we are sisters because we seem so much alike," Cubillas said.
Niston says Tapestry also allows audiences to interact with people with intellectual disabilities without fear. "When you see kids onstage performing, it bridges the gap between people of differing abilities, and it changes perceptions," she said. "It impacts the audience in terms of knowing what the actors can do."
As Tapestry grows and adds programming, especially for those who have aged out of the musical shows for school-age actors, the goal is to stage more productions for actors of all ages and abilities. The recent spring musical, Fiddler on the Roof Jr., did just that. It featured actors ranging in age from14 to 72, including three generations from one family.
"This model truly equalized our cast with all ages and experience levels," Goodrich said. That led to deepened connections and a mutual respect regardless of age, ability or experience.
About the Author: Ann Morrill
Ann Morrill is a middle-school Spanish teacher, education writer, bilingual editor, theatre lover, and CenterStage Board member. CenterStage provides a rich atmosphere that leads young people into excellence in the vast world of theatre arts; thus building confidence, self-esteem, community awareness, and friendships that last a lifetime. To learn more about all CenterStage productions this summer and upcoming shows, please go to centerstagetheatrecompany.org.
---

How to Eat Like a Child: Ticket Information
At a glance: A comic musical romp through the joys and sorrows of being a child, among them: How to beg for a dog, how to torture your sister, how to act after being sent to your room, and how to laugh hysterically.
Presented by CenterStage's Tapestry Theatre
Through July 16
At the Dairy Arts Center, 2590 Walnut St., Boulder, 80302
Info: 303-444-7328 or centerstagetheatrecompany.org


Remaining performances:
Thursday, July 13, 7 p.m.
Friday, July 14, 7 p.m.
Saturday, July 15, 1 p.m.
Sunday, July 16, 1 p.m.
Selected previous DCPA NewsCenter Guest Columns:
BreAnna Romero on Skype with Curious Incident's set designer
Judy Craymer on the origins of Mamma Mia!
Douglas Langworthy on 'translating' Shakespeare: First, do no harm
David Nehls: Live theatre returns to Elitch Gardens after 24 years
Gillian McNally: Colorado's oldest theatre celebrates Artistic Director Tom McNally
Margie Lamb on the Henry Awards: Something doesn't add up
Bryan VanDriel on Lloyd Norton: A name that will live on in Greeley
Jessica Jackson on Creede Repertory Theatre's 50th anniversary season
https://www.denvercenter.org/wp-content/uploads/2018/04/featured-image-4919.jpg
1021
800
John Moore
John Moore
2017-07-13 17:03:00
2018-06-15 08:48:13
Tapestry: A theatre company that applauds all abilities ​