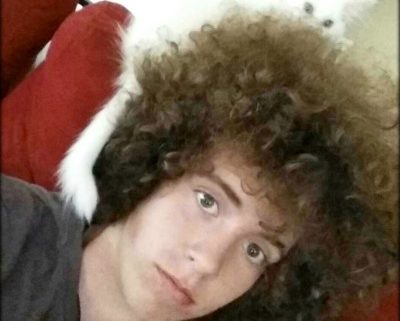 The 2015 Scenesters, No. 8: Jack Hansen, Arapahoe High School
Today on Denver CenterStage, we continue our exciting daily countdown of the 10 student playwrights have been named semifinalists for our second annual statewide playwriting competition. (Details below.)
Scenester No. 8: Jack Hansen
School: Arapahoe High School
Teacher: Ian Ahern
Play title: The Tale of the Almighty Sword
What is your play about? A sword crafted by the gods. The story is told through the different people who possess the sword, as the sword brings them closer to God.
Favorite word that appears in your script: "Jesus."
Excerpt: "Just when you really start to like someone, they bite the dust! It's a true shame that he had to go like that! He really was a swell guy."
Who was your inspiration for writing your play? Really, my family. Without my family, I wouldn't have had the courage to be myself, and write something that really hasn't been done before.
Killer casting: John Cleese as the Old Knight. I am a big fan of his physical comedy.
What did you learn from writing this play? That writing plays is what I want to do with my life. I love the feeling of writing a new character, and expanding on this world I have created. I want to entertain people through my stories.

________________________________________________________________
About the Denver Center's 2014 Regional Youth Playwriting Workshop and Competition:
What: "Your Story. Our Stage": A one-act playwriting competition designed for area high schools. Local playwrights and DCPA Education staff members taught 143 playwriting workshops in 45 Colorado high schools. More than 2,899 high-school students participated in those workshops, which were held in every school district in the Denver-metro area and in 13 counties, including Chafee, Larimer and Las Animas.
Why: To nurture Colorado's young playwrights; develop theatre artists and audiences; develop new plays; and advance literacy, creativity, writing and communication through playwriting.
How: A total of 158 submissions were judged blindly by DCPA artistic, literary and education professionals. Ten semifinalists are being identified through this rolling daily countdown. At the end of the countdown, three winners will be named. They will receive a cash scholarship of $250 each AND a staged reading in the 2014 Colorado New Play Summit next month. In addition, each teacher of the three finalists will receive a $250 gift certificate for books, supplies or other teaching tools for their classrooms. One play also will be presented as a fully staged performance exercise for DCPA Education students in the summer of 2015.

Our complete countdown of 2015 semifinalists (to date):
No. 1: Christina Arias of Kunsmiller Creative Arts Academy
No. 2: Joshua Contreras, Gunnison High School
No. 3: Keely Kritz of Denver School of the Arts
No. 4: Nathan Mast, Thomas B. Doherty High School
No. 5: Kiana Trippler, Thunder Ridge High School
No. 6: Ryan McCormick, Fort Collins High School
No. 7: Kaytlin Camp, Gunnison High School
No. 8: Jack Hansen, Arapahoe High School
No. 9: Catherine Novotny, Grandview High School
Bonus: Read about 2014 winning teen playwright Laurain Park
COMING THURSDAY: MEET SCENESTER NO. 9!

Video from the teen play readings at the 2014 Colorado New Play Summit
https://www.denvercenter.org/wp-content/uploads/2018/04/featured-image-1764.jpg
405
400
John Moore, Senior Arts Journalist
John Moore, Senior Arts Journalist
2015-01-13 07:00:00
2015-01-13 07:00:00
The 2015 Scenesters, No. 8: Jack Hansen, Arapahoe High School