The 2020 Scenesters: Connor Yokley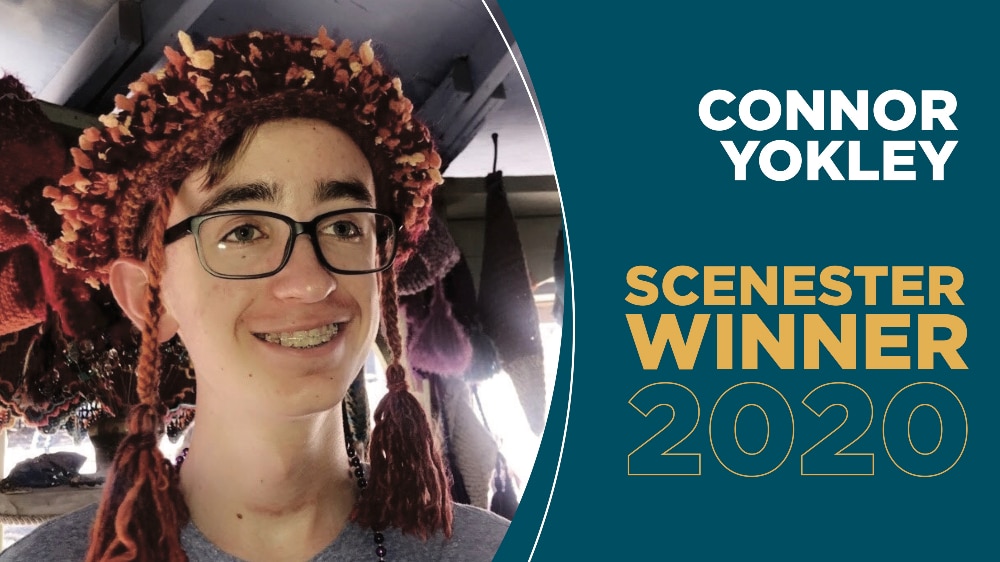 He's one of three winning playwrights whose scripts will be presented at the Colorado New Play Summit
Today on the DCPA NewsCenter, we continue our daily spotlight of the three winning Colorado student playwrights for DCPA Education's annual AT&T High School Playwriting Competition, whose plays will be read on Saturday, February 22, at the 2020 Colorado New Play Summit. (Details below.) We call them "The Scenesters."
Connor Yokley, Highlands Ranch High School
Class: Junior
Teacher: Nicole Hudson
Play title: Imminent and Disastrous
Who is your favorite writer: Quentin Tarantino. I've always admired how his dialogue is both stylized and realistic, which crafts really striking exchanges that still seem plausible enough to really take place. Coupled with his excellent cinematography, I've always really delighted in his movies.
What was your inspiration for writing your play? I felt as though I had never finished a creative project to my liking before. I had an idea, and my teacher had provided me with the information for the contest. Sitting in my room, I decided I was going to write something, just to try the medium, and see where it took me.
What happens in your play: A few small groups of everyday Americans react to the news of the impending apocalypse. Everyone takes it differently, and it's all tied together with a pair of news broadcasts that, in themselves, are a reaction. All that's known about the disaster itself is that it is climate-based.
What did you want to say? I wanted to capture a wide spectrum of responses to receiving the worst news imaginable; to have a hypothetical audience member see themselves in these people, and perhaps start thinking more about the climate.
What does it mean for your play to be selected for a reading at the Summit? It means the world to me. I've never been one to give myself praise, but even I couldn't resist reading the results and telling myself, "Yeah … I can do this. I can write."
What did you learn from writing this play? The power of revisions. After I completed my first draft, some classmates performed a few of the scenes, and right away I began thinking, 'Oh, I don't like that.' 'Oh, I have to change that.' 'Oh, there are too many of those.' When I let that instinct carry me from draft to draft, I found that each iteration was more cohesive and sounded fundamentally better onstage.
Killer dialogue:
"Channel 7 recently got word that the … the, uh … the U.N. Climate Commission has declared … an urgent state. Of emergency. Eh… internationally."
What's one fun word that appears in your script? "Extinction-level"
---
About the AT&T High School Playwriting Competition:
What: A one-act playwriting competition designed for area high schools. Local playwrights and DCPA Education faculty taught 165 playwriting workshops in 21 counties statewide. A total of 3,152 high-school students participated in those workshops. The objective was to introduce students to the craft of playwriting, and encourage them to submit their own plays for the competition. In seven years, the writing program now has engaged more than 20,000 Colorado students.
Why: The goal of the program is to nurture Colorado's young playwrights; develop theatre artists and audiences; develop new plays; and advance literacy, creativity, writing and communication through playwriting.
How: A total of 154 submissions were judged blindly by DCPA artistic, literary and education professionals. Ten finalists were initially selected, from which three winners were chosen. After a week of in-house workshopping at the Denver Center with trained actors, and mentorship from both DCPA Teaching Artists and a professional playwright, the three winning plays will have public readings at 9:30 a.m. and 8 p.m. on Saturday, February 22, in The Randy Weeks Conservatory Theatre. Each winner also will receive a cash scholarship of $250 and complimentary passes to the Colorado New Play Summit. The three winning scripts each will have additional readings at their playwrights' own schools in the coming weeks. In addition, each teacher of the three winners will receive a $250 gift certificate for books, supplies or other teaching tools for their classrooms.
The 2019-20 AT&T High School Playwriting Competition is sponsored by AT&T, Robert and Judi Newman Family Foundation with matching gifts from The Ross Foundation, June Travis and Transamerica.
---
See the student readings at the Colorado New Play Summit
Public readings at 9:30 a.m. and 8 p.m. on Saturday, February 22
Randy Weeks Conservatory Theatre in the Newman Center for Theatre Education at 1101 13th St., at the corner of 13th and Arapahoe streets
The event is free but reservations are encouraged by clicking here
The Scenesters: The full list of 2019-20 playwriting finalists
---
Video bonus: A look back at the 2018-19 Scenesters
In the video above, DCPA Senior Arts Journalist John Moore speaks with Executive Director of Education Allison Watrous and the student playwrights whose works were selected to be read at the 2019 Colorado New Play Summit. Video by David Lenk for the DCPA NewsCenter.
Photo gallery: 2018-19 student playwriting
https://www.denvercenter.org/wp-content/uploads/2020/02/Connor-Yokley-Scenesters-2020.jpg
562
1000
John Moore
John Moore
2020-02-11 19:47:24
2020-02-15 13:55:42
The 2020 Scenesters: Connor Yokley