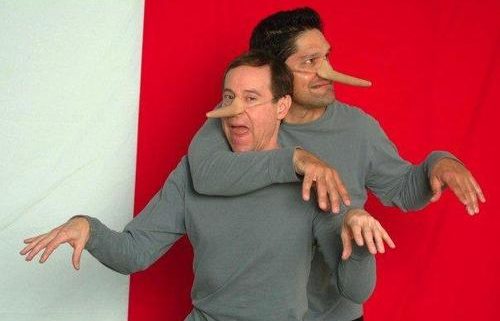 The Bicycle Men: 'The triumph of the bicycle over … death!'
Joe Liss, left, and John Rubano are co-writers and co-stars of "The Bicycle Men," opening July 10 at the Garner Galleria Theatre.
Writer, actor and obsessive cycling aficionado John Rubano is not taken to hyperbole. Not at all. Which is why The Second City comedy alum and Colorado native modestly calls his musical play The Bicycle Men no less than "The triumph of the bicycle over … death."
He also says the first day of the Tour de France should be declared a national holiday … in America. Yes, that drug- and scandal-tainted exercise in steroidal cheating.
[[MORE]]
"Look: I don't give a (bleep) if the riders dope so much that they have three sets of lungs, four hearts and eight legs," Rubano said last week in advance of his return to his home state to perform The Bicycle Men from July 10-20 at the Denver Center's Garner-Galleria Theatre.
"I really don't care. I love cycling. It has been known forever as the dirtiest sport. And why is that? Because it's the hardest endurance sport on the planet. And the Tour is the hardest sporting event on the planet. I will stand by this: If you are riding professionally in Europe, today, you are doping on some level. And I don't care."
Rubano, you may not be surprised to learn, is a self-described "sick, deranged cyclist." Which may not be as good for his mental health as it is for his physical health. But it has served as the inspiration for an acclaimed musical comedy he has been performing with writing partner Joe Liss off and on for 10 years.
We did say Rubano is not prone to hyperbole, right? So you must take him at his word when he calls Liss "the funniest man I have ever known."
"And I have worked with some very funny people, including Chris Farley, Steve Carrell and Stephen Colbert," Rubano said. "Why this man is not a massive star really is a condemnation of L.A. and Hollywood."
Before adding: "And if he wasn't a meth addict … maybe we would get somewhere!"
He kids. He kids.
Rubano graduated from Wheat Ridge High School in 1977 and later the University of Colorado. He was not into theatre in high school so much as he was the trumpet. "I have to admit that I got a D in high-school band," Rubano said. "But I was the only kid in the school who was playing professionally on the weekends."
Rubano was a member of the Kurt Goletz Big Band, and ever since meeting up with Jim Belushi at the famed Second City in Chicago, he also has played with the Blues Brothers Band, including a gig at Red Rocks.
Rubano left Colorado and Liss left upstate New York for Chicago to seek out improv careers with The Second City. They both wound up touring nationally with the company before pursuing TV careers in Los Angeles as writers and actors. They debuted The Bicycle Men at the Edinburgh Festival and later expanded it into a full length, well-reviewed play they have since performed around the world. It is described as a sublimely silly musical comedy about a hapless American tourist who crashes his bike and encounters the twisted inhabitants of a quaint French village. Favorable comparisons to Monty Python have been common.
"But while we come from an improv background, I want to make it clear that this is not improvisational comedy," Rubano said. "It's not sketch comedy, either. It is a legitimate, plot-driven theatre piece."
And, he emphasizes, it is not a Second City show.
"Hell, no!" Rubano said with a laugh. "You know what? It's funnier."
He does not mean to throw down with his old friends in Chicago when he says that. Well, not much, anyway. "It's the truth," he said flatly.
"And I'll tell you why. We've become more experienced and better writers over the years. And we owe that to The Second City. In fact, The Second City has given me everything I have in my career. I am very proud of the fact that I am an alum. My work with Jim Belushi and the Blues Brothers — it all stems from The Second City. I just think that as you mature and your comedy becomes more honed, you come up with better stuff. So it's a natural progression."
Rubano said performing his crazy show in a bike-crazy state like Colorado will be a kick. Partly because the Denver Center is such a highly regarded regional arts center, "and partly because I'll have friends from high school and college who will be able to see what I have done with my adult life. And they will say, 'My God! What a waste!' "
We got a chance to talk with Rubano and Liss about the show they developed with Dave Lewman and composer Mark Nutter. Their onstage co-stars in Denver will be Derek Manson and Bruce Green. Here are highlights from that highly amusing knockabout:
John Moore: So, John, what was it like growing up in Colorado?
John Rubano: I went to Wheat Ridge High School, and I have to say, it looks pretty pathetic these days. It used to be "the Cherry Creek of the western suburbs," you know — but now it just looks pretty sad out there. It has seen better days.
John Moore: Do you think the nickname "Farmers" engenders fear in the hearts of its sporting competitors?
John Rubano: Let me tell you what: When you see a mascot in overalls and a sprig of wheat in its mouth? I mean, c'mon … You run in terror! That basically says to the competition, "We are going to get a combine and run you over."
Joe Liss: Or a baler!
John Moore: OK, so I have to ask you two a very serious question about bikes.
John Rubano: I am not going to bull (bleep) you: I know everything there is to know about bikes. … So, go ahead.
John Moore: I just went out and bought a bike for the first time in, like, seven years. And now my butt hurts — a lot. What do I do about that?
John Rubano: Ride more.
Moore: That seems counter-intuitive to my butt.
John Rubano: Well, look: "The taint" is going to pay the price for a while. But once you "callous the taint," you will be fine.

John Moore: "Callous the taint?"
John Rubano: Yes, "Callous the Taint!" That was the name of a punk band I was in, by the way. It was a bicycle-based punk band in the late '70s.
John Moore: OK, so I will ride more.
Joe Liss: John, did you buy a gel-packed seat?
John Moore: You see? These are not the questions I thought to ask when I was in the Salvaghetti Bicycle Shop.
John Rubano: You can get a gel-packed seat — if you want ridicule and mocking.
John Moore: Oh, that describes my whole life. That doesn't scare me. But isn't that like buying a car with interior seat-warmers?
John Rubano: No … That's just giving up.
John Moore: So I am curious how you came up for the premise for The Bicycle Men. And I preface this by saying I was once driving through Nebraska in my Volkswagen Bug, and my distributor blew, and I was stranded in Grand Island for three days. I understand The Bicycle Men is about a cyclist whose bike breaks down outside of Paris. And so my point is … I've pretty much already lived your story, have I not?
Joe Liss: I think so, yeah. Were you terrorized by the locals?
John Moore: I was in Nebraska, and I had a University of Colorado bumper sticker on my broken-down Volkswagen. So … yes!
John Rubano: Having gone to CU, I understand that. Those Cornhuskers will rip you a new one. They will shuck you, as it were.
John Moore: Although, being a Wheat Ridge Farmer, John, one might think you have something in common with the Cornhuskers.
John Rubano: Well, I don't know. My face looks like the road map of Italy, so … would they?
John Moore: Tell us about your history with bicycle racing, John.
John Rubano: I grew up racing in Colorado with guys who went on to have great professional careers. These guys were the real deal. They raced in the Red Zinger Classic, which later became the Coors Classic. My obsession with the sport came to the point where, after high school, it was either continue to ride the bike, and try and go that way; or go to college and get an education, and go that way. I was never good enough on a bike, so I went to CU. Believe me, this sport weans itself.
John Moore: Tell me about the genesis of your show.
John Rubano: We were all living in L.A., and we were all sick and tired of sitcoms and bad writing and all other bad stuff that can happen out there.
Joe Liss: So, rather than pestering some agent for work, we thought, "Let's get together and write a show." We did these initial brainstorms where we asked ourselves, "What is somebody's passion?"
Joe Rubano: And that's how my obsession with cycling became part of the genesis for the show.
Joe Liss: And I spent a month during my sophomore year in college with a French family who spoke no English. All I had was two years of high-school French. So now we had a French angle, and we had a cycling angle, and we basically came up with this idea about an American going to France and touring the country on a bicycle that breaks down in a small French town, and he becomes terrorized by the locals while trying to get his bike fixed.
John Moore: Is this an exercise in gleeful French-bashing? Because I think that's still OK in this country.
Joe Liss: We are not out to throw arrows at the French at all. But in the playing of it, it does kind of come out looking that way because … well, they're French.
John Moore: Going after the French with comedy worked pretty well for Monty Python.
Joe Liss: We had the ultimate compliment paid to us when we did the show in London. After one performance, an audience member said, "We make fun of the French the best. But your show is right there with the best of the Britons."
John Rubano: They like to say, "We really don't like the French … but we all have a vacation home there."
John Moore: So are we going to see some serious bicycle racing on stage?
John Rubano: We can promise that you will see bicycle parts … and men.
John Moore: Well, that's truth in advertising.
John Rubano: And you will see some miming of bike riding.
John Moore: And what about the music?
John Rubano: We do all kinds of song styles. There is a Latin number. We do a Gilbert & Sullivan takeoff …
Joe Liss: … We also do a song that's like Louis Jordan & His Tympany Five.
John Rubano: Mark Rutter wrote it. … And I like to refer to Mark Rutter as the Lionel Ritchie of comedy music.
John Moore: I have to process that for a moment before I decide whether you just complimented him or insulted him.
John: You will see my reasoning once I explain it. Like Lionel Ritchie, Mark can write a hook that sticks in your mind. So the tunes are great. This one woman in L.A. has seen the show 16 times. She's obsessed with the songs.
Joe Liss: We get into people's heads.
John Moore: So not having seen your show, how is The Bicycle Men a great night out on the town?
Joe Liss: Because it's filled with really great, catchy songs. And it's got a lot of funny characters and funny situations. I think it is a complete evening of comedy.
John Rubano: If we had a slogan for our show, it would be the same as the honey-baked ham.
John Moore: I can't wait to hear this.
John Rubano: The slogan for the honey-baked ham is, "It will haunt you until it's gone." So if you want sweet meat-cake … we're right up your alley.
John Moore is the Senior Arts Journalist for the Denver Center for the Performing Arts. In 2011, he was named one of the 12 most influential theatre critics in America by American Theatre Magazine. Reach him at jmoore@dcpa.org


The Bicycle Men
When: July 10-20, 2014
Where: Garner Galleria Theatre
Starring: Joe Liss, John Rubano, Derek Manson and Bruce Green
Performance times: 7:30 p.m. Thursdays and Fridays; 2 p.m. and 7:30 p.m. Saturdays; eve 2 p.m. Sundays
Run time: 100 minutes, includes 1 intermission
Age recommendation: For mature audiences
Information: 303-894-4100 or go to the Denver Center's web site http://denvercenter.org/buy-tickets/shows/bicycle-men/about-bicycle-men.aspx
About Joe Liss
Joe Liss is a Second City Chicago veteran, having written and performed six original revues. His theatre credits include Second City's A Christmas Carol: Twist Your Dickens, Room Service, Once In A Lifetime, Totally Looped, Hit It, Don, Buddy Jack, Poseidon Adventure: The Musical, Wild Men!, and his critically acclaimed one-man show, Joe Show. His film credits include God Bless America, Wayne's World 2, Curly Sue, Home Alone 2 and Major League. On TV, Joe appeared in According to Jim, Less Than Perfect, That '80s Show, Curb Your Enthusiasm and Strangers with Candy. Joe was story editor on Disney's Kick Buttowski: Suburban Daredevil and has also written on Third Rock From the Sun, Drawn Together, My Life is a Sitcom and SpongeBob Squarepants.
About John Rubano
John Rubano is Chicago Second City main stage alumnus. He has appeared in numerous television and film roles including the ABC sitcom According to Jim, Seinfeld, The Shartank Redemption, The Incredible Burt Wonderstone and the upcoming film, Mordecai. His voice has been heard in many animated and commercial projects including Spirit: Stallion of the Cimarron, Superman, Batman and Rugrats. John currently sings with Jim Belushi and the Sacred Hearts and The Blues Brothers Band. He also fronts an all-cyclist band, Green Machine.
https://www.denvercenter.org/wp-content/uploads/2018/04/featured-image-857.jpg
325
500
John Moore
John Moore
2014-07-08 18:07:00
2018-04-11 16:33:25
The Bicycle Men: 'The triumph of the bicycle over … death!'