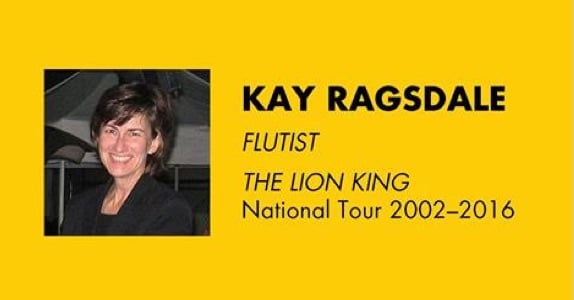 'The Lion King' mourns original touring flutist Kay Ragsdale
If you've ever seen The Lion King in Denver, you have heard Kay Ragsdale play not one but 15 signature flutes in the groundbreaking musical. The original member of the Denver-born national touring production passed away this week.
Ragsdale was profiled in a DCPA NewsCenter feature article when The Lion King made its fourth visit to Denver last August. In it, she said:
"Our opening night (in 2002) was an opening night for the entire city of Denver. It felt like everyone in the city was participating in this event with us."
Thursday's Broadway performance of The Lion King was dedicated Ragsdale. "She was the heart and soul of our production since joining the North American tour in 2002, and will be missed dearly," the show said in a statement.

Read our interview with Kay Ragsdale

Jim Ferris, known by Denver Center audiences for his work in the Groucho Marx role in the Theatre Company's 2014 production of Animal Crackers, posted these reflections:
"I had the humbling privilege touring for three years with Kay Ragsdale on the first national tour of The Lion King. To call her the ultimate professional is an understatement.
To say that she is passionate about her art seems somehow cheap. To say that she loved people … well … just look at the smile that never left her face. While on the road, I would always get the opportunity to sit with the orchestra whenever I wanted. And when I did, it was either in "the kit" with the drummer or right next to Kay. To watch her play and manipulate the 15 flutes she used during the show with the utmost of care, was not only a magic act but a truly religious experience. I will always remember, after watching her play a passage on the flute during the show, I noticed she placed her hand on the side of the flute (as if not to let any air escape) then she gently blew into the flute, not making any sound, then put the flute down. Later, I asked her why she did that. She said, "I am thanking God and the ancestors who made this beautiful instrument for allowing me the breath to make this music. At that moment, I give them back my breath". We lost this beautiful soul this week, and now our breath is taken away. Thank you, beautiful Lady for your magic, your music, your spirit and most important, your friendship. Please take out a few minutes to read this article and watch the video below.

Read our interview with Kay Ragsdale

https://www.denvercenter.org/wp-content/uploads/2018/04/featured-image-3442.jpg
300
574
John Moore
John Moore
2016-04-08 10:17:00
2016-04-08 10:17:00
'The Lion King' mourns original touring flutist Kay Ragsdale