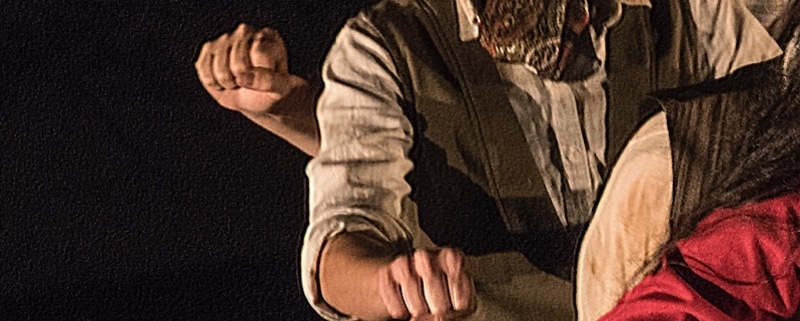 True West Awards: 2018 Colorado Theatre Person of the Year Jessica Austgen
2018 TRUE WEST AWARDS

Actor's reinvention as a playwright is hope for anyone wanting to transition to a larger artistic life. It can be done. Spectacularly.
You could say Jessica Austgen's reinvented life came full circle in 2018 –  if that circle were the shape of a heart.
The boldest and busiest year of her professional life culminated in a bustling December, during which she performed in 14 shows a week – by day in the Denver Center's Theatre for Young Audiences production of Corduroy; by night being silly in the Aurora Fox's A Christmas Carol parody Twist Your Dickens.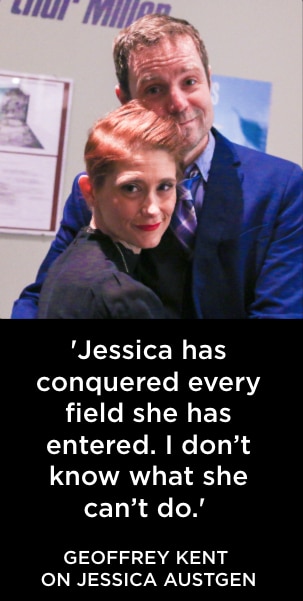 Rehearsals also began last week for the Arvada Center's upcoming staging of Austgen's world-premiere play Sin Street Social Club. The moment Austgen met the actor who has been cast as the female understudy made it clear just how full that circle of hers has come. Because these two were not meeting for the first time. Director Lynne Collins had no idea when she cast Annie Barbour that the recent graduate from The Conservatory of Theatre Arts at Webster University had been Austgen's student back at Denver School of the Arts.
"Jessica is plugged into so many different communities," Collins said. "That coincidence just illustrates that she's had a massive effect on a whole lot of people."
Austgen is an actor, improviser and playwright. She's also an educator, podcaster and Executive Director of the Denver Improv Festival. She's also, it cannot be overstated, a self-described nerd. We're talking Bucky Barnes. Warcraft. All things Potter (Harry or Henry) and Aaron Tveit. Her dream role is to play Gavroche in Les Misérables. (Gavroche, you should know, is a 12-year-old boy.) It's perfectly fine if you tell Austgen she looks like Tony Award-nominee Beth Malone. Or a hobbit. Or a Newsie. She will thank you for the compliment.
"Her nerd cred runs deep," said her husband, actor and director Geoffrey Kent.
But to those who know Austgen, she's also Rocky. She's Wonder Woman. She's The Comeback Kid. She's a hopeful example to anyone who ever decides to transition to a much larger life than we ever think possible. It can be done. Spectacularly.
And Austgen is now the True West Awards' 2018 Colorado Theatre Person of the Year for her many contributions to the local theatre ecology as a performer, writer and educator.
"You've heard the expression: 'Jack of all trades, master of none'?" Kent said. "Well, I have had a front-row seat to every new thing Jess has taken on – and she has mastered them all. She has conquered every field she has entered. I don't know what she can't do."
Collins sees Austgen as "somebody who keeps making new adventures for herself and new ways of working in the world. And there aren't that many people who can do that."
A turning point
After graduating from Fairview High School and the University of Colorado Boulder, Austgen's life followed a pretty familiar actor trajectory. She was working steadily on stages across Colorado, including three summers with the Colorado Shakespeare Festival,  but eventually came to realize being on a stage was never going to completely feed her artistic spirit. So she decided to take the first of many risky and wildly successful hairpin life turns: A head-first dive into both improvisation and theatre education. In 2007 she was hired  as a DCPA Teaching Artist and three years later became a core member of Off-Center's foundational improv team called Cult Following. She built up such a solid reputation so fast in improv – undoubtedly the scariest of all the performative arts – that she was soon rescuing and then running the Denver Improv Festival.
Around 2012, Austgen took another big risk when she enrolled at the University of Denver to pursue a master's degree ­in playwriting. How did that work out? Just after graduation, Off-Center commissioned her to write a Comic Con-themed drag adventure. Austgen made her professional playwriting debut when DragOn opened in the Denver Center's Garner Galleria Theatre in May 2017. It was about a fledgling drag queen who is put through trials and tests to find her swagger.
"I saw DragOn, and I thought that was just a really well-made play," said Collins, who then challenged Austgen to pitch an adaptation idea for her upcoming rep season at the Arvada Center. Austgen came back with Sin Street Social Club, based on Aphra Behn's The Rover, and boom – it will have its world premiere opening March 15.
"Think about that," Kent said. "A year and a half after she took up playwriting, she had plays picked up by the Denver Center and the Arvada Center for their world-premiere productions. I don't know how to explain that, other than to say: She just knows how to write."
2018 True West Awards: Creative Couple Jessica Austgen and Geoffrey Kent
Collins jumped on Sin St. Social Club because she is building her Arvada Center season around the theme of women writing their own stories. (The slate includes The Diary of Anne Frank and The Moors.) Sin City is described as "a flirty, fun, feminist comedy that follows a novice nun and her nightclub-singing sister to the streets of 1916 New Orleans in a last-ditch effort to save their departed daddy's dance club."
The source story, which depicts the sexual adventures of a group of badly behaving Englishmen in Naples at Carnival time, is nothing if not problematic in the "Me Too" era, so Austgen is re-casting the story from a female perspective. "In this update, we give the female protagonists more agency, so the story becomes more about them taking control of their lives rather than being pawns of these men," Austgen previously told the DCPA NewsCenter.
The script, Collins said, is reflective of Austgen's playful, improv-comedy roots.
"I've never met anyone quite like Jessica," she said. "I have worked with her as an actor for three years now, and I am blown away by how her brain works. She is just so smart. Her sense of language and storytelling is really special. And she has the fastest mind of anyone I have ever met. I think that comes from having her improv chops."
Westword's Susan Froyd also sees improv as both Austgen's stepping-off point and theatrical bailiwick, "but she's the complete package," Froyd wrote. "She is a renaissance woman who manages the art of telling stories both on stage and on the page."
Austgen returned to performing scripted theatre in 2012 and immediately won a Best of Denver Award from Westword for her performance in Curious Theatre's Collapse. In 2016 she won one of the most highly sought acting jobs in the state when she was named to the Arvada Center's inaugural, year-round company of repertory actors. She has since performed in Tartuffe, All My Sons and more, earning a 2018 Henry Award nomination for her cheeky turn in a modern adaptation of Sense & Sensibility – on wheels.
The highlight of her performing year, however, had to be playing (surprise!) a man in The Catamounts' Men on Boats, a witty and impeccably choreographed tru(ish) telling of John Wesley Powell's 1869 expedition to chart the Colorado River. Another highlight of Austgen's year was helping to bring stability to the venerable Avenue Theater by launching the ongoing improv-themed game show Comedy Sportz as a regular weekend offering there.
But heading into 2019, there's no question Austgen is now speeding down the lane driven by playwrights. And Kent believes his wife "is right on the precipice of truly finding her voice at a national level."
If her success teaches us anything, he added, it's this: "Don't be afraid to pursue every avenue that feeds your inner artist."
Jessica Austgen: 2018
Lucy Steele and Fanny Dashwood in the Arvada Center's Sense & Sensibility (Henry Award nomination)
Lydia Lubey in the Arvada Center's All My Sons
Frank Goodman in The Catamounts' Men on Boats
Ensemble in the Aurora Fox's Twist Your Dickens
Night Watchman in DCPA Education's Corduroy
Ensemble in Avenue Theater's Comedy Sportz
Playwright, A Boys Guide to Brutal Honesty, for And Toto Too's annual Play Crawl
Executive Director, Denver Improv Festival
Teaching Artist, DCPA Education
Co-host, Required Readcast (podcast)

BAUS, improv comedy team with Lauren Bahlman
Critics corner:
Sense & Sensibility: "Jessica Austgen plays two large roles to perfection. She has a distinct look and moves with ease while portraying Lucy Steele, Fanny Dashwood … and several animals. At one point, with split-second timing, she has a frenzied fight with herself." – Tom Jones, Colorado Theatre Reviews
Twist Your Dickens: "Jessica Austgen is always elegant … no matter how crazy she's acting." – Juliet Wittman, Westword
Jessica Austgen's published plays:
Sin Street Social Club (full-length play coming to the Arvada Center March 15-May 19)
A Murther of Crows (full-length play)
DragOn (full-length play premiered at Denver Center's Garner Galleria Theatre in 2017)
Apollo Flies (one-act play)
Self Promoted (short play)
A Boys Guide to Brutal Honesty (short play)
Other finalists for 2018 Colorado Theatre Person of the Year:
Christopher Alleman and Joshua Blanchard, Lake Dillon Theatre Company
Scott RC Levy, Colorado Springs Fine Arts Center
Michael Querio, Rocky Mountain Repertory Theatre
Amanda Berg Wilson, founder of The Catmounts
True West Awards' Theatre Person of the Year / A look back
• 2017: Regan Linton: Phamaly Theatre Company Artistic Director
• 2016: Billie McBride: Actor and director
• 2015: Donald R. Seawell: Denver Center for the Performing Arts founder
• 2014: Steve Wilson: Phamaly Theatre Company and Mizel Center for Arts and Culture
• 2013: Shelly Bordas: Actor, teacher, director and cancer warrior
• 2012: Stephen Weitz: Boulder Ensemble Theatre Company co-founder
• 2011: Maurice LaMee: Creede Repertory Theatre artistic director
• 2010: Anthony Garcia: Su Teatro artistic director
• 2009: Kathleen M. Brady: DCPA Theatre Company actor
• 2008: Wendy Ishii: Bas Bleu Theatre co-founder
• 2007: Ed Baierlein: Germinal Stage-Denver founder
• 2006: Bonnie Metzgar: Curious Theatre associate artistic director
• 2005: Chip Walton, Curious Theatre founder
• 2004: Michael R. Duran: Actor, set designer, director and playwright
• 2003: Nagle Jackson, DCPA Theatre Company director and playwright
• 2002: Chris Tabb: Actor and director
About The True West Awards: '30 Days, 30 Bouquets'
The True West Awards, now in their 18th year, began as the Denver Post Ovation Awards in 2001. DCPA Senior Arts Journalist John Moore — along with additional voices from around the state — celebrate the entire local theatre community by recognizing 30 achievements from 2018 over 30 days, without categories or nominations. Moore was named one of the 12 most influential theater critics in the U.S. by American Theatre magazine in 2011. His daily coverage of the DCPA and the Colorado theatre community can be found at MyDenverCenter.Org
https://www.denvercenter.org/wp-content/uploads/2018/12/Day-31-Jessica-Austgen-.jpg
1035
800
John Moore
John Moore
2018-12-28 17:50:05
2018-12-31 16:27:37
True West Awards: 2018 Colorado Theatre Person of the Year Jessica Austgen