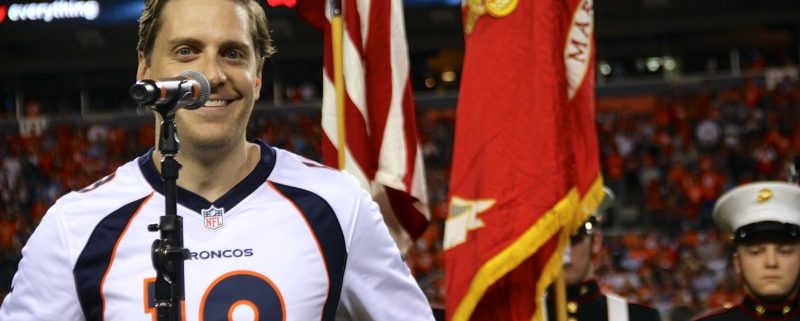 Video: Andy Kelso's National Anthem Day in Denver
Aurora native Andy Kelso, a graduate of Eaglecrest High School and the University of Northern Colorado, hit it big on Broadway in "Mamma Mia," and is now starring as Charlie in the 2013 Tony-winning Best Musical, "Kinky Boots." That feel-good musical written by Harvey Fierstein and Cyndi Lauper is now a national touring production that will play in Denver from Oct. 29-Nov. 9.
To celebrate its upcoming Denver opening, "Kinky Boots" sent Kelso home to sing the national anthem before the Denver Broncos' nationally televised victory over the San Diego Chargers on Oct. 24.
We followed Kelso on his whirlwind day in Denver and talked with him and his family about growing up as a Broncos fan, what it meant to him to sing in front of 80,000 fans (including sports idols John Elway and Joe Sakic) and he offers a disarmingly accurate prediction on the outcome of the game.
The video culminates with Kelso's stellar rendition of the anthem, after which he is congratulated by none other than Broncos coach John Fox. See it all on this fun video by John Moore and David Lenk.

Check this out: Here is a link to our full gallery of downloadable photos from Andy Kelso's visit to Denver.

For information on "Kinky Boots," call 303-894-4100 or go to www.denvercenter.org. And hey, check out our new media outlet covering Colorado theatre at www.MyDenverCenter.Org.
Kinky Boots: Ticket information
Oct 29-Nov 9
Buell Theatre
Accessible Performances: Nov 9, 2 p.m.
Tickets: 303-893-4100 | www.denvercenter.org
Groups (10+): 303-446-4829

Andy Kelso. Photo by John Moore. Here is a link to our full gallery of downloadable photos from Kelso's visit to Denver.

Our Previous Kinky Boots coverage on Denver CenterStage:

Podcast: Listen to our interview with Cyndi Lauper
Video: Exclusive interview with Andy Kelso and Annaleigh Ashford of Kinky Boots
https://www.denvercenter.org/wp-content/uploads/2018/04/featured-image-1264.jpg
533
800
John Moore
John Moore
2014-10-28 16:42:00
2014-10-28 16:42:00
Video: Andy Kelso's National Anthem Day in Denver