Video: Cast of 'Xanadu' rolls into Mile High Stadium and Pepsi Center
Music Director David Nehls creates a new arrangement of the National Anthem, and his singers 'melt some faces'
Music Director, composer, conductor and lyricist David Nehls didn't play sports growing up. So when he was asked to create a new arrangement of the National Anthem to be performed at recent sold-out Denver Broncos and Denver Nugget games, he says with a laugh, "This is what finally put me over the top with my family."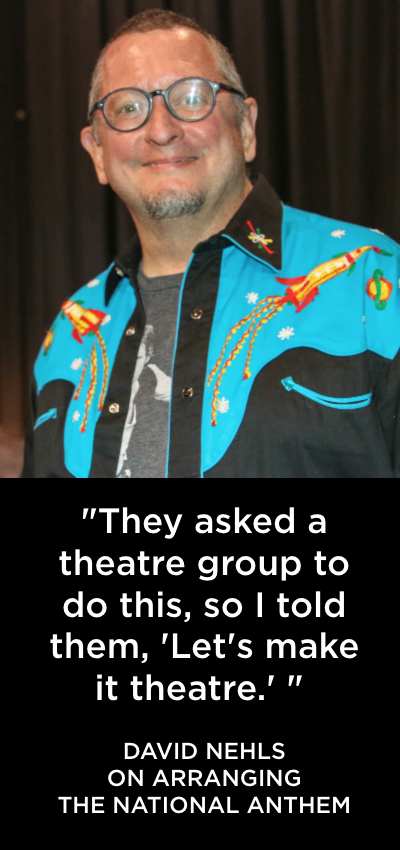 Thousands of Coloradans have heard Nehls lead bands and orchestras in live musical-theatre performances over the past few decades, presently at the Denver Center's ongoing hit Xanadu in the Garner Galleria Theatre. But it would take more than 500 sold-out performances of Xanadu for Nehls' work to add up to the number of people who witnessed the cast of Xanadu perform his new rendition of the anthem at Mile High Stadium and the Pepsi Center.
Nehls set out to create a version of the anthem that best suited the vocal talents of Xanadu performers Seth Dhonau, Sheryl McCallum, Leiney Rigg, Marco Robinson, Lauren Shealy, Aaron Vega and the singer Nehls calls his secret weapon: Sarah Rex.
"Honestly, the first thing I did was walk right up to Sarah Rex and say, 'What's the highest note you can sing?' " Nehls said. Her answer? A (superhuman) High D. So that became the note Rex would aspire to hit when the patriotic battle cry crescendos at, "'The flag was still … there!"
Nehls knew that moment "was going to shake the rafters and melt some faces," he said. And it did. First in front of 76,596 at the Broncos' December 15 game against Cleveland, then before 18,378 at the Nuggets' February 11 game against Miami.
Nehls arranged the tune to suit his singers in the same style as the Xanadu songs, which means "in three-part harmony, very high-end and very trebled," he said. He wanted a version with crisp diction and clean enunciation. And most of all, one that would tell the story of the song. "After all, they asked a theatre group to do this, so I told them, 'Let's make it theatre,' " Nehls said.
When Nehls told his mother about the project, she had one request: "She told me, 'Please, be respectful,' " Nehls said. "So when we were rehearsing, I kept saying to the cast, 'Respect the lyric. Tell the story of what is happening here.' "
The National Anthem comes from a Francis Scott Key poem written in 1814 after he witnessed the bombardment of Fort McHenry by British ships in Baltimore Harbor during The War of 1812. Key was inspired by the large U.S. flag, then with 15 stars and 15 stripes, still flying triumphantly after the U.S. victory. The poem was later set to an impossibly difficult tune written by a Brit named John Stafford Smith for a men's social club in London.
"The narrator is this guy who is witnessing all of this bombastic military behavior, but the thing that most resonated with him was that when all the firing stopped, the flag was still there," Nehls said. "That, to me, is the most touching part of the story. And that should still resonate with all of us as Americans. I mean, why do we sing the National Anthem before every sporting event in this country? It's to show respect for the soil that we are standing on. So performing the anthem not about us. It's about sending out the good vibe of what this poem was intended to do."
Nehls said conducting the anthem outdoors turned out to be very different from indoors. At Broncos games, the anthem is accompanied by fireworks, a precisely timed military flyover and an army of cheering fans. Many a Mile High anthem singer has been thrown off by the pronounced echo that can cause a delay between when the singer sings and when the singer actually hears it.
"We had to not focus on that, because you're in this gigantic stadium, and there are 75,000 screaming people and there is just this cacophony of noise, so if you let anything distract you from the task at hand, you're finished," Nehls said. "The Nuggets game was a little different because there were fewer people and we were indoors. So it seemed more concentrated, and that made it a little easier for them to sing."
Complicating the challenge: One Xanadu cast member was out sick for each anthem, so Nehls had only six singers for each appearance – but not the same six singers. And while they performed the anthem at basketball and football games, a baseball term might best describe how the Xanadu performers did.
"They knocked it out of the park," Nehls said.
John Moore was named one of the 12 most influential theater critics in the U.S. by American Theatre Magazine in 2011. He has since taken a groundbreaking position as the Denver Center's Senior Arts Journalist.
David Nehls: At a glance
David Nehls supervised about 45 mainstage productions at the Arvada Center before going out on his own in 2017. Before Xanadu, he served as the Music Director for Off-Center's The Wild Party. Nehls won a 2017 True West Award, in part because he composed four new musicals that were in various stages of development that year. His most recent work is Killer Wigs from Outer Space, which was recently presented at the Aurora Fox as a benefit for The Denver Actors Fund.
Xanadu: Ticket information
Glance: Based on the 1980 cult film starring Olivia Newton-John and Gene Kelly, Xanadu is a Tony Award-nominated musical that follows the journey of a magical and beautiful Greek muse named Kira who descends from the heavens of Mount Olympus to Venice Beach, California. She is on a quest to inspire struggling artist Sonny to achieve the greatest artistic creation of all time – the first roller disco. (Hey, it's 1980.) But when Kira falls into forbidden love with the mortal Sonny, her jealous sisters take advantage of the situation and chaos abounds.
Written by: Douglas Carter Beane (book); Jeff Lynne and John Farrar (music and lyrics)
When: Performances through April 28
Where: Garner Galleria Theatre, Denver Performing Arts Complex
Information: Call 303-893-4100 or BUY ONLINE
Groups: Call 800-641-1222
Age recommendation: 12 and over
Photo gallery:
https://www.denvercenter.org/wp-content/uploads/2019/03/Screen-Shot-2019-03-04-at-2.01.17-PM.jpg
729
1303
John Moore
John Moore
2019-03-04 14:22:03
2019-03-05 10:39:25
Video: Cast of 'Xanadu' rolls into Mile High Stadium and Pepsi Center