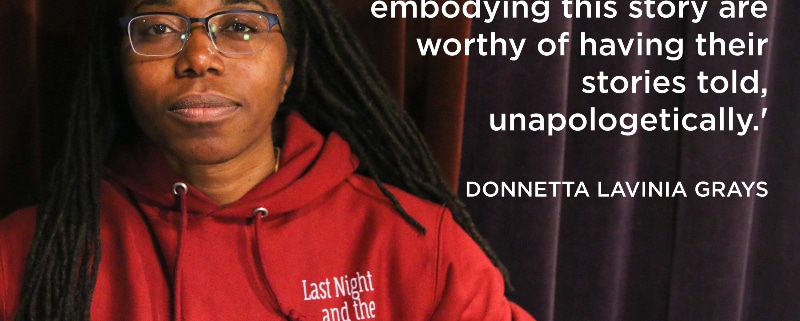 World-premiere play gives audiences opportunity to cast their eyes on characters we have turned a blind eye to in the American theatre

In the video above, DCPA Senior Arts Journalist John Moore talks with actors Bianca LaVerne Jones and Keona Welch, as well as playwright Donnetta Lavinia Grays and director Valerie Curtis-Newton about the DCPA Theatre Company's world-premiere production of 'Last Night and the Night Before,' playing through February 24 in the Ricketson Theatre. Here are additional excerpts from those interviews:
John Moore: Donnetta, tell us how our readers might recognize your face as an actor ­– or your name as a writer?
Donnetta Lavinia Grays: If you watch a lot of "Law and Order SVU,"  I am usually helping out with those marathons as either Officer Ramirez or a social worker named Linda Bagley. I am also going into my second season of "Happy" on the Sci-Fi network starring (University of Colorado Boulder grad) Chris Meloni, also of "SVU." So apparently Chris has done a lot for my TV career. And I am writing for a TV show right now called "Manhunt" in Los Angeles.
John Moore: How much can we know about Last Night and the Night Before going in?
Valerie Curtis-Newton: You can know that Last Night and the Night Before is a spine-tingling, edge-of-your-seat mystery that is based on a tremendous amount of familial love.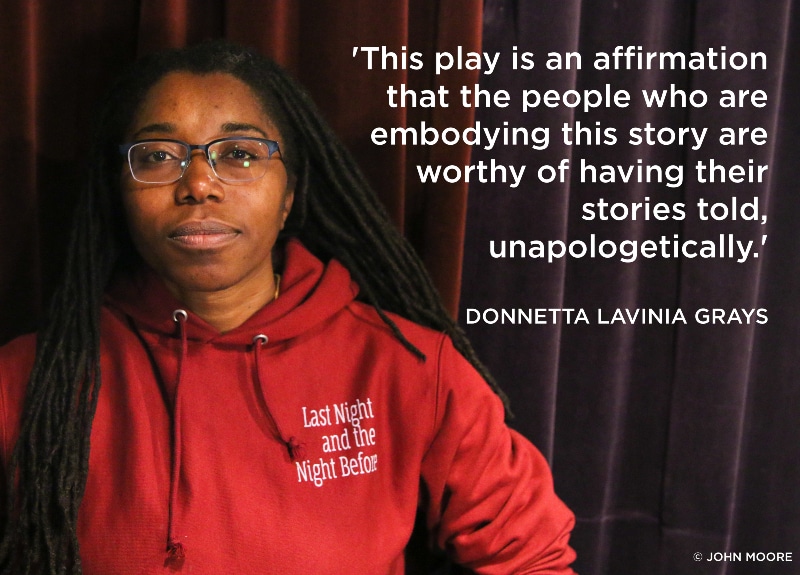 John Moore: And in what ways is Last Night and the Night Before a family story unlike we have ever seen before?
Valerie Curtis-Newton: This is the story of an African-American family, and I think the gift of the primacy of our perspective is one that we don't often get in our work in the American theatre. For us to be able to work on this kind of material doesn't happen all of the time, and it is a wonderful gift to be able to work on it.
John Moore: And how is this family different?
Valerie Curtis-Newton: African-American stories tend to always be urban stories. Last Night and the Night Before is about a woman from Georgia named Monique who gets in a car with her 10-year-old daughter and drives to Brooklyn. So the people we meet are both rural and urban, and the root that connects them is something we don't usually see on the stage.
Donnetta Lavinia Grays: This play is an affirmation that the people who are embodying this story are worthy of having their stories told, unapologetically, and that they have to cede nothing. That, to me is everything. These are people we have turned a blind eye to in the American theatre. But they are being allowed to take up space on the stage here in Denver. And because they have been given this platform, you have to realize that they are here. That's a huge thing that we can all learn right now, and that is just to see each other.
John Moore: One of the primary relationships in your play is between a lesbian couple, and it seems rare to me to see a lesbian couple whose sexuality is not the driving story of the play.
Donnetta Lavinia Grays: It meant a lot to me that I had lesbian women having a complicated journey that was outside of their sexuality. They have a broad number of other issues that they have to deal with. It also means so much to me to have Southern folks be represented fully, and to have their thoughts, ideas, traditions, and culture expressed fully.
John Moore: What did you mean when you said they cede nothing?
Donnetta Lavinia Grays: That means their vocabulary is sustained. It means their beliefs are sustained. It means I am not modifying anything to make anyone outside of that experience more comfortable. I am saying you are welcome to share in this experience. It's celebratory, I think, when you get to sit inside somebody else's rhythm and experience their truth.
Read more: Last Night and the story you have never heard before
John Moore: Valerie, this is, remarkably, the first fully staged production of a Donnetta Lavinia Grays play. In what ways is Donnetta a new voice for the American theatre?
Valerie Curtis-Newton: The entire team has been greatly honored to helm Donnetta's virgin voyage into full production. Everybody is so desirous of doing her proud and making sure that we get as close as possible to the play that she imagined in her head.
John Moore: And what does the play mean to you personally?
Valerie Curtis-Newton: I really appreciate that she has written queer women with all of their loves and gentleness and ferocity. As a queer woman, I don't get to work on plays often that have characters I can relate to in that way. And I think it's really wonderful that she has put us in this world as whole people. My hope is that she will continue to write plays that include us.
Donnetta: Absolutely. That's my mission.
John Moore: Tell us about Sam, the 10-year-old at the heart of the story, and Zaria Kelley, the young woman who plays her.
Valerie Curtis-Newton: We were really lucky to find Zaria Kelley, who is originally from Georgia herself. She is wonderfully naive and incredibly sophisticated at the same time. There are times when she is totally 10, and then other times when she is 134.
Donnetta Lavinia Grays: Zaria has a wonderfully old soul, and a wonderfully grounded spirit. She is inquisitive and sharp and she asks great questions.
John Moore: Donnetta, what does it mean to you that the DCPA Theatre Company chose to fully produce your play?
Donnetta Lavinia Grays: Sometimes all it takes to change your life is one magnificent 'yes.' As an actor, I am used to rejection – that has been my life for going on 20 years now. But writing is baring your soul in a more vulnerable way than acting is – for me, anyway. So when you have someone say to you: 'Yes. What you did is a good thing. What you did is challenging other people. What you are doing is celebrating other people, and we want to be a part of that.' …  That is a really awesome feeling. There are a lot of really good playwrights out there who never get produced, so to be among some of the few who actually get the chance to have their vision supported this fully is kind of like a tiny little miracle for me.
John Moore: Valerie, why is this the right play by the right theatre at the right time?
Valerie Curtis-Newton: Because the specific is universal. Because telling a well-crafted story that is complex and layered and tells the truth about the humanity in these few people will appeal to the humanity in all people. We already have had affirmations from Denver audiences that they relate to the core dilemmas that are facing this family. That is the gift of what theatre can do: It can get us out of our parochial thinking and into a more open mindset. This particular production is a great example of that because it is a very black play and yet the audiences have been standing up at the end. That says that we're onto something.
John Moore: Donnetta, what have you learned about the power of your play based on the first few audiences in Denver?
Donnetta Lavinia Grays: I have been getting chills from the audience. They have been very receptive. They have been listening. They actually start to love these people on the stage. And if I can accomplish that, then I think that's a great thing.
Read more: Take a deeper dive into Last Night and the Night Before
John Moore: What do you want to say to audiences who have yet to see the play?
Valerie Curtis-Newton: My hope is that audiences will come to the theatre leaning in. It's really easy to assume that you are not going to connect with these people before you sit down and actually see the play. We are doing our best to make the play open and accessible. You can lead a horse to water but you can't make it drink. My hope is these Colorado horses are interested in drinking, because I think the water is fresh and clear.
John Moore was named one of the 12 most influential theater critics in the U.S. by American Theatre Magazine in 2011. He has since taken a groundbreaking position as the Denver Center's Senior Arts Journalist.
Gallery of production photos:
All photos by Adams VisCom
---
Last Night and the Night Before: Ticket information

Written by: Donnetta Lavinia Grays
Director: Valerie Curtis-Newton

Dates: Through February 24
Where: Ricketson Theatre
Genre: Family drama/mystery
The play at a glance: When Monique and her 10-year-old daughter Samantha show up unexpectedly on her sister's Brooklyn doorstep, it shakes up Rachel and her partner Nadima's orderly New York lifestyle in this poetic, powerful and remarkably touching drama. Monique is on the run from deep trouble and brings their family's Southern roots with her, grabbing hold of Rachel's life more ferociously than she could have ever imagined. This 2017 Colorado New Play Summit featured play explores the struggle between the responsibilities that are expected of us and the choices we actually end up making.
---
Photos from the making of the play:
All photos by John Moore for the DCPA NewsCenter
https://www.denvercenter.org/wp-content/uploads/2019/01/800-Donnetta-Lavinia-Grays-full.-Photo-by-John-Moore.jpg
575
800
John Moore, Senior Arts Journalist
John Moore, Senior Arts Journalist
2019-01-29 12:32:32
2019-01-30 16:47:11
Video: 'Last Night' and the power of one magnificent 'yes'