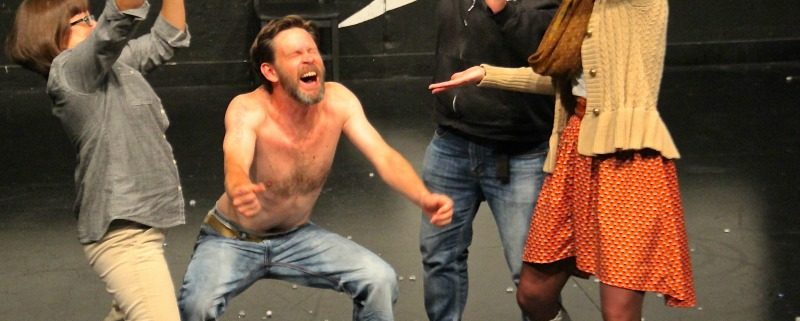 Video: Off-Center's off-center parody of 'The Unsinkable Molly Brown'
Friday is a busy day at the Denver Center for the Performing Arts, with the Theatre Company's first preview performance of the new The Unsinkable Molly Brown in the Stage Theatre, and Off-Center @ The Jones hosting is fourth Season Release Party in, yes … The Jones.
The shenanigans will include live trailers of all upcoming Season 4 Off-Center shows. Admission is as free as the beer. (Which to clarify, means free. Really.)
Want a hint about what the evening has in store? This is your chance to find out what happens when you mix karaoke, pirates … and your deepest secrets.
In honor of the big night, we present to you this silly/fun/inspired/stupid video of the Cult Following cast doing their own 2-minute improvised adaptation of The Unsinkable Molly Brown. Our honored guests are Jessica Austgen, Sarah Kirwin, Nanna Sachiko Thompson and Chris Woolf.
Unluckily, none of these accomplished improv comics have ever seen The Unsinkable Molly Brown. Luckily … they have seen Les Mis. (Probably one time too many.)
What's Cult Following, you might ask? It's Off-Center's signature night of unscripted, unrehearsed theatre featuring the fast-talking and quick-thinking talents of some of Denver's best improvisers. Each show is based around a theme and promises to be unforgettable and un-replicable. Join us for the next Cult Following on Oct. 10.
Off-Center @ The Jones' Season Release Party
Friday, Sept. 12
Bar opens at 7:30 p.m.
Show starts at 8
For more info about Off-Center @ The Jones, click here
To read our recent feature story on Cult Following cast member Jessica Austgen, click here
To see the cast of Cult Following featured in the ongoing, citywide public art project called the Denver Sonnets Project, click here
From left: Nanna Sachiko Thompson, Chris Woolf, Sarah Kirwin and Jessica Austgen. Photo by John Moore.
https://www.denvercenter.org/wp-content/uploads/2018/04/featured-image-1396.jpg
610
800
John Moore
John Moore
2014-09-11 11:34:00
2014-09-11 11:34:00
Video: Off-Center's off-center parody of 'The Unsinkable Molly Brown'