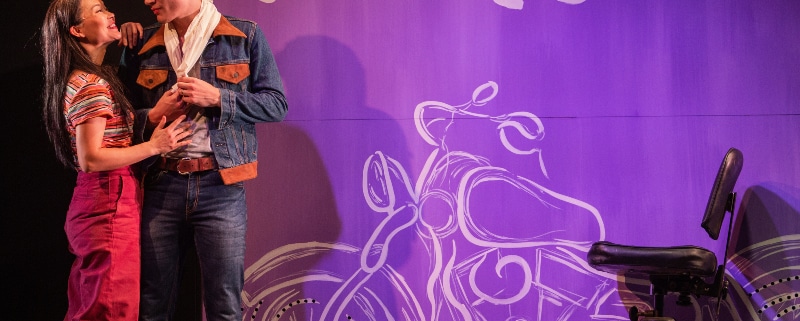 Video, photos: Your first look at 'Vietgone'
"This is not a story about war. It is a story about falling in love." Here's your first look at the DCPA Theatre Company's Vietgone, playwright Qui Nguyen's free-wheeling rebel play about how his parents met at an Arkansas refugee camp in 1975. Vietgone, directed by Seema Sueko, performs through Sept. 30 in the Ricketson Theatre. The cast includes Melody Butiu, Jordan De Leon, Brian Lee Huynh, Lisa Helmi Johanson and Glenn Morizio.Video above by DCPA Video Producer David Lenk.
Go to our full gallery of downloadable Vietgone photos by Adams Viscom
Vietgone:

Ticket information



Vietgone is an ode to the real-life courtship of Playwright Qui Nguyen's parents. Forced to leave their country during the height of the Vietnam War, two refugees find themselves at the same relocation camp in Arkansas – the land of Harleys and hot dogs. Before they find their way into each other's arms, they'll have to blaze a trail in their weird new world and leave behind the baggage they didn't pack.
https://www.denvercenter.org/wp-content/uploads/2018/08/Viegone-Photo-by-Adams-VisCom.jpg
618
800
John Moore
John Moore
2018-08-30 15:14:14
2018-08-31 09:33:35
Video, photos: Your first look at 'Vietgone'