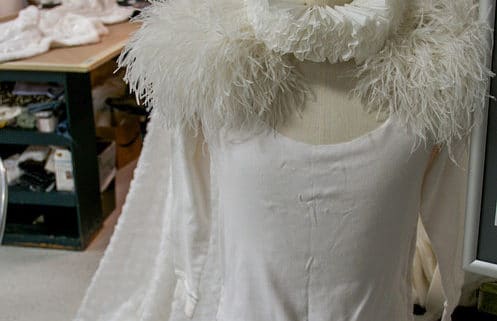 In this third video in our series taking you backstage to the making of the DCPA Theatre Company's 2016 staging of A Christmas Carol, the creative team shows how they built an opulent new sleigh for the grand entrance by the Ghost of Christmas Present, complete with presents, lights and lots of food. How DO they make those Jell-O molds? Take a look. Our guests include Technical Director Eric Rouse, Props Artisans David Hoth, Georgina Kayes and Katie Webster, who say the twinkling sleigh was inspired by a picture-perfect postcard. Video by David Lenk.
The making of A Christmas Carol: Our photo gallery
To see more photos, click on the "forward" arrow on the image above. Photos by John Moore for the DCPA NewsCenter.

A Christmas Carol: Ticket information

At a glance: Based on Charles Dickens' classic novel, this joyous and opulent musical adaptation traces money-hoarding skinflint Ebenezer Scrooge's triumphant overnight journey to redemption. A Christmas Carol illuminates the meaning of the holiday season in a way that has resonated for generations.
Presented by the DCPA Theatre Company
By Charles Dickens
Adapted for the stage by Richard Hellesen
Music by David de Berry
Directed by Melissa Rain Anderson
Through Dec. 24
Stage Theatre
ASL Interpreted and Audio-Described Performance: 1:30 p.m. Dec 11
Tickets: 303-893-4100 or BUY ONLINE
Selected previous NewsCenter coverage of A Christmas Carol
Costume Corner: What's new with A Christmas Carol?
A Christmas Carol undergoes its own rebirth with new director, star
Cast lists: A Christmas Carol, The SantaLand Diaries begin anew
Video: Leslie O'Carroll performs A Christmas Carol in five minutes
Photos, video: Philip Pleasants takes final bow as Scrooge
https://www.denvercenter.org/wp-content/uploads/2018/04/featured-image-3564.jpg
640
497
John Moore, Senior Arts Journalist
John Moore, Senior Arts Journalist
2016-11-30 11:21:00
2018-09-19 10:31:29
Video series: Behind the Scenes at 'A Christmas Carol'