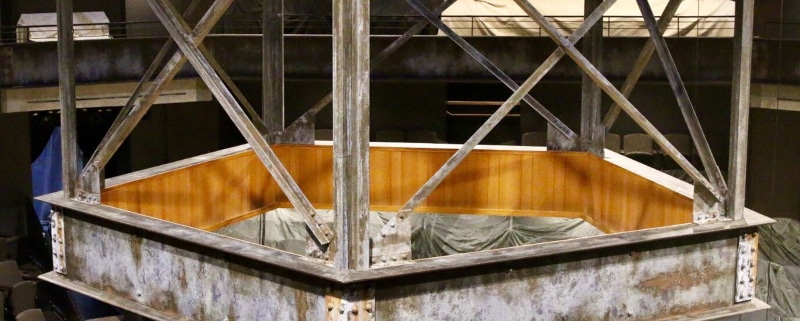 Video: 'Standing Equation,' Episode 2: Fun with pentagons
Math is cool. And if you love theatre, our new educational video series will show you why.
It's one of the realities of performing in the five-sided Space Theatre: The mathematical regularities (and peculiarities) of the pentagon, defined simply as a plane figure with five straight sides and five angles. Tony Cisek, who recently designed the elliptical stage floor for the DCPA Theatre Company's Anna Karenina, followed up by inventing the blue-collar bar setting for Sweat, anchoring the action with a looming steel pentagon befitting the story's Pennsylvania location. What went into designing and building it?
Welcome to Episode 2 of Standing Equation, our new web series on theatre and math, presented by the DCPA NewsCenter. Your host is Denver Center Theatre Company Technical Director Eric Moore, who explains how certain angles become second nature when you regularly play in a five-sided, round theatre such as The Space.
Moore, a Colorado native and graduate of Aurora Central High School, is the rare theatre artist who majored in math (with a minor in theatre) at Arizona State University. He was first hired into the Denver Center's scene shop in 1993, was soon promoted to Lead Carpenter, and was named Technical Director in 2018.
Standing Equation is produced by DCPA Senior Arts Journalist John Moore and DCPA Video Producer David Lenk. Look for more upcoming episodes on the Denver Center's YouTube channel.
John Moore was named one of the 12 most influential theater critics in the U.S. by American Theatre Magazine in 2011. He has since taken a groundbreaking position as the Denver Center's Senior Arts Journalist.
Sweat: Ticket information
The play at a glance: For the people of poverty-stricken Reading, Pennsylvania, work is much more than a paycheck – it's the glue that has held the town together for generations. The floor of their central factory is where lifelong friendships are made, where love blossoms and where family members work side-by-side. But as layoffs become the new norm and a cheaper workforce threatens the viability of the local union, the threads that once kept the community together begin to fray. Using warm humor and deep empathy, Nottage paints a moving portrait of today's working-class America in decline.
Written by: Lynn Nottage
Director: Rose Riordan
Dates: Through May 26
Where: Space Theatre
Genre: Working-class drama

Tickets: Start at $30 and can be purchased at 303-893-4100 or in person in the Helen Bonfils Theatre Complex at 14th and Curtis streets or online by clicking here:

Photo gallery: The making of Sweat
https://www.denvercenter.org/wp-content/uploads/2019/05/Sweat-set_-Standing-Equation-Photo-by-John-Moore.jpg
745
800
John Moore
John Moore
2019-05-15 11:40:54
2019-05-15 11:45:58
Video: 'Standing Equation,' Episode 2: Fun with pentagons