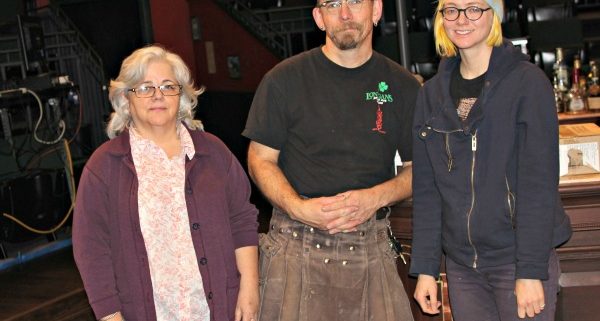 Video, story: Building 'The Nest': Bringing a bar to life
Take a backstage look at how DCPA artisans crafted the 13-foot bar that creates the world of 'The Nest.' Our guests in the video above include Properties Director Robin Lu Payne, Carpenter David Hoth and Props Artisan Katie Webster. They explain how they achieved rounded corners and the impression of intricately carved rosewood and ivory marble inlays. When asked why it was important for the DCPA artists to build the bar from scratch, Hoth said, "It's what we do. It's what we have done for years." Video by David Lenk and Senior Arts Journalist John Moore for the DCPA NewsCenter.

---
Staging the world premiere of Theresa Rebeck's The Nest in The Space Theatre has created more than the usual challenges for Director of Scenic Design Lisa Orzolek to solve. The play is set in a bar. The Space is a five-sided theatre in the round.
How do you make that work?
"Bar plays are traditionally very stationary, and whenever you do a play in the round, you don't ever want to be stationary," Orzolek said. "So the challenge from the get-go is, 'How do you shape the bar so it is the most open to the most people in the audience?'"


The Nest is a provocative new comedy that introduces a group of disparate bar regulars whose social foundations are shaken when a stranger walks in with a lucrative proposition. It plays though Feb. 21 in the Space Theatre.
The setting is a Midwestern bar that is now fading more than 100 years after it was exquisitely crafted, anchored by a huge, ornate, beveled – and imagined, from the audience's perspective – German mirror. DCPA carpenters began building the bar the week of Thanksgiving.
Orzolek is in her 26th season with the DCPA Theatre Company, and she considers it her privilege to design the final play in The Space Theatre before it closes for a year of renovations. She took some time to talk about the design process.
(Pictured above right: Properties Director Robin Lu Payne, Carpenter David Hoth and Props Artisan Katie Webster. Photo by John Moore.)
John Moore: A bar is inherently fixed, but you don't want the story to play out at anyone's back for any length of time. What can you tell us about the solutions you came up with, without giving anything away?
Lisa Orzolek: Not very much, sorry. I can say that there are challenges in the script that we have solved with the magic
of theatre.
John Moore: Artfully dodged! How did you even approach the project in the first place?
Lisa Orzolek: I met with Adrienne Campbell-Holt, the director, over the summer to talk it through. We started by sitting down together in The Space Theatre for quite some time just trying to envision how a bar could fit into our little, five-sided theatre. We asked each other all kinds of questions, like, "Should we remove some seats and turn the play into more like a traditional proscenium style?"
John Moore: I take it you thought better of that?
Lisa Orzolek: Oh, yeah. The solution we finally discovered is much more theatrically interesting than that. I thought it was important that we embrace the challenge of the in-the-roundness of The Space Theatre and not take a proscenium approach.
John Moore: So when you left that meeting, did you feel like you had all of the challenges solved?
Lisa Orzolek: Not 100 percent. But I feel we have solved the problem of putting a bar play in the round very well. I think audiences are going to be surprised by how well it works, actually. I think they will feel like they are part of the bar itself. But it took some artistic and financial creativity. The solution we came up with would not have been possible without our reallocating some funds from one part of the show budget to another.
John Moore: Any other peculiar design challenges?
Lisa Orzolek: Yes. These characters eat an awful lot of steak. So a great deal of steak will need to be cooked and consumed throughout the run.
John Moore: Will that be real steak they are eating?
Lisa Orzolek: That is yet to be determined.
John Moore: What if an actor doesn't eat meat?
Lisa Orzolek: We are already considering what could be a possible substitute for steak. And our Director of Props, Robin Payne, has some really good alternatives in the works.
John Moore: And there is a lot of booze.
Lisa Orzolek: There is an awful lot of booze. The play is set in a bar, after all. But alcohol is actually much more easy to solve in a play than food that has to be consumed.
John Moore: Theresa Rebeck is a big advocate for gender parity in the theatre, and she told me one way to achieve parity if you are a woman in power is to hire other women. Half of the design staff for The Nest are women. Is that a nice change for you?
Lisa Orzolek: I think it is exciting and empowering whenever there are more women in any given production, but I don't perceive a real disproportion between the number of male and female designers here at the DCPA. That said, there is a different energy with this play. It's a lot of fun to work with many talented women at once. And you may not know this, but the stage management staff for this play is all female, too.
John Moore: Are you sentimental about this being the last play in The Space Theatre as we know it before it gets renovated in 2016?
Lisa Orzolek: I am sentimental. It's the end of an era, but it is not the end of The Space Theatre. I am privy to what it's going to look like on the other side, and it is not changing in configuration all that dramatically. So I am glad we are going to keep it in the round.
John Moore: It had to be fun putting in all that critical research this play must have demanded.
Lisa Orzolek: It has been really fun to design a working bar for this play — and yes, there was a lot of research conducted in bars. We spent a lot of time just sitting and looking at how different things look that you never pay attention to in a bar. For example, we spent a lot of time just measuring things out, and looking closely at what it really looks like from behind the bar. You know, the feng shui of the place. So yes, there was a lot of research — but it was important research!
John Moore: Did you look to any particular local watering hole for inspiration?
Lisa Orzolek: Yes, My Brother' Bar at 15th and Platte streets. That place is just the perfect bar. It usually has a lot more customers than the bar in The Nest does, but it's got that same, comfortable, everyman's place kind of feel to it.
​
Photos of the process:
​

Photos by John Moore, Carolyn Michaels and Adams Visual Communications for the DCPA NewsCenter. To see more photos, hover over the photo above and click the forward arrow.
By Theresa Rebeck
Through Feb. 21
Space Theatre
When you have a seat at the bar called The Nest, no conversation is off-limits, whether you're speaking or eavesdropping. That is, until a stranger walks in with a lucrative proposition. Pulitzer Prize finalist Theresa Rebeck's plays "may make you laugh or shudder (or both)" according to American Theatre, and with its feisty humor and scorching dialogue, this explosive new comedy holds a cracked mirror up to friendships, romantic relationships and families.
Tickets: 303-893-4100 or BUY ONLINE

Previous NewsCenter coverage of The Nest:
The Nest flies in face of national gender trends
Opening night photo coverage
5 Things We Learned from The Nest … Like 'Mansplaining'​
Theresa Rebeck: Bar plays should be 'humanly reckless'
Five things we now know about that bar
Cast list announced
Theresa Rebeck is not getting angry: She's getting even
​American Theatre magazine: The Colorado New Play Summit Is a Developing Story
Meet the Cast profiles (to date):
Meet Kevin Berntson
Meet Brian D. Coats
Meet Brian Dykstra
Meet Victoria Mack
Meet David Mason
Meet Carly Street
https://www.denvercenter.org/wp-content/uploads/2018/04/featured-image-2709.jpg
457
600
John Moore
John Moore
2016-02-04 15:02:00
2016-02-04 15:02:00
Video, story: Building 'The Nest': Bringing a bar to life