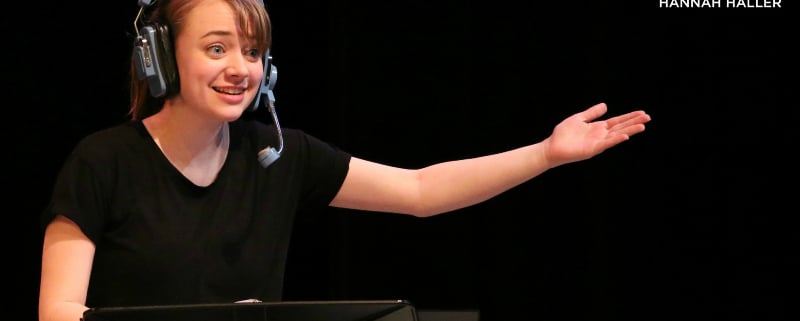 Video: Student playwrights take audiences to brave new worlds
Video by John Moore and David Lenk for the DCPA NewsCenter.

Four public performances of the student-written play 'Technical Difficulties' will be staged this Friday, June 15
By John Moore
Senior Arts Journalist
Denver Center Education launched its annual, year-long Regional High School Playwriting Workshop and Competition five years ago to celebrate the voices of teen writers in Colorado. In that time, hundreds of students have found their authentic voices, Executive Director of Education Allison Watrous says. But now, more than ever, they are discovering the courage it can take to use them.
"We were so inspired by how brave all of the plays were this year in asking questions about family and the world," Watrous said. "These teenagers are really facing those questions head-on through their creative writing."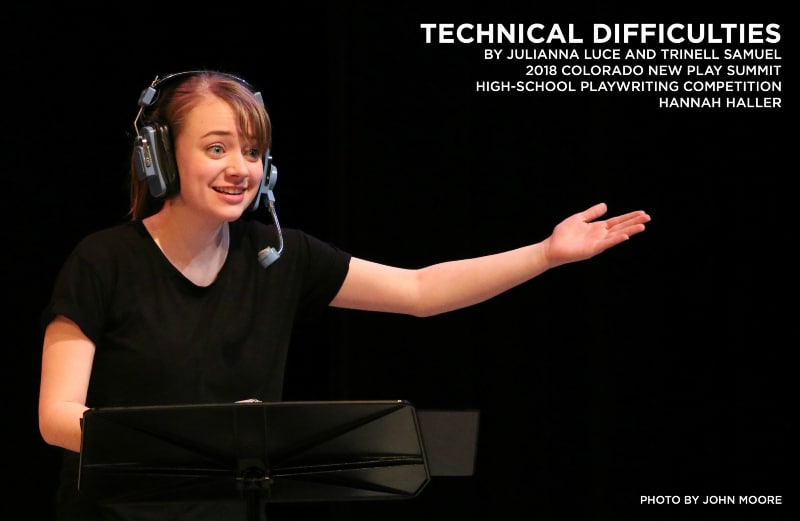 Starting last fall, DCPA Education faculty taught 140 playwriting workshops in 57 Colorado high schools. A record 3,002 students participated in those workshops, which were held in every school district in the Denver-metro area and in 20 counties around the state. The 153 subsequent submissions were judged blindly by DCPA artistic and education professionals.
Ten 10 semifinalists were named, who covered a substantive range of important topics including sexual abuse, gender identity, suicide, homelessness, child abuse, race relations and addiction.  From that field, three plays were chosen to be presented in February by professional actors at the 2018 Colorado New Play Summit. That included a week of workshops, rewrites, rehearsals and mentoring from nationally acclaimed playwrights. The following three finalists also received a $250 scholarship:
Emmaleth Ryan, Grandview High School: In The Warrior, a young woman who is fighting her demons decides to end the battle by committing suicide. However, her course is interrupted by another young woman who reminds her of the resilience of the human spirit. "I learned more about how to grapple with life by writing a character who has fought her demons and won," Ryan said. MEET EMMALETH
Julianna Luce and Trinell Samuel, Vista PEAK Preparatory: Technical Difficulties is a comedy about a group of theatre students who encounter every techie's worst nightmare: Their show has been seized by vengeful understudies. Will these backstage heroes save their show? the self-described high-school techies: "When the lights, sound or even just the ambience we help create draws 'oohs' and 'aahs' from the audience, it is mystical for us," Samuel said. "It feeds the hunger of our inner artist." MEET JULIANNA AND TRINELL
Noah Jackson, Girls Athletic Leadership School: Wine Colored Lip Gloss is about a non-binary teenager named Lucca who is dealing with gender-identity issues and unaccepting parents. "I learned how to take advice on social situations from my own characters, which actually helped me through a lot of problems I've faced," Jackson said. MEET NOAH
Every summer, one of the finalist scripts is chosen to be staged as a full production by DCPA Education's teen academy. On Friday, these student actors will present four public performances of Technical Difficulties, staged by two separate casts, at 10:30 a.m., 1:30 p.m., 7 p.m. and 8 p.m. in the Conservatory Theatre.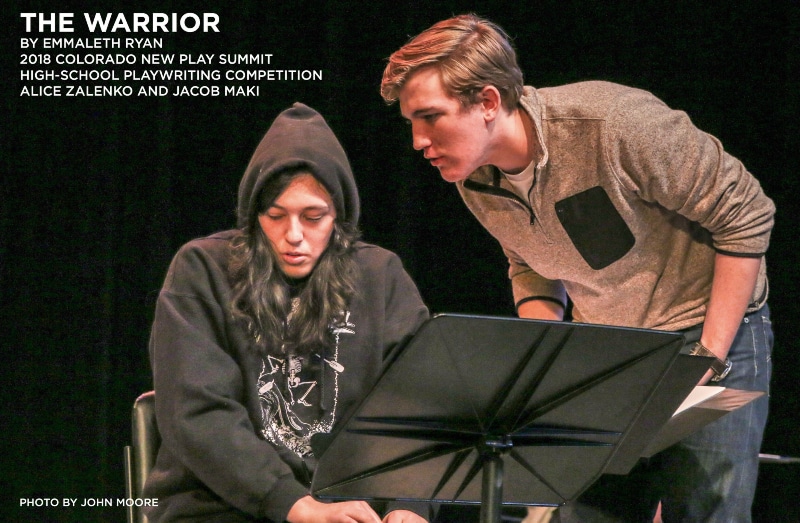 Ryan says issues of mental illness and suicide have been at the forefront of her mind since middle school, and the Denver Center's playwriting challenge gave her a constructive tool to explore and channel them.
"I offer two different perspectives on the issue of suicide," she said. "One character is mired in it, and the other is trying to help her out of it. She is what I call my 'savior figure.' She represents my perspective that while it may seem permanent, it's really a temporary state of mind, no matter how final it might seem."
There is some level of self-victimization that goes into mental illness and suicide that isn't often talked about openly, Ryan said, "because it is either completely glorified or completely vilified. I wanted to bring that out in the dialogue between my two main characters."
Jackson's play made history when it became the first story to address topic of gender identity in the nearly 40-year history of the Denver Center.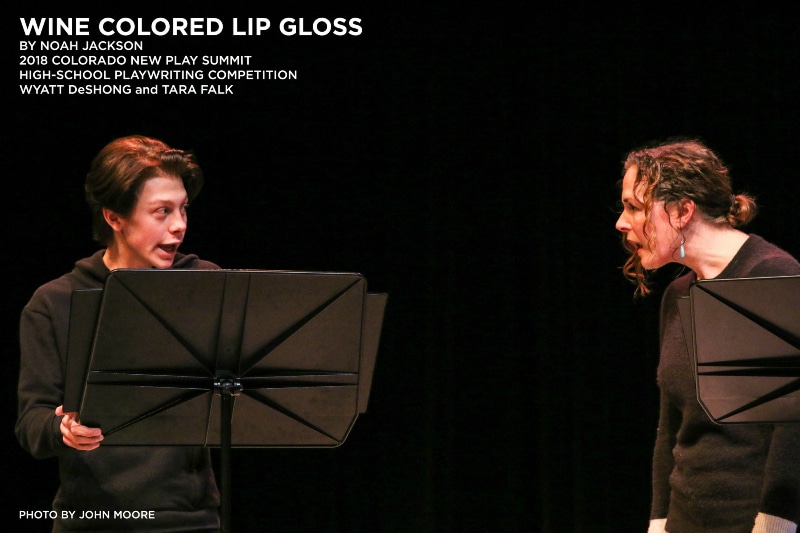 Rose-Colored Lip Gloss is a play based on Jackson's own experiences. "As a boy in a dress, I am obviously gender-queer in some way," said Jackson, who self-identifies using he/him pronouns while his main character uses they/them. "Lucca is very confused about their gender identity," Jackson said. "They don't understand what the spectrum is at first, because they don't know who they are yet. My play is about Lucca trying to figure out who they are while dealing with family members who are unaccepting and have serious problems of their own. It's just very personal to me, and very close to my heart."
These extraordinary writers, Watrous said, "are exploring the fullest potential of the art form through their use of poetry and nuanced dialogue. And we are honored to nurture and empower these emerging voices and put them out into the world, whether as part of the next generation of American theatre playwrights, or as a lawyer or a communications director. The important lesson here is that their voices are powerful."
Technical Difficulties, by contrast, is very much a comedy, co-written by two friends who met as backstage technicians for the Vista PEAK High School theatre program. Samuel is the sound-board operator and Luce is a stage manager and lighting designer who last month won the Bobby G Award for Outstanding Lighting for her school's production on Into the Woods.
In her acceptance speech, Luce said the award was especially meaningful to her "because of all the amazing work the DCPA does to encourage the work of young people, including the playwriting program."
She and Samuel chose to co-write Technical Difficulties as a team, which Samuel said made for a complementary fit.
"I am the bones, and she is the flesh," said Samuel. "I'll write out a scenario and Juliana will add flavor to the characters and make the dialogue sound more natural."
Seeing their plays presented as professional readings at the Colorado New Play Summit, which draws important theatre industry guests from across the country, was indescribable for Jackson.
"I had someone come up to me in tears saying my play touched her so much, and I am just over the moon about that," he said. "It makes me so excited that people are actually feeling the words that I worked so hard on."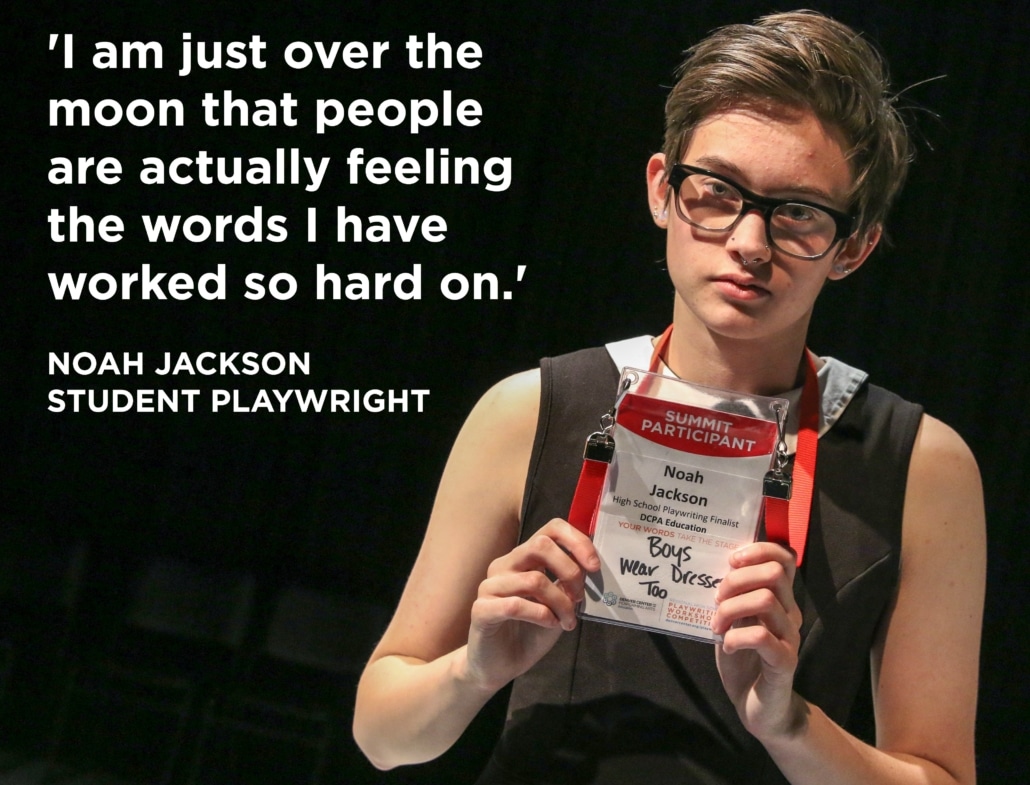 Jackson took his writing challenge very seriously, especially given the paucity of plays that talk about transgender people and their struggles. But he wanted much more than to write an educational, afterschool-special type of play that "taught" audiences about non-binary people.
"I wanted it to also have an actual story with characters who had depth, and I think I finally developed it enough to get there." Jackson said. "I want people to that there are people who struggle with gender identity, and this is an important subject that needs to show up in the media more. But I also wanted it to be a good play."
Ryan expected to cry like a baby when her play was first performed — "but luckily my mom did all of that for me," she said. But she admits being nervous about turning her deeply personal words — much of it her own previously private poetry — into the hands of strangers.
"But as soon as I walked into that room and the first rehearsal started, I was reassured because the actors they picked for my show were amazing," she said. "I honesty could not have picked a better group of people myself." She said watching it acted out in front of an audience gave her new perspective — and pride — in what she had written.
Photo gallery:  Denver Center student playwriting:
Photos from rehearsals and performance of selected student playwriting scripts. To see more, click on the image above to be taken to our full Flickr photo gallery. Photos by John Moore for the DCPA NewsCenter.
Each year, the featured student playwrights are paired with a professional mentor attending the Colorado New Play Summit. Luce and Samuel were counseled by American Mariachi author José Cruz González; Ryan met with Tony Meneses; and Jackson teamed up with Aleshea Harris.
"It was really cool to talk to Tony because he is a seasoned playwright who knows what he is doing in this field," Ryan said. "It was really validating to hear that what I was trying to express on paper came through for him on the stage."
Jackson, who does not yet have a vast personal library of gender-fluid writers to study, said Harris wrote down the names of several non-binary playwrights for him to explore. "She was super-cool and helpful and gave me information that I am sure is going to be inspiring and useful to me in the future," Jackson said.
It is incidental but worth noting that at this time of pronounced gender disparity in the American theatre, the DCPA's statewide high-school playwriting competition has, by a blind judging draw, now produced 70 percent female finalists in its first five years (39 of 56).
Also of note: Each teacher of the three finalists received a $250 gift certificate for books, supplies or other teaching tools for their classrooms.
John Moore was named one of the 12 most influential theater critics in the U.S by American Theatre Magazine in 2011. He has since taken a groundbreaking position as the Denver Center's Senior Arts Journalist.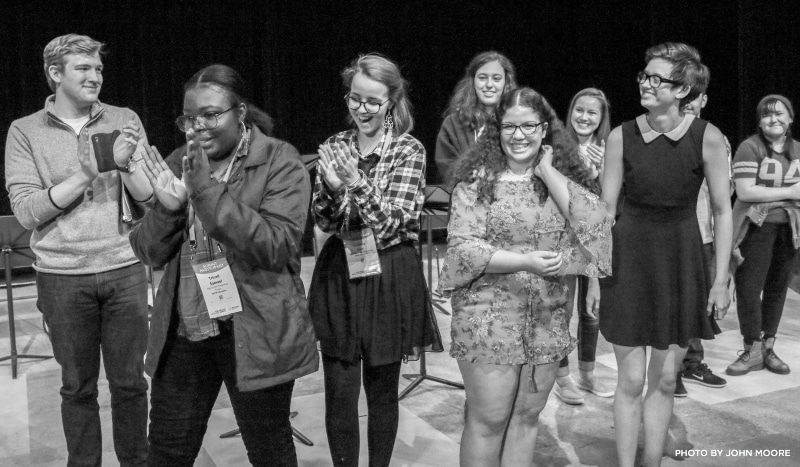 Public performances of Technical Difficulties

Written by Julianna Luce and Trinell Samuel
Directed by Justin Wolvoord
Friday, June 15
Performances at 10:30 a.m., 1:30 p.m., 7 p.m. and 8 p.m.
Conservatory Theatre, located in the DCPA's Newman Center for Theatre Education at 1101 13th Street (at Arapahoe St.)
Free
No advance RSVP required. Just come.
Information on next year's program: denvercenter.org/education
Cast lists:
10:30 a.m. and 7 p.m.:
Alice Zelenko: Maureen
Isabella Rossi: Tracy
Jeremiah Garcia: Seymour
Nikki Trippler: Elphie
Benji Dienstfrey: Collins
Jori O'Grady: LeFou
Breck Dahlgren: Belle
Gracie Dahlgren: Beast
Angela Howell: Props Master
Mati Rogers: Gaston
Sarah Scott: Wolf
Zoe Fonck: Wolf
1:30 and 8 p.m.:
Zoe Fonck: Maureen
Mati Rogers: Tracy
Benji Dienstfrey: Seymour
Sarah Scott: Elphie
Jeremiah Garcia: Collins
Angela Howell: LeFou
Gracie Dahlgren: Belle
Breck Dahlgren: Beast
Jori O'Grady: Props Master
Isabella Rossi: Gaston
Nikki Trippler: Wolf
Alice Zelenko: Wolf
Our profiles of all 2018 Scenester semifinalists:
2018 Regional High-School Playwriting Workshop and Competition Sponsors:
Robert and Judi Newman/Newman Family Foundation with matching gifts from The Ross Foundation, June Travis and Transamerica.
https://www.denvercenter.org/wp-content/uploads/2018/06/featured-image-11480.jpg
521
800
John Moore
John Moore
2018-06-14 13:06:00
2018-07-25 10:44:09
Video: Student playwrights take audiences to brave new worlds