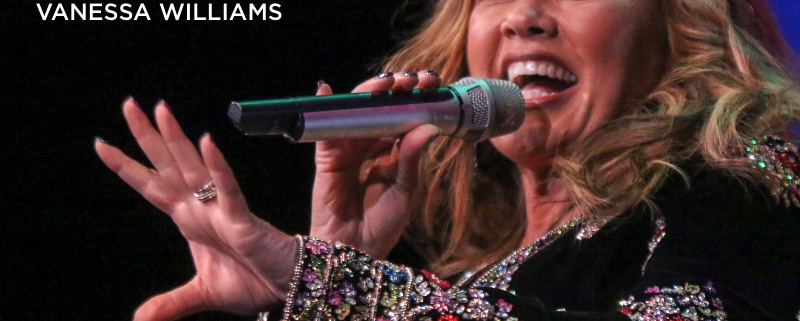 Video: Vanessa Williams at Saturday Night Alive: 'Be voracious'
'I am the perfect example of an arts education,' the daughter of two music teachers tells Denver Center crowd
Vanessa Williams brought a simple message to her headlining concert at the 2019 Saturday Night Alive, the Denver Center's 39th annual fundraiser for its arts education programs: There is always opportunity – if you are willing to put in the work.
"The Denver Center is a perfect example that if you don't have an arts-funded program in your school, there's always a place for you to find a class or a mentor or the skill set that you're going to need," said Williams, a multi-platinum recording artist and star of television, film and the Broadway stage. "Then it's up to you to have the wherewithal to see it through."
Williams had a leg up as the daughter of two public-school music educators. She was performing by age 3, and was encouraged to explore a verity of arts disciplines. So she did them all. Still does. While not everyone who takes an arts class will end up on Broadway, Williams said all young people should take them because they unleash creativity in them that not only makes them better students in other classes, but better human beings in general. "Arts classes enhance the brain," she said.
Since its inception, Saturday Night Alive has raised an estimated $23 million to help DCPA Education provide theatre programs to 2.1 million students. Last year, the Denver Center engaged 144,000 students through classes, workshops, matinees, Shakespeare in the Parking Lot, the annual High School Playwriting Competition and much more.
Here is more from DCPA Senior Arts Journalist John Moore's conversation with Vanessa Williams before the concert, held March 2 at the Seawell Ballroom: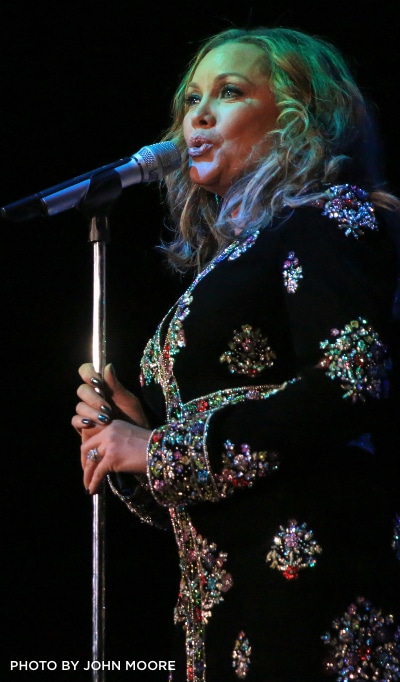 John Moore: Why was it important for you to be here to raise money for arts education on this snowy night in Denver?
Vanessa Williams: Well, I am a product of two music educators. I would not be here if my parents didn't expose me to music. That was a requirement in our household. I played piano and the recorder, Suzuki violin, marching band, concert band and choir. I wouldn't be the musician I am if they had not exposed me to music, and also if they had not instilled in me the discipline to keep at it. That is what allowed me to have a career. And so many arts programs are the first thing to be cut. So it's a cause that is near and dear to my heart. The fact that I can sing my songs and bring joy to people and also raise money for arts education makes this a win-win for everyone.
John Moore: How would having different parents have changed the trajectory of your life?
Vanessa Williams: I was so lucky to have parents who believed in and valued the arts – and not only music but theatre and dance as well. I have danced my entire life. But Broadway was my dream. Living about an hour north of New York City, I knew it was a tangible goal for me. And I reached it. So I don't know what my life would've been like without two parents as music educators and believers. They never said to me: "There is no guarantee, so get a real job just in case this dream falls apart." They saw my talent and said: "We think you can make it if you get the proper education." So I went to college. I majored in musical theater. And I did production after production. I put the time in.
John Moore: How did the freedom to pursue different arts disciplines create additional opportunities for you as you grew?
Vanessa Williams: Having experience in dance and music and vocals and acting has allowed me to jump into different genres seamlessly. I'm just about to do a pilot for ABC called "Happy Accident," which will be a half-hour comedy by the makers of "Modern Family." I'm playing a lounge singer. So I'll be able to sing while I'm acting and doing comedy. So having that range has afforded me a lot of opportunities.
John Moore: When did you know you were going to be a theatre-lover for life?
Vanessa Williams: I started doing dance recitals when I was 3. So I was used to being on the stage. I used to watch Alvin Ailey Company come through every year and I knew that that could be a possibility if I worked really hard. But I think it was when I saw Stephanie Mills play Dorothy in The Wiz. I was probably 11. That's when I said to myself, "Wow. This is just an audition away for me." That made it real for me. So I did every kind of musical that was available to me. That was my foundation but also my springboard.
John Moore: Not everyone who takes arts classes is going to end up on Broadway. Why should they take classes anyway?
Vanessa Williams: Because taking classes makes you more disciplined. It pushes your comfort zone and your limits – particularly when you have to memorize something and then do it perfectly. But also, it has been proven that if you learn to play a musical instrument, you have higher test scores. Arts classes enhance the brain. I am a mother of four and I made my children play an instrument. I passed down that requirement from my parents. Music is a part of all their lives in different ways.
John Moore: What do you say to young artists trying to find their way and make it in the world?
(Story continues below the video.)
Video bonus: What Saturday Night Alive is all about
Vanessa Williams: Do your homework. There is always an opportunity, and the Denver Center is a perfect example that if you don't have an arts-funded program in your school, there's always a place for you to find a class or a mentor or the skill set that you're going to need. But be voracious. If you love somebody's work, then find out where they went to school. Find out who their influences were.
John Moore: Do you have a stage role that's really close to your heart because of the way it changed your career trajectory?
Vanessa Williams: I would have to say Kiss of the Spider Woman in 1994. That was the culmination of a lifelong dream. It was a spectacular piece. It was a dual role of Aurora, who was the movie star, going into the Spider Woman, who was death. It was glamorous. It was powerful. It was sensual. It was scary. And it was all wrapped up in a really dynamic show.
John Moore: And do you have one total guilty pleasure TV role?
Vanessa Williams: I would have to say Wilhelmina Slater from "Ugly Betty" is my all-time favorite. The writing was fantastic. I wish I was as funny as our writers made Wilhelmina out to be. And the fashion was fantastic. We had a great ensemble. That really was like having a Broadway cast. We would just jump in and be open to whatever was given to us. I miss them all.
John Moore: Tell us more about your upcoming TV pilot, "Happy Accident."
Vanessa Williams: Matt Walsh from "Veep" is in it, along with some other fantastic, really smart and great, funny actors. I play Sheri Fox, who never quite made it out of Pittsburgh. She gave up her dreams to be a mom – and she won't ever let her son forget that. She's a ball of fire, and I can't wait to jump into her skin.
John Moore: Tell us about the show we are going to see tonight.
Vanessa Williams: I'm lucky that my band has been with me since 1997. Our first tour was with Luther Vandross. My musicians are not only dear friends but accomplished musicians who all have their own records. They have played with everyone in the business. I'll be singing my hits including "Save the Best for Last," "Colors of the Wind" from "Pocahontas" and "Love Is," as well as some of my Broadway songs. I'm going to sing the medley I did from Sondheim on Sondheim; a little bit from "Children Will Listen," "Stormy Weather" and "After Midnight"; and then some R&B songs that will get the crowd grooving.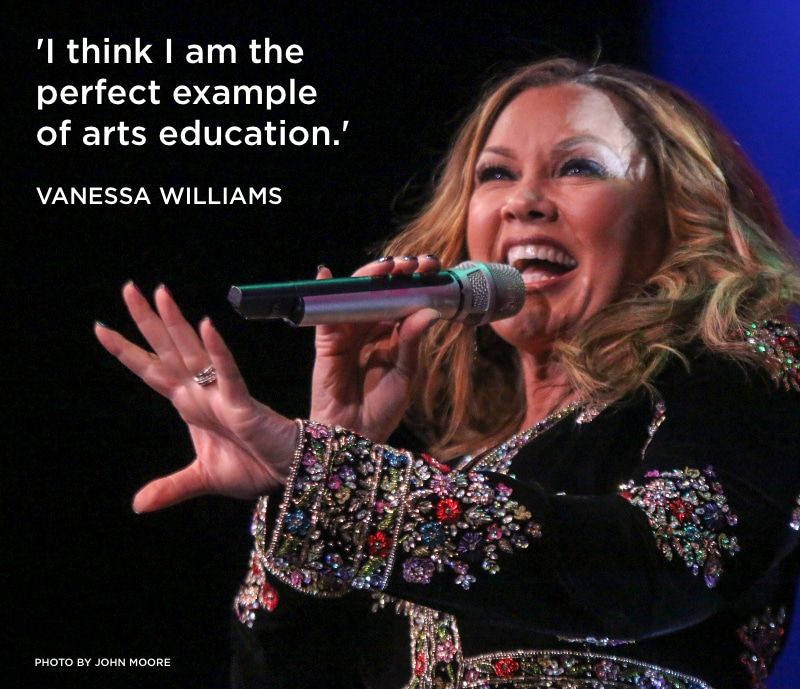 John Moore: And now for your red-carpet question: Can you tell us what you're wearing tonight?
Vanessa Williams: Tonight I will be wearing Sherri Hill – a black velvet embroidered gown.
John Moore: So what do you hope young people most take away from your story?
Vanessa Williams: I would love to ignite a spark in a young artist to help them believe that they can make it. Then it's up to them to have the wherewithal to see it through.
John Moore: Final words?
Vanessa Williams: Just thank you for inviting me here. I think I am the perfect example of arts education. I got scholarships my senior in high school for acting and that continued each year while I was in college. Education is key no matter what subject it is. It makes you a better person. It makes you a better artist.
John Moore was named one of the 12 most influential theater critics in the U.S. by American Theatre Magazine in 2011. He has since taken a groundbreaking position as the Denver Center's Senior Arts Journalist.
More about Vanessa Williams
Vanessa Williams has sold millions of records worldwide over the course of her 35-year career garnering 11 Grammy nominations, four Emmy nominations and 7 NAACP Image Awards including Best New Artist of 1989. Her platinum single "Colors of the Wind," from the Disney film Pocahontas, won the Oscar, Grammy and Golden Globe for Best Original Song. In 1994, Williams made her Broadway debut when she replaced Chita Rivera in Kiss of the Spider Woman. In 2002, she was nominated for a Tony Award for her performance as The Witch in the Broadway revival of Into the Woods. She has since returned to Broadway in Sondheim on Sondheim, The Trip to Bountiful (co-starring with Cicely Tyson), After Midnight and a special limited engagement in Hey, Look Me Over at New York City Center earlier this year.
More about Saturday Night Alive
The 2019 Saturday Night Alive Gala Chairs were Trustee Gala Chairs Roberta and Matt Robinette; Corporate Gala Co-Chairs Wanda Colburn and Dick Havey of CIBC Private Wealth Management; Alliance Gala Chairs Lyn and Michael Schaffer; and Auction Gala Chairs Adrienne Ruston Fitzgibbons and Jack Fitzgibbons. The blacktie fundraiser is sponsored by United Airlines, The Westin Denver Downtown, Epicurean Culinary Group, Kathie & Keith Finger, BOK Financial, University of Colorado, Arleen Brown, AT&T, UCHealth, University of Denver and Capital Focus.
Photo gallery:
https://www.denvercenter.org/wp-content/uploads/2019/03/VAESSA-WILLIAMS-QUOTE.jpg
689
800
John Moore
John Moore
2019-03-07 14:09:52
2021-02-03 10:55:32
Video: Vanessa Williams at Saturday Night Alive: 'Be voracious'