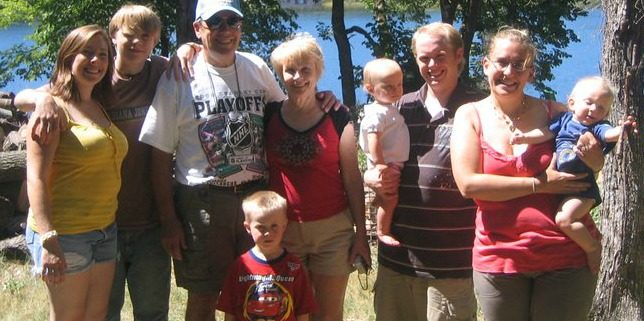 Wally Larson held his theatre students to a higher standard – proudly

Photo courtesy of Heather Larson Fritton.
There was real meaning behind the mundanity whenever legendary high-school theatre teacher Wally Larson told a student to go "sweep the stage."
At some point, everyone was made to sweep the stage, from the star to the spotlight operator.
"Only later did I recognize this for the Zen act it really was," said Tony Award-nominated actor Beth Malone (Fun Home), a graduate of Douglas County High School. "It was a way to keep our budding egos in check. It created a level playing field."
"Sweeping the stage" meant that everyone was expected to get involved, added Larson's daughter, Heather Larson Fritton. "Everyone was expected to help build the sets, paint the sets and tear them down. And yes, sometimes, you had to sweep the stage." That in a nutshell, is what made her father an extraordinary teacher.
"He made every star do technical work, and he made every technical student feel like a star," she said. "He made everyone feel special."
Larson died April 6 after a three-year battle with cancer. He was 75.
Larson taught theatre at Douglas County High School and Highlands Ranch High School for a combined 33 years. Over that time, he directed 173 school productions. His hundreds of students have included Malone, Broadway actor Kurt Domoney (A Chorus Line), longtime DCPA Theatre Company actor Kathleen McCall, DCPA Teaching Artists Brian Landis Folkins and Brian McManus, and area actors Kenny Moten, Damon Guerrasio and Trina Magness.
"His style of mentorship was treating you like you were capable – therefore making you capable," Malone said.
Malone keeps thinking back to one particular afternoon when it was just she and Larson and a table saw.
"We were on the stage and he had a pile of 1x4s that he needed ripped in half," she said. Malone had never operated Larson's loud and powerful table saw before, but Larson worked with Malone over and over until they had produced a perfect pile of 1x2s.
"I had a feeling we had accomplished something together as a team," Malone said. "It was stupid, but it gave me such a feeling of satisfaction and 'grown-up-ness' that he would assume I was a reliable-enough assistant to trust with this job. That was how he got you."
McCall said Larson pushed her harder than any teacher, mentor, director or friend than she has ever had.
"Mr. Larson was an intense man, a perfectionist, and he was passionate about the work and the kids he taught," said McCall, who is currently playing the Beggar Woman in the DCPA Theatre Company's Sweeney Todd. "He was demanding, and he never let us think for a moment that we were just doing 'high-school theatre.' He set the bar high – and we rose to the occasion."
Fritton said Larson also was a champion of teenagers who had bad home lives.
"My father left the theatre open at night and on weekends so kids would always have a place to go," she said. "He also made sure the theatre was open on prom night so that the kids who didn't have a date would have a place to go and have fun."
Larson, McCall said simply, "helped me find my home inside the walls of a theatre."
Larson was never much of a drinker, but he didn't want his students to drink, and he didn't want his own children to, either. So he led by his own example and gave up alcohol in the mid-1980s. He asked every student to sign a pledge promising not to drink, smoke or chew tobacco while working on one of his theatre productions.
"He held his theatre kids to a higher standard," Fritton said. "Proudly."
Son Brady calls Larson "an Amazing Technicolor Dreamcoat of a man. He was a husband, father, grandfather, theatre teacher and a Colorado Rockies baseball enthusiast who worked blissfully at Coors Field after his retirement."

Wally Larson in hic classroom. Photo courtesy of Heather Larson Fritton.
Wallace Alfred Larson was born Aug. 21, 1940, on the family farm near Pelican Rapids, Minn. His father, Alf, was a farmer, and his mother, Mildred, a schoolteacher. Wally and siblings JoAnn, Richard and Dale attended a one-room schoolhouse through 6th grade. He graduated from Pelican Rapids High School in 1958 and spent two years at Dakota Business College. He then enrolled at at Moorhead State College, where he met the two great loves of his life: Theatre and Diane Monear.
The couple were married in the summer of 1965 and moved to Littleton to pursue careers as teachers. They marked their 50th anniversary last summer by taking the whole family to a cabin retreat in Battle Lake, Minn. Wally and Diane privately celebrated, Fritton said, by sneaking off for a moonlight fishing trip.
The Larsons raised three children – Brady, Heather, and Drew – and Fritton said being born of two teachers came with high expectations. "If I ever came home with an A-minus," she said, "they would ask why it wasn't an A."
It's no coincidence, she believes, that the children of these two teachers grew up to become a writer, an actor and an artist.
"Having a general thirst for knowledge of the world was always part of our upbringing," Fritton said. The Larsons were the kind of family that would take road trips, and actually stop and read the informational signs at every rest stop.
Larson enjoyed acting as a young man and never wanted to teach anything other than theatre. He was hired at Douglas County High School in 1966 and directed his first all-school musical the next year: Bye Bye Birdie.
On most Saturday mornings, Wally would drive all of his children to school, where they would help paint and build sets while mom sewed costumes.
Summertime was family time. "We spent many summers on road trips and visits to the lakes in Minnesota, camping and family bike rides," Brady said. "He was a loving and involved father. He proudly attended many school plays, dance recitals, choir concerts, art shows, and was always up for a game of catch."
Larson gave his theatre students the challenge – and in some cases the unprecedented opportunity – to take on meaningful, consequential and sometimes controversial stage titles such as Carnival, Equus, Man of La Mancha, The Foreigner, Noises Off and Into the Woods.
"His favorite plays were the really hard plays that you typically don't see high-school theatres do," Fritton said.
After being present throughout her father's production of Man of La Mancha, Fritton remembers singing the song Dulcinea to her classmates – her kindergarten classmates. The 5-year-old didn't realize then the woman in the song is tormented and then brutally raped. "I just thought it was beautiful – and emotional," Fritton said with a laugh.
She also saw her father's Equus at age 8 or 9. That's the story of a boy who blinds six horses with a metal spike after attempting to make love for the first time. "I didn't realize what the story was about," Fritton said, "but I just loved watching my dad pull that kind of intensity out of his students."
After 22 years at Douglas County High School, Larson took on the challenge of building a new theatre program from scratch at Highlands Ranch High School, where he worked for another 11 years.
He was proud whenever his graduates made it to Broadway, but that was never his barometer for success, Fritton said.
"He didn't care whether they ended up in the theatre," she said. "He wanted them to go out and live successful lives in whatever fields they chose."
Larson's retirement in 1998 led to his second dream job – with the Colorado Rockies, which lasted another 16 years. "He started at the gate, and then became supervisor of the Rock Pile seating section in center field," Brady said. "He quickly moved up to the Command Center Team Leader, where he was in charge of emergency dispatch – all the while having an incredible view of every home game."
Larson enjoyed working on his land, trimming trees, gardening with his wife and taking cross-country road trips. He was also the grandfather of six. "He taught them important life lessons such as how to gather firewood, how to build a tree house – and how to yell at a fishing pole!" Brady said.
Larson spent his final week taking in spring-training baseball games in Arizona. "He was relaxing by the pool alongside his kids and grandkids, with hope eternal for a winning Rockies season," Brady said.
McCall said Larson believed theatre has the capacity to hold a mirror up to human nature in all its forms: Beautiful and ugly, confrontational and compassionate. "He challenged us to think and express our beliefs, challenge our assumptions about life, and also allowed us to give joy, and find joy with others and in ourselves," she said.
"And in the midst of creating theatre, the lessons in the costume shop, the scene shop and lighting grid, we learned valuable life lessons. We learned that the only failure is in not trying – that we have more inside of us to give than we can begin to imagine."
Malone will never forget seeing her classmate who played Maria in West Side Story sweeping the stage before a performance. "Through these seemingly small acts, he helped us lucky few realize our own innate wisdom and compassion for each other," Malone said. "But he never said that's what he was doing. … He just said, 'Sweep the stage.' "
Larson is survived by his wife Diane; his children, Brady, Heather, and Drew; his grandchildren, Zane, Jack, Norah, Remington, Teagan, and Quinlan; his sister JoAnn Neu (Melvin), and his brothers, Richard (Linda) and Dale (Marsha).
Memorial Celebration for Wally Larson
10 a.m. to 1 p.m. on Sunday, May 1
Denver Center for the Performing Arts
Conservatory Theatre (in the Newman Center for Theatre Education)
1101 13th St. (corner of Arapahoe and 13th street. MAP IT
Memorial contributions
Donations can be made in Larson's name to the Educational Theatre Association, which provide scholarships for high school students to pursue theatre studies in college. CLICK HERE. (Please indicate on the donation form that the funds are for Scholarships for Students, and in memory of Wally Larson.)
https://www.denvercenter.org/wp-content/uploads/2018/04/featured-image-3410.jpg
385
644
John Moore
John Moore
2016-04-22 02:15:00
2016-04-22 02:15:00
Wally Larson held his theatre students to a higher standard – proudly