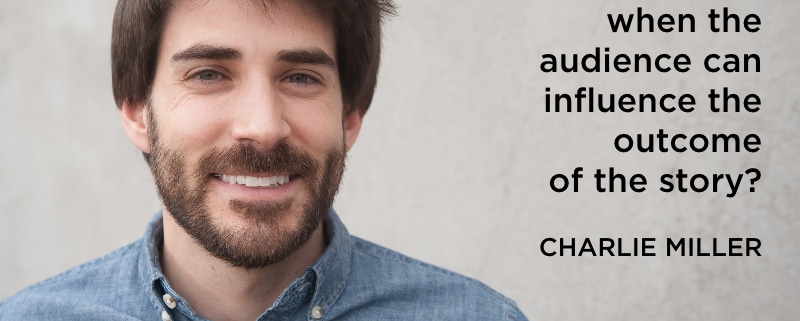 What happens when a show consists of just one actor and one audience member?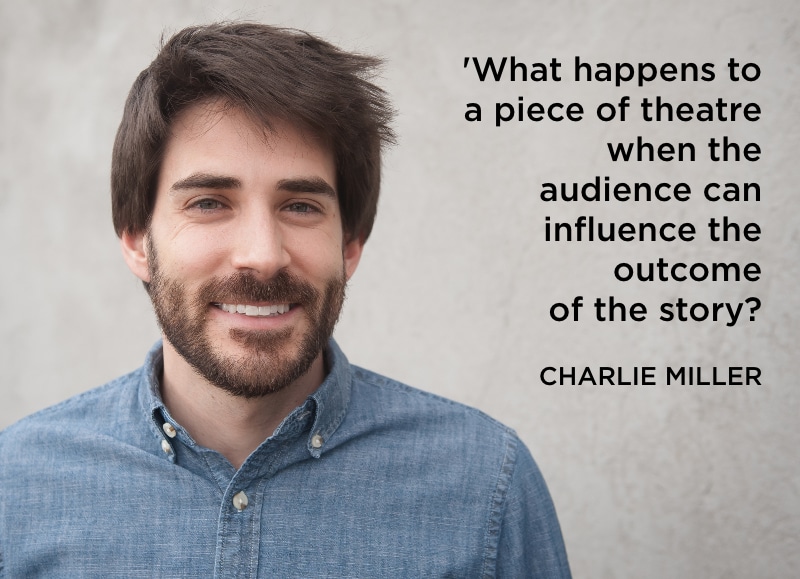 Just between you and Charlie Miller: Off-Center's Between Us your promises a rendezvous like no other
What happens to a piece of theatre when the audience can influence the outcome of the story? How can theatre makers give an audience real agency in the experience while still delivering a cohesive narrative with a satisfying ending? And what happens when a show consists of just one actor and one audience member? These are the key questions inspiring Off-Center's latest immersive production of Between Us, beginning March 23.
Off-Center is the newest and least traditional line of programming at the DCPA. We create out-of-the-box theatrical experiences that give audiences a more active role in the story and push the boundaries of theatre. For the past five years, we have been experimenting with a wide range of immersive and experiential theatre offerings – from large-scale 360-degree productions (Sweet & Lucky and The Wild Party) to pop-up performances in public spaces (Bite-Size and Travelers of the Lost Dimension) to a head-phone guided walking tour of Denver with no actors (Remote Denver).
This work has been generously supported by The Wallace Foundation as part of its Building Audiences for Sustainability initiative. DCPA is one of 26 arts organizations from across the country receiving four years of funding from Wallace to support new programming initiatives focused on growing a target audience. Off-Center's immersive work has been geared toward millennials (ages 18-35), a large and growing population in Denver. We have proven that these new theatrical experiences succeed in attracting a significantly younger audience for DCPA, and we have also seen that immersive theatre is popular among adventurous audiences of all ages.
In our continuing efforts to explore new theatrical forms and create original and personalized experiences for audiences, Off-Center is developing three unique one-on-one experiences in Between Us. Each experience is created by a different team of artists, bringing together some of the country's most exciting immersive theatremakers and performed by local actors. In The Deck of Cards, your guide interprets your cards and opens your eyes to the ways your path has led you to this moment and the events where a single choice could change your future. The Whiskey Tasting invites you and a friend to explore the history and nuanced varieties of this spirit with an intriguing bartender leading your way. And The Blind Date sets you up on a blind date at the Museum of Contemporary Art Denver. As you can probably tell from the descriptions, these experiences are not for everyone; audience members will inspire the twists and turns of the encounter, and by the simple act of being yourself, your rendezvous will be unlike any other.
The logistics and economics of a project like this are extremely complicated. We will have 10 actors performing one-on-ones simultaneously at locations around downtown. A team of stage managers coordinate the logistics, supporting and monitoring the performances as they happen. These performances will take place in public spaces (some of which will be a secret to the audience until the day before the show), so there are always many complications and unknowns when you can't control the environment. Because we are dedicated to paying our performers and crew a living wage and we want to keep Between Us tickets affordable, ticket revenue will only cover a portion of the costs of running these experiences; fortunately, DCPA and The Wallace Foundation can cover the difference in order to make the production possible.
We see this as an exciting creative experiment and investment in innovation, one that will challenge us artistically, help keep DCPA at the cutting edge of theatre, and continue to grow our local audience of adventurous theatregoers.
Charlie Miller is co-founder and curator of Off-Center, which has grown from a small theatrical testing center at the DCPA to one of its signature lines of programming. Off-Center's recent large-scale immersive and experiential projects, including 'Sweet & Lucky' and 'The Wild Party,' have garnered local and national praise and positioned the DCPA as a national leader in immersive theatre. Before joining the DCPA artistic team full-time in 2016, Charlie also served as the Theatre Company's resident video designer, creating projection content for 35 productions in eight seasons.
Between Us: Ticket information
Dates: March 23 through May 26
Where: Locations throughout downtown Denver to be provided prior to performance
Genre: Intimate, personalized immersive experiences

Tickets: Start at $40 and can be purchased at denvercenter.org, 303-893-4100 or in person in the Helen Bonfils Theatre Complex at 14th and Curtis streets.
---
THE SHOWS AT A GLANCE: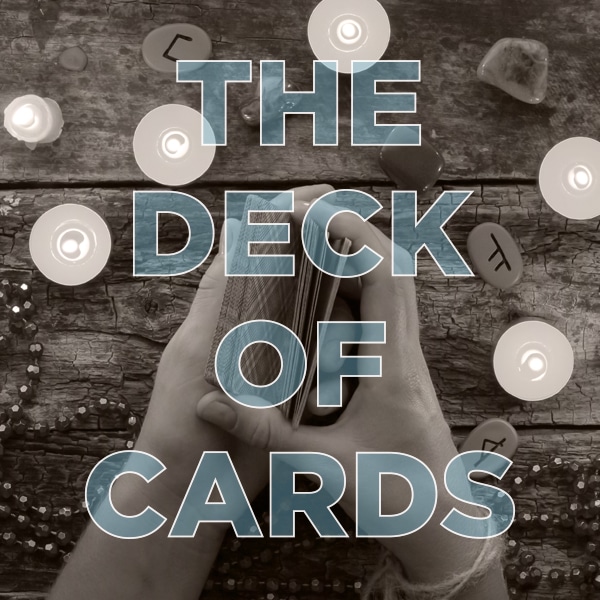 The Deck of Cards

March 23-May 26 (Opens March 30)
Downtown Denver (location to be provided prior to performance)
Co-conceived by Christopher Gabriel Núñez and Jenny Koons
Written by Christopher Gabriel Núñez
Adapted and Directed by Jenny Koons
Be it by fate or chance, the path of your journey lies in a shuffle. As you have your cards interpreted by a guide, you'll open your eyes to the ways your path has led you to this moment and the events where a single choice could change your future. Bring a small token from your life that you would like to pass on to another audience member at the end of the experience.
About the director: Jenny Koons is a New York-based theatre director who specializes in bringing unique artists together to create cross-disciplinary work that focuses on activism and community. Her most notable piece, The Odyssey Project, was a year-long site-specific performance in 12 public locations across New York City featuring an incredible ensemble of 29 artists, and she was the associate/resident director for Queen of the Night, a "circus of intimate sensation" (The New York Times) presented by the producers of Sleep No More.
The Whiskey Tasting
April 2-May 26 (Opens April 7)
Downtown Denver (location to be provided prior to performance)
Conceived by David Jacobi and Amanda Berg Wilson
Written by David Jacobi (author of The Couches, a featured play at the Denver Center's 2018 Colorado New Play Summit)
Directed by Amanda Berg Wilson
You and a friend sit down for a whiskey tasting to explore the history and nuanced varieties of this spirit. But as your bartender begins to divulge details about their own life, you'll be inspired to toast to the moments that brought you to where you are today. This experience is for two audience members to share at the same time. Whiskey flight (four tastings) included.
About the director: Amanda Berg Wilson is the co-founder and Artistic Director of The Catamounts, a Boulder-based company that creates theatre for the adventurous palate. She starred in Off-Center's largest-scale immersive production to date, Sweet & Lucky, and directed the following season's 360-degree musical The Wild Party, called "a sensory explosion…[it] makes a good case for experimenting beyond conventional proscenium theater." (The Denver Post)
The Blind Date
April 6-May 26 (Opens April 9)
MCA Denver
by Capital W
Written and Directed by Lauren Ludwig
Creative Production and Dramaturgy by Monica Miklas
You've been set up on a blind date to wander through the Museum of Contemporary Art Denver. Skip the small talk and dive into the big questions of creation, destruction, and the way we expose our true selves through the strange ritual of dating. Museum admission included.
About the director: Capital W is the Los Angeles-based joint venture of longtime collaborators Lauren Ludwig and Monica Miklas, whose works explore unconventional, immersive, and site-specific theatre. LA Weekly called their first production, Hamlet-Mobile, "pure gold," and their one-on-one piece Red Flags won the Immersive Critic's Circle Best Overall Immersive Work award.
Casting note: Between Us will feature Kristen Adele (Corduroy, DCPA; "House of Cards"), Jessica Austgen (Sense and Sensibility, Arvada Center), donnie l. betts (Director of Skeleton Crew, Curious Theatre Company), Janae Burris (Cyrano De Bergerac, Colorado Shakespeare Festival), Chelsea Frye (Rausch, The Catamounts), Rodney Lizcano (American Mariachi, DCPA), Jason Maxwell (Failure: A Love Story, The Catamounts), Jenna Moll Reyes (The Wild Party, DCPA), Mare Trevathan (You Can't Take It With You, Colorado Shakespeare Festival), and Justin Walvoord (Sweet & Lucky, DCPA).
https://www.denvercenter.org/wp-content/uploads/2019/03/Charlie-Miller-Quote-Between-Us.jpg
579
800
Charlie Miller
Charlie Miller
2019-03-18 16:59:41
2019-03-19 19:59:27
What happens when a show consists of just one actor and one audience member?