What you missed in Mixed Taste: Church Signs & Icelandic Hip Hop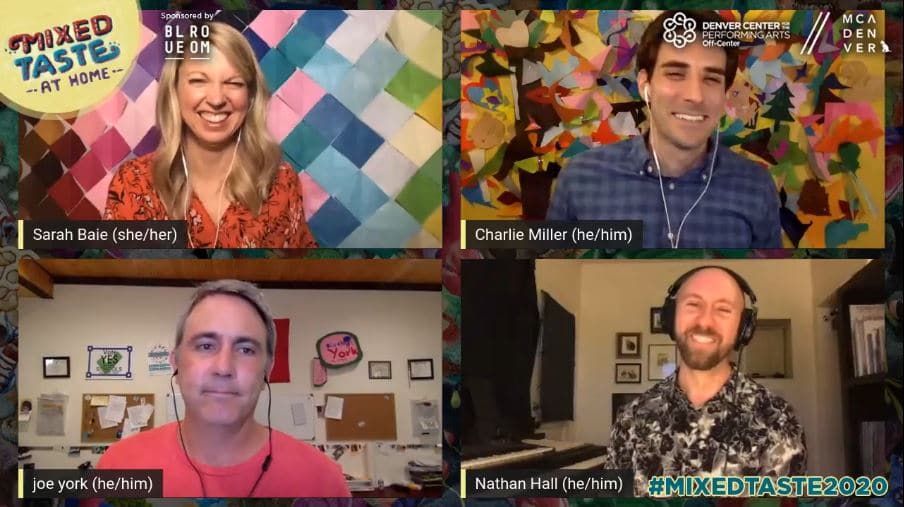 The penultimate episode of our virtual summer lecture series took us on a trip to the American South and (extreme) northern Europe last week when we learned all about roadside church signs and hip hop music in Iceland.
Missed the livestream? No sweat. You can still watch the whole thing on our YouTube channel:
Watch Mixed Taste: Church Signs & Icelandic Hip Hop >
If you don't have an hour to watch it, here's a quick list of the highlights (plus, a playlist for your listening pleasure).
3 things photographer, filmmaker, and video producer Joe York taught us about church signs:
Many of the signs we see advertising churches in the American South are for Evangelical Protestant churches, which encourage followers to bring others into the fold. There is even a Bible verse that urges this in Matthew 28:16-20:
"Go therefore and make disciples of all nations, baptizing them in the name of the Father and of the Son and of the Holy Spirit, teaching them to observe all that I have commanded you."
Roadside advertising, in general, grew in popularity as highways were built in the early 20th century to connect towns. Burma-Shave was one of the first companies to take advantage of this advertising space in a creative way with poetic signs spaced out as you drove along.
Joe ended with a quote from Randy Stafford who created a noteworthy billboard campaign for CrossPoint church in Alabama: "It's a little unsettling for the Christian community to realize it, but we are marketing a product just like everybody else. Our product has changed lives. Our product is Jesus."
3 things composer and artist Nathan Hall taught us about Icelandic hip hop:
When Americans came to Iceland in the mid-20th century to build a military base, they brought their music on vinyls. Icelanders took what they heard and began to make covers of these songs in their own language (we heard an entertaining clip from a cover of The Mamas & The Papas' "California Dreamin'").
As Björk gained international popularity in the 90's, a group called Quarashi made Iceland's first hip hop record. They rapped in English with American accents. It wasn't until 2001 that Iceland had its first hip hop albums entirely in Icelandic.
Nathan shared many of his favorite Icelandic hip hop groups with us and it all SLAPS. I cannot possibly spell their very Icelandic names, so for your convenience and to avoid embarrassing myself, here is the playlist of Icelandic hip hop Nathan made to share with us: https://tinyurl.com/mixedtasteiceland
A Poetic Ending with Franklin Cruz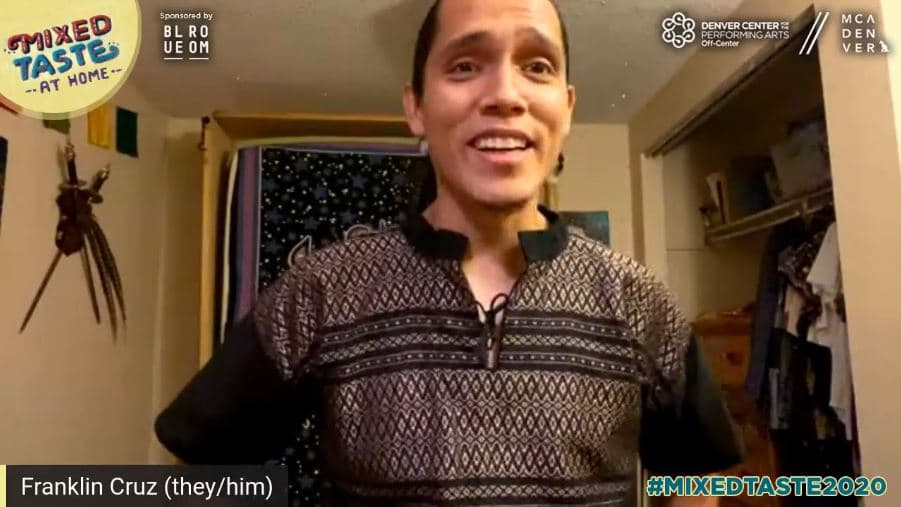 At the end of the night, we wrap up with a poem from a local poet inspired by both topics and written during the course of the evening.
Local poet Franklin Cruz blew us all away when they improvised a poem on the spot! In lieu of my transcribing it all, please watch them perform it instead:
Watch Franklin Cruz's freestyle poem >
As fun as a round-up is, it can't compare to the real thing. Sign up to our newsletter receive alerts on future Mixed Taste opportunities.
Previous Mixed Taste: At Home Summaries:
July 15 – What You Missed in Mixed Taste: Polar Forests & Trendy Soul Food
July 22 – What You Missed in Mixed Taste: Keith Haring & Smog Meringues
July 29 – What you missed in Mixed Taste: Napping & Slovenian Zombies
August 5 – What you missed in Mixed Taste: Augmented Reality & The Cult of the Dead
Mixed Taste was originated by the Museum of Contemporary Art Denver
Sponsored by:

With additional support by:
Peggy Finley
https://www.denvercenter.org/wp-content/uploads/2020/08/Lead-image-1.jpg
507
904
Cheyenne Michaels
Cheyenne Michaels
2020-08-19 10:59:43
2021-02-09 14:26:58
What you missed in Mixed Taste: Church Signs & Icelandic Hip Hop