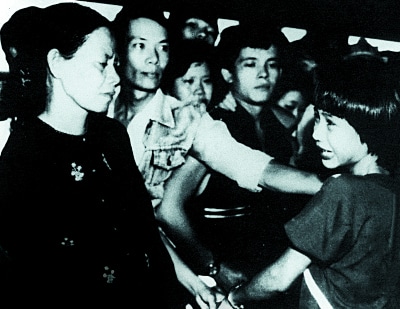 What you need to know about Việt Nam, then and now

The following information was primarily compiled by Gil Asakawa and Nga Vuong-Sandoval. Sources: Vietnam Veterans Memorial, PBS, Defense Casualty Analysis System, Brittanica, U.S. General Accounting Office and 'Miss Saigon':

HISTORY
Việt Nam (Vietnam in English) is officially named the Socialist Republic of Việt Nam. It's located in Southeast Asia, facing the South China Sea to the east and Gulf of Thailand to the south, with China to the north and Laos and Cambodia to the west.
As of 2016, Việt Nam was the 15th most populated country in the world, with almost 95 million people. Its capitol is Hanoi in the north, and its most populous city is Ho Chi Minh City (formerly Sài Gòn) in the south.
For a thousand years, Việt Nam was part of China and became an independent monarchy in the 10th century CE.
TIMELINE OF THE VIỆT NAM WAR
1858: French arrive
1898: Việt Nam colonized by French as part of Indochina
1940: Japan invades Việt Nam and rules during World War II
1945: French return to power after WWII in southern part of country; Ho Chi Minh rules north and declares independence from France
1954: Geneva Conference splits Việt Nam into two countries following the First Indochina War
1959: Ho Chi Minh declares war to unite Việt Nam
1961: U.S. officially sends "advisers" – small numbers had been in Việt Nam since the 1950s
1965: U.S. sends first official active combat troops
1969: Amid anti-war protests, U.S. begins withdrawing troops even while it expands fighting into neighboring Cambodia, Laos; Ho Chi Minh dies
1973: Cease-fire is signed, U.S. troops leave Việt Nam
1975: Fall of Sài Gòn – Final U.S. soldiers and personnel leave Embassy in Sài Gòn, which is renamed Ho Chi Minh City
1975-1990s: Refugee waves start with fall of Sài Gòn and increases with the wave of "Boat People" (otherwise known as Thuyền nhân Việt Nam) in 1978, which continues for two decades
1987: Congress passes Amerasian Homecoming Act, allowing children in Việt Nam who were born of American fathers during the war years to immigrate to the U.S.
1995: The U.S. and Socialist Republic of Việt Nam resume diplomatic relations
Today: Việt Nam is a popular tourist destination and one of the fastest growing economies in Asia
THE WAR BY THE NUMBERS
58,200: U.S. casualties of the war (killed or M.I.A.), based on the names inscribed at The Việt Nam Veterans Memorial in Washington, D.C.
200,000 to 250,000: U.S. estimate of South Việtnamese soldiers killed
1.1 million: Estimated North Việtnamese military casualties (North Việtnamese and Việt Cong fighters in South Việt Nam)
2 million: Việtnamese civilian casualties on both the North and South
More than 3,000: Amerasian children orphaned or abandoned after the war. From The Washington Post: "More than 3,000 Việtnamese orphans were evacuated from Việt Nam in the chaotic final days of war. The lives of the rest changed with the Amerasian Homecoming Act of 1987, which allowed 21,000 Amerasians and more than 55,000 family members to settle in the United States." The U.S. General Accounting Office reported by 1994, more than 75,000 Amerasians had moved to the U.S.
Note: Amerasians Without Borders offers DNA tests in Việt Nam, then helps Amerasians to emigrate to the U.S. and resettle: amerasianswithoutborders.us
Nga Vuong-Sandoval: 'I want people to know how proud we are to be Viêtnamese'
VIỆT NAM IN POP CULTURE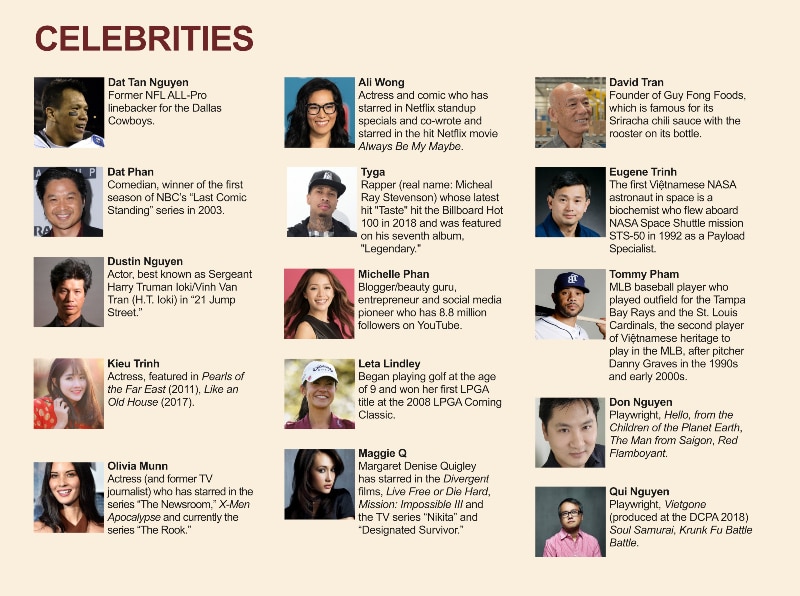 CULTURE AND TRIVIA
In Denver, the Asian and Asian American Pacific Islander population is less than 3 percent of the total population according to the 2010 census. Of that the Việtnamese are the largest community with 0.82 percent

The Far East Center at the corner of South Federal and Alameda was founded by the first Việtnamese refugee to arrive in Colorado with his family, Thanh Luong and his brother. Luong then opened Truong An Gifts in the Far East Center.
The first Việtnamese restaurant in Denver, T-Wa Inn, opened in the early 1980s on South Federal Boulevard, followed shortly after by New Saigon across the street.
The South Federal corridor between Alameda and Mississippi was officially designated the "Little Saigon Business District" in 2014, and several projects are underway to improve the business district.
Việt Nam was the featured country in the 2019 Colorado Dragon Boat Festival, with a "Discover Việt Nam" tent with performances, history presentations and exhibit.
Việtnamese culture incorporates the traditions and values of China, Khmer and Champa (traditional communities in the northern and southern parts of Việt Nam and neighboring countries such as Cambodia), and France. Việt Nam's main religions are Buddhism and Catholicism.
The clan, or family, is traditionally the most important social unit in Việt Nam.
Việtnamese cuisine is healthy with less use of oil than other Asian cuisines. Noodle and rice dishes, and soups, are common. Phở, the noodle soup that is now popular throughout the world, originated in North Việt Nam and is considered the national food of Việt Nam.
Traditional Việtnamese dance includes fan dances that many Westerners are familiar with, Lion dances with roots in China, and complex dance styles of the imperial court.
Việtnamese traditional music features 50 classical instruments and covers many styles from stately to lively folk music.
Read more about Tri Ma of Denver, who says: 'My mother 'was the Harriet Tubman of our family'
SELECT FILMS
"Coming Home (1978): A housewife (Jane Fonda) falls in love with a wounded veteran (Jon Voigt) who has become anti-war, and the military husband (Bruce Dern) who comes back from Việt Nam with PTSD. One of the first Hollywood movies about the war, based on Fonda's friendship with Ron Kovic, a paraplegic veteran who protested against the war. (His story was made into director liver Stone's Oscar-winning Born on the Fourth of July in 1989.)
"The Quiet American" (2002): Based on Graham Greene's novel about an American (Brendan Fraser) in Việt Nam in 1950 who falls in love with the Việtnamese mistress (Do Thi Hai Yen) of a British reporter (Michael Caine).
"Heaven & Earth" (1993): Oliver Stone's powerful film about the war and its aftermath from the perspective of a South Việtnamese woman, Le Ly Hayslip (played by Hiep Thi Le), who married a U.S. Marine (Tommy Lee Jones) and comes to the U.S. in the closing days of the war.
"Journey from the Fall" (2006): Written and directed by Ham Tran, this independent film was financed solely by the Việtnamese American community. It tells the story of a family after the war, when the husband (Long Nguyen), who fought for South Việt Nam, is sent to a "reeducation camp" by the Communist victors. His wife (Diem Lien), son (Nguyen Thai Nguyen) and mother in law (Ba Noi) become boat refugees and have to rebuild their lives in America.
"Owl and the Sparrow" (2007): This independent film is set in contemporary Việt Nam, and tells the love story sparked by a 10-year-old runaway girl (Pham Gia Han ) who escapes the drudgery of life in the country and a woman (Cat Ly) and man (Le The Hu ) who she meets in the city.
"Green Dragon" (2001): Patrick Swayze stars as a Marine in charge of managing the first wave of Việtnamese refugees who've arrived at Camp Pendleton in California, a refugee who's assigned as a liaison because he can speak English (Duong Don), a woman who fights for better treatment of the refugees (Hiep Thi Le from Heaven & Earth), a camp chef who befriends a young kid with his artwork (Forest Whitaker) and two adorable child actors. It provides a realistic look at life for these newly-arrived refugees, most of whom couldn't speak English.
"The Vietnam War" (2017): Documentary by Ken Burns and Lynn Novick originally aired on PBS in 10 episodes. The final episode, "The Weight of Memory," covers the end of the war, the Fall of Saigon and the Việtnamese refugees and diaspora.
SELECT BOOKS
The Quiet American by Graham Greene: This book about Việt Nam in 1950 was made into the film of the same name.
The Best and the Brightest by David Halberstam: The origins of the Việt Nam War, focusing on the U.S. government's actions from 1960-1965.
When Heaven and Earth Changed Places by Le Ly Hayslip: Hayslip's memoir was made into Oliver Stone's film Heaven & Earth.
Last Night I dreamed of Peace: Đặng Thùy Trâm
Vietnam: A History by Stanley Karnow: A definitive history of the war.
The Girl in the Picture by Denise Chong: About the young girl, now a woman in the U.S., whose picture was taken by a LIFE photographer as she ran crying, her body burned, from her village which had been napalmed.
The Sympathizer by Viet Thanh Nguyen: This 2016 novel won the Pulitzer Prize for Fiction. It follows a half-French, half-Việtnamese double agent as he joins the refugees fleeing Việt Nam and reports to the Communists from his new life in the U.S.
THE PHOTO THAT INSPIRED THE MUSICAL
The composer of Miss Saigon, Claude-Michel Schönberg, traces his inspiration for the development of the musical to a 1975 photograph he found of a Vietnamese mother seeing her 11-year-old daughter off at Tan Son Nhut Air Base – the Republic of Vietnam Air Force facility that was located near the city of Saigon in southern Vietnam from 1955-1975. In the photo, the daughter, who is both Vietnamese and American, is being sent to live with her ex-GI father. This picture also motivated lyricist Alain Boublil to further investigate the last days and aftermath of the Vietnam War, an investigation that informed him of the war's cruelty, contradictions, sacrifice and betrayal. "The pain of being torn apart and the fracture of the maternal bond must always be a presence in the depths of this woman's heart," he said. "What we felt for this girl and her mother has always moved us deeply, both as fathers and as the children we once were. This Vietnamese woman,her face frozen in pain, knew that finding the child's father marked the end of her life with her daughter, and that this moment at the departure gate was the end. This silent scream is the most potent condemnation of the horror of that war – of all wars. This photo could have been taken today in Syria, Sudan and probably in the Ukraine. We hope that such a picture will never be taken here. Where is she? We hope she found happiness somewhere in America and especially that her mother's sacrifice was not in vain."
https://www.denvercenter.org/wp-content/uploads/2019/08/400-Miss-Saigon-Broadway_the-photo.jpg
309
400
DCPA Press
DCPA Press
2019-09-11 10:35:23
2019-09-11 15:46:20
What you need to know about Việt Nam, then and now