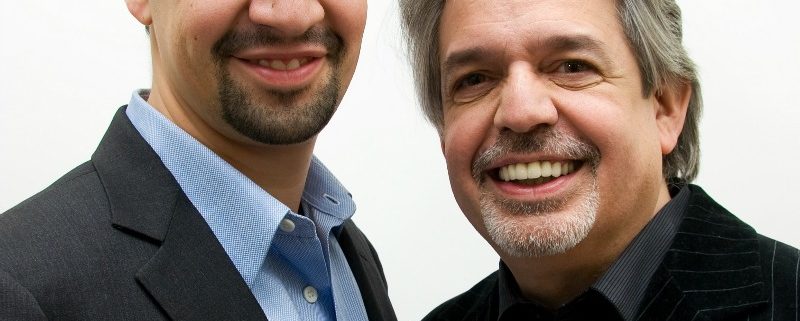 Why Lin-Manuel Miranda's father is obsessed with 'The Unsinkable Molly Brown'
Lin-Manuel Miranda, left, and his pops, Luis: "I never had a chance to be anything but a musical theatre guy." Photo courtesy Luis Miranda.
You're about to learn everything you need to know about how Lin-Manuel Miranda, the Tony- and Grammy-winning composer, rapper, lyricist, and actor of In the Heights, turned out the way he did:
His padre is obsessed with The Unsinkable Molly Brown.
No joke. Miranda's 60-year-old father, who grew up poor in a small Puerto Rican town, remains, to this day, obsessed with The Unsinkable Molly Brown.
"Every time people ask my son about his life in the theatre, he always says, 'I never had a chance,' " said Luis Miranda, a community activist turned political consultant who still lives in Inwood, the uptown New York City neighborhood that inspired his son's 2008 Tony-winning Best Musical, In the Heights.
"He's always telling people: 'If you have a dad whose favorite musical is The Unsinkable Molly Brown — a title that is not at the top of everybody's list — how can I have a chance but to be in musical theatre?' "
Just how obsessed is Luis Miranda? He endured a troubled eight-hour flight to Denver to visit the Molly Brown House Museum and attend the opening performance of the Denver Center for the Performing Arts' launch of a newly reimagined The Unsinkable Molly Brown helmed by Broadway royalty Kathleen Marshall and Dick Scanlan.
Because of those flight problems – which included engine trouble AND a diversion to make way for another plane carrying Vice President Joe Biden — Luis had to beg the museum staff to stay open late so he could zip through the home where Molly Brown lived on Pennsylvania Avenue (now Pennsylvania Street). Miranda made it to the museum, saw the opening performance, ran out of the Stage Theatre during the curtain call and hopped into a car that took him to the airport for his midnight return flight to Newark.
And then there was … the birthday party.
"I just turned 60 on Aug. 23," said Luis, "and so I held a big party for several hundred people at an unbelievable theatre in Washington Heights called United Palace."
Guests were told Luis would screen the 1964 The Unsinkable Molly Brown film starring Debbie Reynolds to end the party. And because most of Luis' friends know of his proud obsession with Molly Brown all too well, he anticipated many of them might simply slip out as soon as the film started.
So what did he do?
"I lied to everyone," he said. "I did it in a way that you had to see the movie before you could go into the party. So people had no choice but to sit through The Unsinkable Molly Brown."
Diabolical. How did all of this happen?
It turns out Luis Miranda, a prominent New York political consultant who has served in three New York City mayoral administrations, feels a tremendous kinship with the girl from Hannibal, Mo.
Molly Brown left Missouri at age 18 with nothing and came to Leadville, Colorado. Luis Miranda left Puerto Rico at age 18 with nothing and came to New York City. But by then, Molly Brown was already in his blood … thanks to Debbie Reynolds.
"I am from a small town of 3,000, but my grandparents lived in San Juan," Miranda said. "Every Sunday, my family would visit my grandparents, and in the afternoons, my dad and I would go to the movies at a theatre called The Metro."
And one day in 1965, he took Luis to see The Unsinkable Molly Brown.
"Not because he particularly liked it — because he knew I liked musicals. I mean, I had seen The Sound of Music, like, 80 times.
"I was 10 years old when The Unsinkable Molly Brown came out, and I was captivated by the movie. Thinking back on it now, as an adult, I can see that I always thought there was something bigger for me than just being in my small town. And that's the theme of Molly Brown's life, too: 'There is more to life than what I have. There is something bigger out there that I am called to do.'"
And as quickly as Molly Brown came, she left.
Eight years later, Miranda moved to New York with no plan, no job and no friends. But on his very first night in New York, he knew a larger plan was in action. And he believes its author was, if not Molly Brown, then certainly the woman he calls "Miss Debbie Reynolds," who starred as Molly Brown in the 1964 film.
"This was 1973. There was no cable in those times, so you actually had to look at the TV Guide," Luis said. "And that night, they are showing The Unsinkable Molly Brown on the TV. When I saw that movie again, I knew that leaving my small town and coming to New York without knowing anybody was part of my plan. That is just fate. It is fate that the first day I am in New York, they are showing this movie that meant so much to me when I was 10, but I have not seen again for the last eight years."
Miranda rose through the ranks to become a successful businessman and influential player in New York City politics. He raised his family in a neighborhood similar to Washington Heights, one Lin-Manuel has described as similarly "made up of immigrants, Spanish speakers and urban decay softened by panoramic vistas."
But in part because of his father's success, Lin-Manuel went to an elite public high school on the upper East Side, then on to the playwrights' breeding ground of Wesleyan University. When In the Heights exploded onto Broadway alongside Passing Strange, Lin-Manuel was credited with changing the color and language of the American musical by introducing hip-hop and spoken-word into a mainstream musical. In The New York Times, Charles Isherwood called Miranda "music personified; commanding the spotlight as if he were born in the wings."
Actually, he was simply born in the wings of a man who had subjected his son to "If I Were a Rich Man, "The Hills Are Alive" and "Belly Up to the Bar, Boys."
Several years ago, Lin-Manuel was hosting a live show for People en Espanol in San Antonio. The hosts gave Lin-Manuel 10 unexpected tickets upon his arrival, and he didn't have anyone to give them to. So Lin-Manuel took to Twitter. His dad picks up the story from there.
"He said the first person to name my dad's favorite movie gets the tickets, and the response was unbelievable," Luis Miranda said. "At least 20 people said, The Unsinkable Molly Brown."
How did they know?
"Because every time a reporter ever asks my son about how he ended up this way, he tells them."
The Mirandas keep a home in Montauk, N.Y., in the East Hamptons of Long Island. Lin-Manuel hadn't visited in years, so he took collaborator Tom Kitt (Bring it On) there to work on their hilarious opening number for the 2013 Tony Awards. Back home in the city, Luis checked his very active Twitter account, and chuckled.
"I see this Tweet from my son saying that he's taping several hundred musical LPs that I have left back in my place in Montauk," Luis said. "He Tweeted out: 'I never had a chance to be anything but a musical theatre guy.' "
It was Lin-Manuel who informed his father that the DCPA was going to launch a newly conceived iteration of the original 1960 Broadway The Unsinkable Molly Brown musical in Denver. Luis immediately wrote to Lin-Manuel's agent and said, "You have got to get me invited to this."
Luis was told the DCPA would be delighted to have him at the opening performance on Sept. 19, as well as a guest. But this would prove to be a problem. Keep in mind, all of this was happening just a week or so after … the birthday party.
"I tried to get everyone I know to come with me," Luis said. "And the only one who had a real excuse was Lin-Manuel."
Lin-Manuel was deep into preparations for his highly anticipated new musical Hamilton, which explores the life of founding father Alexander Hamilton. It opens Jan. 20 at the Public Theatre in New York. Luis calls it "pure genius." Lin-Manuel was off the hook.
"So then I asked my wife, and she says, 'I just saw The Unsinkable Molly Brown with you on your birthday, honey, and you make us watch The Unsinkable Molly Brown every year!' He said back to her: "But honey, this is a very different production." And she responded: "I'll see it with you when it comes to New York."
In her defense, Luis' wife took a vow to be with him in sickness and in health — but not at every opportunity to see every incarnation of The Unsinkable Molly Brown.
"So then I asked my daughter, who is 40 years old and has three kids. She was sincere when she said, 'Dad, I would love to go with you, but I don't know if you remember this but I have three kids — and you are asking me the week before you are going to Denver. No.' "
Next on the list was Luis' 13-year-old nephew. "He has been with me since he was born, and I am his legal guardian, so I invited him. He was my last hope. He never says no."
He said no.
"He's like, 'Tio! We just saw The Unsinkable Molly Brown a week ago!' And so I gave up. I went by myself."
Then came the troubled flight. But eight hours later, there he was in Denver dashing through Molly Brown's house. Then came the performance on The Stage Theatre.
"And the minute it ended, I ran out," Luis said. "I didn't even stay for the applause."
The musical Luis saw in Denver was significantly changed from the movie he fell in love with. The book has been completely rewritten. Writer Dick Scanlan and Musical Director Michael Rafter were given permission to overhaul the original score. Only six songs remain untouched from the original Meredith Willson score, and Scanlan has introduced 11 "new" Willson songs.
So … what was Luis' assessment?
"People have got to see this new version of The Unsinkable Molly Brown," he said. "I was delighted that I did. I had a great time."
Miranda had been prepared to expect something new from an article he had read in The New York Times.
"I read about how the musical starts at a different place — just as she was surviving the Titanic disaster," he said. "Through the years, I have read enough about Molly Brown to know that the movie was a little bit of a fantasy. I knew she had parents — but in the movie, there is only a surrogate dad. I knew Molly Brown had kids — and in the movie, there are no kids.
"Today, people want their stories to be a more faithful to real life. In the 1960s, the studios didn't care. So I knew that I would be seeing a more historically accurate production of the life of Molly Brown, and that did not bother me at all. The important thing to me was that I knew my favorite songs will continue."
Beth Malone and Burke Moses in the DCPA Theatre Company's "The Unsinkable Molly Brown." Photo by Jennifer M. Koskinen
Miranda also offered praise for Beth Malone, the actor who plays Molly Brown — even though he admits she had an impossibly high bar to clear.
"You have to understand … There is no other woman in the world to me like Debbie Reynolds … other than my wife," Luis said. "She is my favorite. So I had to erase Debbie Reynolds from my head.
"One of the highlights of my life was spending a night with Debbie Reynolds at her home when Lin-Manuel did In the Heights at the Pantages Theatre in Los Angeles. I literally flew out for the last night of the show, because I knew we were going to spend the night with Debbie Reynolds. She was so funny when I finally met her. She was like, 'Oh my God, your wife is going to be jealous.' "
Reynolds sent Miranda home with a signed photo just for his wife. It said: "To a lovely lady who can put up with this man."
A smitten Luis Miranda meets Debbie Reynolds at her home in Los Angeles. Photo courtesy Luis Miranda.
That said, Miranda added, "Beth Malone absolutely lived up to my expectations. I enjoyed her portrayal of Molly Brown very much."
While no one knows whether the new The Unsinkable Molly Brown's future will take it to Broadway, Miranda certainly hopes that it does. "And if it does," he said, "I will clearly be going to the theatre many more times to see it. But when I like something … I sort of go a little bit overboard. I saw Wicked nine times."
But as long as the show remains in Denver, Miranda has a message to those in the Mountain Time Zone:
"I will not understand why anybody who is just a car ride away would not go to see The Unsinkable Molly Brown when I went in a plane for eight hours to see a two hour and 15-minute production," he said. "It would be unthinkable to me that they would not go and see The Unsinkable Molly Brown."
John Moore was named one of the 12 most influential theater critics in the U.S by American Theatre Magazine in 2011. He has since taken a groundbreaking position as the Denver Center's Senior Arts Journalist.

The Unsinkable Molly Brown: Ticket information
The Stage Theatre
Runs through Oct. 26.
303-893-4100, or go to the Denver Center's web site at www.denvercenter.org
Our Previous Molly Brown coverage on Denver CenterStage:

'Molly Brown' Meet the cast videos:
Beth Malone
Burke Moses
Patty Goble
Paolo Montalban
Linda Mugleston
Donna English
https://www.denvercenter.org/wp-content/uploads/2018/04/featured-image-1314.jpg
868
800
John Moore
John Moore
2014-10-08 15:54:00
2014-10-08 15:54:00
Why Lin-Manuel Miranda's father is obsessed with 'The Unsinkable Molly Brown'