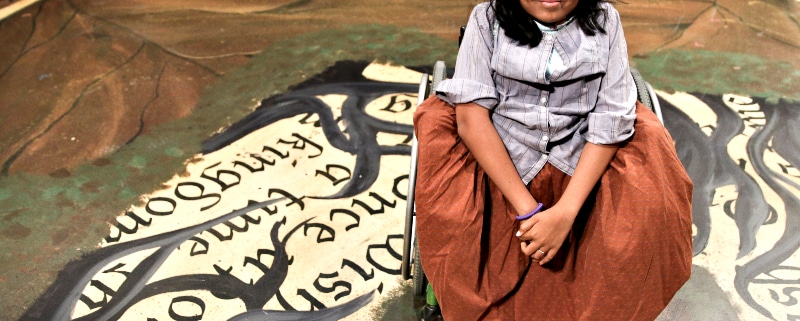 Young Phamaly actor is determined to live her best life
12-year-old Aloukika Patro hasn't let congenital disease keep her from making her onstage fairy tale come true
Twelve-year-old Aloukika Patro discovered her love of acting two years ago when one of her teachers told her about Phamaly, Denver's acclaimed theatre company that provides performance opportunities for actors with disabilities. Her family had relocated from India to Colorado in 2015 when her father was transferred by employer, Time Warner Cable. Aloukika was looking to get more involved in her community, so she decided to take her teacher's advice and audition for Phamaly's production of Annie.
Aloukika was born with Caudal Regression Syndrome, a congenital disease that hinders the development of the lower half of the body. Aloukika has no waste bone and is missing the lower discs at the end of her spinal cord, so she has no feeling in the lower region of her body. Life certainly has not been easy for her. She suffered from multiple infections when she was 8, causing her kidneys to swell to a dangerous level. But thanks to a team of surgeons at Children's Hospital Colorado, she is now healthy and determined to live her best life.
Aloukika is soon going into eighth grade at Challenge to Excellence Charter School in Parker. As an ambassador for Children's Hospital Colorado and now a regular performer in Phamaly's theatre productions, she has become an advocate and inspiration for people with disabilities. In her free time, she likes to swim, write short stories and, most of all, dance to her favorite Bollywood songs.
Aloukika is currently appearing as the narrator and part of the children's ensemble in Phamaly's production of the Stephen Sondheim musical Into the Woods. She hopes her performance will challenge negative perceptions of what people with disabilities are capable of doing.
"Having a disability sometimes stops you from doing things because you think you can't do it — but you actually can," Aloukika told the DCPA NewsCenter. "That's what Phamaly has taught some people."
Read more: Phamaly actor with Crohn's Disease finds his way out of the woods
Into the Woods tells the story of a baker and his wife who cannot have a child because of a witch's curse. One day, they venture into the woods to gather the ingredients needed to break the curse. Along the way, they meet Cinderella, Little Red Riding Hood, Rapunzel and Jack, who are all looking to fulfill wishes of their own.
"The thing I love the most about the story is that you take all of the fairy-tale creatures and combine them into one story," said Aloukika. "It's so great."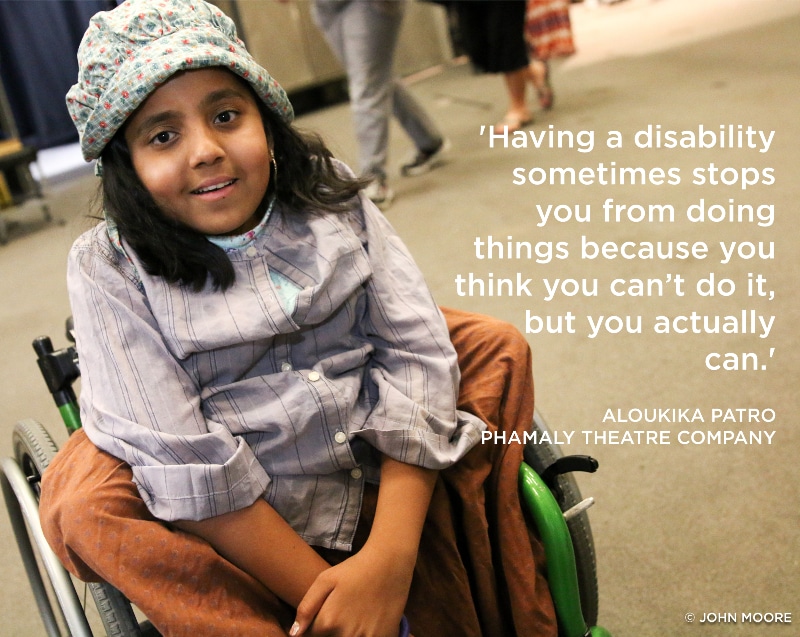 She's most looking forward to performing the Act I finale, "Ever After." In the song, all of the characters sing about how lucky they are to have gotten the happy ending they wanted. What they don't realize is that it's really just the calm before the storm.
When asked what performing has brought to her life, Aloukika immediately said, "Happiness." She loves the delight Phamaly performances give to audiences. "When we end the show, you see the joy on people's faces, and it gives me a very happy feeling," she said.
More Colorado theatre coverage on the DCPA NewsCenter
She's also noticed that performing has raised her confidence both onstage and off.
"People should come see the play because the people who are acting in it are very unique," Aloukika said. "Just because someone has a disability does not mean it stops them from acting."
Savannah Nichols is an Arvada native, a graduate of Denver School of the Arts and a summer intern with the DCPA Communications Department. She studies Public Relations at Wartburg College in Waverly, Iowa.
Into the Woods: Ticket information
• Music and Lyrics by Stephen Sondheim, Book by James Lapine
July 12 through Aug. 5
Space Theatre, Denver Performing Arts Complex
Tickets: $20-$29
Call 303-893-4100 or BUY ONLINE
Groups: Call 303-572-4590
https://www.denvercenter.org/wp-content/uploads/2018/07/3-Aloukika-Patro_Into-the-Woods_Photo-by-John-Moore_800.jpg
526
800
Savannah Nichols
Savannah Nichols
2018-07-16 10:38:14
2020-09-01 08:40:08
Young Phamaly actor is determined to live her best life