Extended by popular demand! Now playing through Dec 16 only
Join Corduroy the teddy bear on his delightfully rollicking chase through every section of the department store in search of his missing button. Bring your little ones to this tender, enduring story of true friendship as it stirs up the stage!
Don't miss one of the most beloved children's books of all time spring to life on stage!
Corduroy has been patiently waiting on a department store shelf to find a home, and Lisa thinks he's just the teddy bear for her. But before she can convince her mom to let her take him home, he'll have to go on a late-night hunt to find a missing button for his overalls.
This heartwarming comedy's themes of problem-solving, resiliency, responsibility, and acceptance set the stage for our Theatre for Young Audiences program, which focuses on performances tailored for PreK through 3rd grade audiences.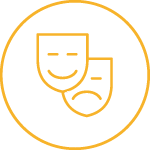 Sensory Friendly Performance
Mon, Oct 22 at 12pm
Sensory Friendly Performances are designed to be welcoming and inclusive for individuals with autism, sensory processing disorders, or other conditions by presenting theatre in a comfortable environment. Individuals of all abilities and with any and all behaviors are welcome. Elements of the production will be modified to make for a more accessible experience, including lighting, sound and movement.
| | |
| --- | --- |
| BOOKS BY | Don Freeman |
| LICENCED BY | CBS Consumer Products |
| ADAPTED FOR STAGE BY | Barry Kornhauser |
| DIRECTED BY | Allison Watrous |
LEARN MORE
Type: Theatre for Young Audiences, Family Friendly
Advisory: Theatrical fog and haze, flickering lights, sudden loud noise.
View exact timings.
An explosion sound effect plays approximately 45 minutes into the performance.

Intermission: No
Show Sponsor: Genesee Mountain Foundation
Scholarships provided by: Margot and Allan Frank, The Blanche and Irving Laurie Foundation, Alan and Carol Meny, Fuller Family Fund, Walter S. Rosenberry, III – Charitable Trust, June Travis
Artwork based on the literary works Corduroy and A Pocket for Corduroy by Don Freeman. Licensed by CBS Studios Productions LLC TM & © 2018
EDUCATORS
Scholarships Available
Scholarships and student group discounts available for all weekday performances. Visit our student matinee page to learn more.
Performance Schedule:
Mon-Fri 10:00am & 12:00pm
Sat 1:30pm and 3:30pm
Sun 11/25 and 12/2 1:30pm and 3:30pm
Performance schedule varies slightly in some weeks
DIG DEEPER
Related news from our News Center
MAKING YOUR WAY TO THE THEATRE
If you are travelling by car:
If you are travelling by bus: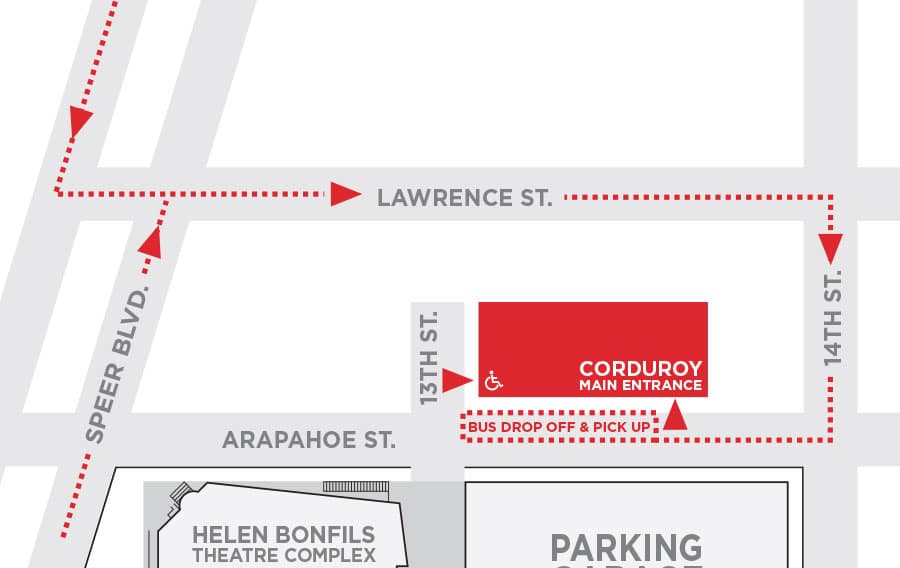 Support the DCPA Today!
Our stories reflect your life. Our artists are your neighbors. And your children are our future. Invest in the life-changing power of theatre with a donation to the DCPA!
Thanks to Our Generous Season Sponsors