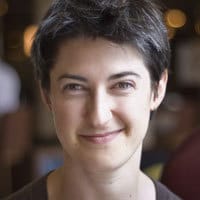 FESTIVAL WEEKEND ONLY!
Another Kind of Silence by L M Feldman
Balancing work, love and everything in between doesn't come easily for two artistic couples living in Greece. Chap's artwork lines the walls of her partner Ana's café while Peter's successful career as a composer overshadows his wife Evan's struggle to write. When Evan and Chap spark an intimate friendship, the two couples and their four "shadow-souls" must confront the challenges of communication and the transformative nature of desire. A bilingual play unfurling simultaneously in English and American Sign Language, this breathtaking ensemble piece was a finalist for the O'Neill National Playwrights Conference and received Honorable Mentions from both The Kilroys List and the FEWW Prize. L M Feldman's play Grace, or the Art of Climbing premiered with the DCPA Theatre Company in 2013.
L M Feldman is a freelance playwright, deviser, professor, and circus performer. She loves theatre that is brave, physical, honest and slightly impossible. Plays: Thrive, or What You Will; Another Kind of Silence; Amanuensis, or the Miltons; The Egg-Layers; Grace, or the Art of Climbing; and A People. Nominations: Wasserstein Prize, Blackburn Prize, Stavis Playwright Award, ATCA/Steinberg New Play Award, New York Innovative Theatre Award. Also: New Georges Affiliated Artist, InterAct Core Playwright, Orbiter 3. www.laurenfeldman.com
Please note: Another Kind of Silence will only be performed during Festival Weekend due to extra rehearsal time needed for its bilingual nature.