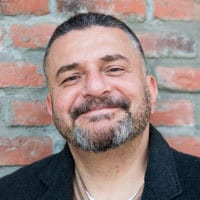 Hotter Than Egypt by Yussef El Guindi
No matter where you live, the ups and downs of married life are universal. For a middle-aged American couple traveling to Egypt on a business trip-slash-vacation, their relationship is put to the test when an old connection leads to new temptation. Drawing from the political, cultural and religious realities of living in the region, this fiery drama set in the heat of Cairo pits loyalty against attraction as its characters grapple with the ever-changing realities of staying committed to their partners. Middle East American Distinguished Playwright Award winner Yussef El Guindi specializes "in cultural and geographical displacement, from alienated couples to the promises and frustrations of immigration, and the ways people maneuver through foreignness and belonging" (Seattle Times).
Yussef El Guindi's most recent productions include People of the Book at ACT in Seattle, Language Rooms at Pony World Theater in Seattle and Broken Nose Theatre in Chicago, Hostages at Radial Theater Project in Seattle, and The Talented Ones at Artists Repertory Theatre in Portland. Other productions: Threesome at Portland Center Stage, ACT and at 59E59 (winner of a Portland Drammy for Best Original Script, 2015.) Bloomsbury/Methuen Drama recently published "Selected Works of Yussef El Guindi".