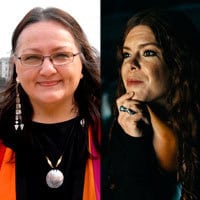 Reclaiming One Star by Suzan Shown Harjo and Mary Kathryn Nagle
The truth proves stranger than fiction in the story behind the racist name of the football franchise the Washington R*dsk*ns. Team owners have long maintained that the name honors Native Americans because it pays homage to an early coach, allegedly a "full-blooded Sioux." But when Tony One Star sets out to uncover the facts behind his granduncle's life and mysterious death, he shatters the myth behind the mascot. Equal parts detective thriller and courtroom drama, DCPA commissioned playwright/lawyer Mary Kathryn Nagle and 2014 Presidential Medal of Freedom winner and policy advocate Suzan Shown Harjo's new work draws from their experiences and real-life legal intrigue to give you an insider's look at the multifaceted case, including perspectives of attorneys defending the team's name and the people they want to keep quiet about the slur.
Suzan Shown Harjo H/PH.D co-wrote My Father's Bones. Past Drama & Literature Director, WBAI-FM, New York City, with background as radio/theatre producer, director, writer, actor. Awarded the Presidential Medal of Freedom (2014), highest U.S. civilian honor. Guest Curator and Editor, award-winning Treaties exhibition and book, Nation to Nation, Smithsonian's National Museum of the American Indian (2014-2021). A Cheyenne & Muscogee grandmother, she's helped Native Peoples recover over a million acres of land, and led the landmark case against the disparaging sports slur, R*dsk*ns.
Mary Kathryn Nagle is an enrolled citizen of the Cherokee Nation. She is also a partner at Pipestem Law, P.C., where she works to protect tribal sovereignty and the inherent right of Indian Nations to protect their women and children from domestic violence and sexual assault. Nagle is an alum of the 2013 Public Theater Emerging Writers Program. Productions include Miss Lead (Amerinda, 59E59), Fairly Traceable (Native Voices at the Autry), Sovereignty (Arena Stage), Manahatta (Oregon Shakespeare Festival), Return to Niobrara (Rose Theater), and Crossing Mnisose (Portland Center Stage).