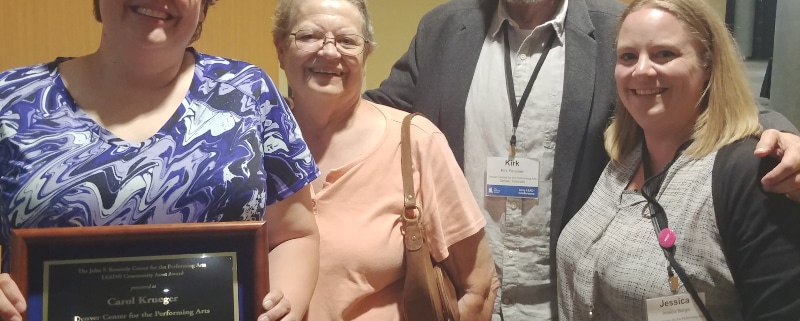 DCPA's Carol Krueger wins national award for accessibility initiatives
Kennedy Center honor acknowledges Denver Center's ongoing efforts to enhance theatregoing for people with disabilities
With 15 seasonal house managers and 380 volunteer ushers, no one directly supervises more personnel at the Denver Center for the Performing Arts than Theater Services Manager Carol Krueger. For a person whose job is to ensure that every patron's experience is as smooth as possible from the moment they arrive at the Denver Performing Arts Complex until they leave, Krueger is essentially the face of the faces of the DCPA.
"For those people who buy their tickets online or over the phone, the ushers really are the first folks they meet when they arrive," Krueger said. "So we are always asking ourselves, 'What can we do to make their experience better?' 'How can we make sure everyone feels welcome?' "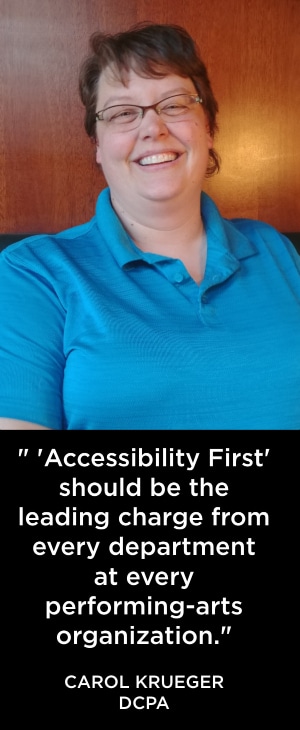 That mission is largely fueled by Krueger's passion for improving accessibility services for all Denver Center programming, from Broadway shows to off-site experiences to Education classes.
Under Krueger, the Denver Center has created and expanded a variety of services for patrons who are blind, deaf or have hearing loss. That includes increased availability of personal closed-captioning devices, audio description headphones and Braille and large-print programs; as well as performances that offer American Sign Language (ASL) and open captioning (where words are digitally projected onto a screen near the stage).
"Two years ago, we doubled the size of our ASL section from 25 seats to 50," Krueger said. Then we reached capacity on our open-captioning section, so we doubled that."
For her efforts, Krueger has been given this year's Kennedy Center LEAD Community Asset Award, which recognizes arts administrators who continually demonstrate success advancing access initiatives that improve the inclusion of people with disabilities in the cultural arts in their organization, city, state or region.
The award, established in 2014, was presented August 7 at the Leadership Exchange in Arts and Disability (LEAD) Conference, which drew 610 industry experts to Denver for its largest annual conference yet.
"Carol not only takes the 'lead' in advancing inclusion for people with disabilities within the DCPA, but is the 'go to' person for many organizations in Colorado and across the country," said DCPA President and CEO Janice Sinden.
Krueger's name may be on the award, but she says it's a reflection of ongoing cooperative efforts from departments throughout the Denver Center, including I.T., production, marketing and online.
"This award means that a lot of the work I've been pushing us toward is being recognized in a national way, but anytime you're want to make institutional change, it's about making connections within every department," said Krueger, who works in close concert with Associate Director of Ticketing Services Kirk Petersen.
"But by no means does this award mean that our work is done. It's simply saying that we've made strides, that we have pushed forward from where we were, and that we're on a path of continued growth," Krueger said. " 'Accessibility First' should be the leading charge from every department at every performing-arts organization."
Key accessibility terms
A personal closed-captioning device is a portable hand-held tablet that is configured with closed-captioning software, enabling users to enjoy private captioning services in any seating location. The devices, Krueger said, are controlled by a live staff person who advances the system in real time, as opposed to using a pre-recorded version. That allows the operator to carefully time the delivery of the words exactly as they are spoken. "Every performance is different," Krueger said. "Things change, and there are times when the words don't always match up with the script. Having a live operator also ensures that the captions don't come up too fast and possibly spoil a punchline before it gets delivered." These devices," she added, "are a way for folks who have lost some of their hearing to remain active in the arts."
Assistive listening devices are available for all performances. Those are headsets that amplify the sound from the stage for patrons who have hearing loss.
Audio description is a narration service that uses commentary to guide the listener through a performance with concise descriptions of action, settings, costumes, body language and physical comedy, all slipped in between portions of dialogue or songs.
The Theatre Company will designate one open-captioning performance for every Broadway touring production and for four different Theatre Company productions in the coming season. With open captioning, live captions are digitally projected onto a screen near the stage. Here is the upcoming schedule for 2019-20 shows, with dates of availability:

Indecent: September 10 through October 6 | Space Theatre
Twelfth Night: November 26 through December 22 | Space Theatre
twenty50: February 11 through March 1 | Space Theatre
Choir Boy: April 21 through May 10 | Space Theatre
Here's more of our conversation with Krueger, who is originally from the Detroit metropolitan area. She earned her master's degree in Arts Administration with a focus on Theater Management from Texas Tech. She worked for the Shakespeare Theatre Company in Washington D.C. before taking her position with the Denver Center in 2011:
John Moore: Tell me about how improved access has grown as a national priority at performing-arts organizations over the past five years.
Carol Krueger: I think a lot of that has to do with where the industry is going, and where tickets sales are going. If people are going to spend their leisure funds with us, then we need to make sure they want to come out to the theatre. It shouldn't be a trying experience. Of course, we're downtown, and the parking's not ours, and construction happens. But for those things that we can control, if we can make their experience better, then hopefully they will want to keep spending their time with us. We're fighting against how easy is to sit at home and watch Netflix or Hulu or Amazon and not have to interact with anybody. So were constantly trying to find those ways where we can really connect with patrons, welcome them, respect them and entertain them.
John Moore: Give me an example where one of your initiatives affected how a show was presented.
Carol Krueger: One of my favorite stories was working with the Off-Center team on The Wild Party, which was presented under the Hanger at Stanley Marketplace. There was a raised stage, and it was going to have steps. But there was a point in the show where everyone in the audience was going to get up and move, and we were trying to figure out how we were going to move folks who utilize mobility devices. After connecting with [Scenic Design Assistant] Nick Renaud, we realized that if we just lowered the stage by half an inch, we could make it a ramp instead of steps. Then anyone could go anywhere. And the actors were grateful as well, because it turned out to be so much easier for them to navigate than stairs.
From 2018: Theatre Company expanding services for those with hearing loss
John Moore: What would you say has been your biggest accomplishment?
Carol Krueger: I would say reaching out to our blind community here in Denver, through the Mile High Chapter and the Colorado Chapter of the National Federation for the Blind. Going to their meetings, talking with them, explaining what audio description is, and what they should expect when they arrive at the Denver Center. And with that, working with Group Sales to create opportunities for them to come and enjoy the shows together. That's where we've seen really great growth. When I got here, we would have American Sign Language performances. And we would have interpreters. But we would have had no patrons. That's all changed.
John Moore: What are your goals moving forward?
Carol Krueger: To me the future will be: You show up on the night you want to show up, you obtain the device you need, and you sit anywhere you want to enjoy it. We're not there yet, but we are working toward it. And we're not yet capable of doing multiple venues at a time, for example. So we can either do open captions for A Doll's House or Indecent, but we can't do both. We also want to expand into multiple languages. Why does captioning have to be in English? It doesn't.
John Moore: How are the ongoing renovations to the Helen Bonfils Theatre Complex going to affect accessibility once the Stage Theater is  reopened as the Marvin and Judi Wolf Theatre?
Carol Krueger: To put it simply: Everyone is in for an amazing experience. Everyone is going to have access to the Ricketson Theatre from inside the Theatre Complex instead of having to find it from the outside. Everyone is going to enter the main lobby, which means everyone will have the same patron experience no matter what theatre they are attending. There's going to be elevator access to those who need it for The Stage or Ricketson theaters. And the size of our wheelchair-accessible seating locations will be much bigger. We're going to have accessible seating locations where you can turn a mobility device fully around instead of having to back in.
John Moore: And what message do you think this award sends to the disabled community?
Carol Krueger: I hope it tells them that we're working hard and doing the very best we can with the resources we have, and I hope that they encourage us to keep trucking, keep moving forward and keep making changes, because the work never really ends. There always will be room for improvements.
John Moore was named one of the 12 most influential theater critics in the U.S. by American Theatre Magazine in 2011. He has since taken a groundbreaking position as the Denver Center's Senior Arts Journalist.
https://www.denvercenter.org/wp-content/uploads/2019/08/Carol-Krueger-2.jpg
644
800
John Moore
John Moore
2019-08-20 10:54:14
2019-08-22 19:25:48
DCPA's Carol Krueger wins national award for accessibility initiatives