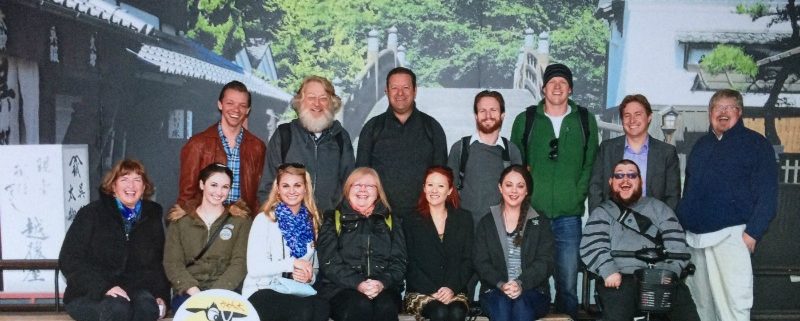 Japantastick No. 3: Boundaries created by war can be broken
Note: This is Day 3 of our daily report from Japan, where members of Denver's handicapped Phamaly Theatre Company are participating in a 10-day goodwill trip that will culminate with a performance of "The Fantasticks":
Last night, as a group from Denver's Phamaly Theatre Company sat down for dinner on their second full day in Japan, an older man who spoke very little English approached them.
"He apologized the best way he could for interrupting our dinner," said Phamaly Artistic Director Bryce Alexander. "He had a gentle, kind look in his eyes. He managed to introduce himself to us by simply saying: 'I … 1950s … Hiroshima.'
"He smiled, shook our hands very warmly, and bowed with the deepest respect. He had no other words."
The Americans, representing Denver's acclaimed theatre company made up entirely of actors with disabilities, had no way to respond. "We were rendered speechless – and not because we know so very little Japanese," Alexander said.
Such are the ordinary, extraordinary encounters the Phamaly contingent is in for during their 10-day goodwill trip to Osaka, which will culminate in their performance of The Fantasticks before 1,500 at the Communication Center for Persons with Disabilities, also known as "Big-i" in Osaka.
"It became very clear that being here, in this culture, is so very important for so many reasons," Alexander said. "That with all of the awful news in the world, there is hope, and love, and forgiveness, and openness between peoples. That boundaries created by war, or poverty or disability, can be broken. That in the end, life should be about living – struggles, triumphs, and all."
Added actor Robert Michael Sanders: "Everywhere we go, we are witness to what seems to be a lifestyle of kindness and efficient simplicity."
Actor Daniel Traylor said the overwhelming courtesy is a big part of the culture shock he's experiencing. "People have gone out of their way to be helpful, rather than turning a blind eye," he said. "One steward in particular never left our side from the instant we got off the plane until we had gathered our bags and left. He never acted as though we were keeping him from something else, and was patient until we said our goodbyes."
Theme of the day: Theme park
The Phamaly team had a full day to themselves on Tuesday before today's first official workshop. They spent it at a Japanese movie studio theme park in Kyoto. Some observations:
Robert Michael Sanders (Bellomy): "Today we saw some samurai demonstrations as well as films being made. While trying to make conversation with a local woman in a gift shop, I remembered to give her my card that says, "American actor" in Japanese. "As she read, she began jumping up-and-down as if George Clooney had just entered the building. I assured her he hadn't. But it was quite amazing. The people are busy but never rude. In fact, they are very patient, accommodating and willing to help."
Jenna Bainbridge (Luisa): I've learned children in particular love to talk to Americans. I had quite a few run up to me, yell "hello" at me and run away — some as young as 4. I can't wait for another adventure tomorrow."
Lyndsay Palmer (The Mute): "They were actually filming a ninja movie at the park. We also got to show off our anime drawing skills and have fun in a trick art museum. We ate at a place called Lotteria, which served hamburgers and French fries but Robert Michael Sanders was convinced it was kangaroo meat. You could even smoke in the restaurant, but not during lunch hour. … We were not there during lunch hour … Eww!"
Jeremy Palmer (El Gallo): "We spent the day at a watching ninja and samurai shows. Fingers crossed we replace our sword fight in The Fantasticks with an epic katana blade battle!
More on where the conference is happening:

The location of the conference is called "The Big-i," which is the International Communications Center for Persons with Disabilities. The institute was established in 2001 for the commemoration of the United Nations Decade of Disabled Persons (1983-1992). Among the ideas The Big-i promotes:
Persons with disabilities play the leading role.
Promotion of social participation by persons with disabilities through art, cultural activities and international communications.
"It is a state-of-the-art facility," said Phamaly harpist Barb Lepke-Sims."We are staying in the Western rooms where they even have heated toilet seats. (Definitely something that should be adopted by the Colorado housing industry.)
OUR PHAMALY PHOTO GALLERY (TO DATE):
CHECK BACK HERE TOMORROW FOR OUR NEXT JAPANTASTICK UPDATE

OUR PREVIOUS JAPANTASTICK PHAMALY JOURNAL ENTRIES:
No. 1: Phamaly's 'massive moment' in Osaka begins
No. 2: It's raining yen​
OUR RECENT NEWSCENTER COVERAGE OF PHAMALY:
Phamaly to take The Fantasticks to Japan
Phamaly picks Bryce Alexander as new artistic director
Video: Phamaly says thanks to artistic director Steve Wilson
DCPA Access-Ability Video featuring Phamaly actors
https://www.denvercenter.org/wp-content/uploads/2018/04/featured-image-1574.jpg
600
800
John Moore
John Moore
2015-03-25 00:54:00
2015-03-25 00:54:00
Japantastick No. 3: Boundaries created by war can be broken