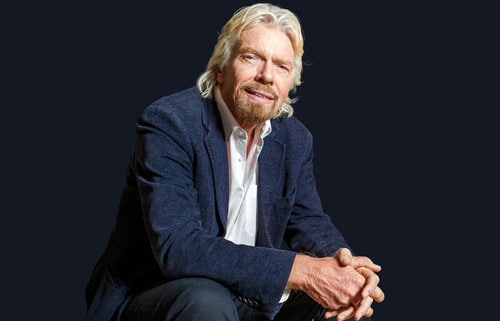 Sir Richard Branson will explore the business of empathy at Biennial
Celebrity Virgin Group owner focuses philanthropic efforts on solving big problems
Sir Richard Branson, the celebrity owner of more than 400 companies and brands under the Virgin umbrella, might seem like a surprising choice to headline an event styled on building empathy. But Branson, who will appear in Denver at The Buell Theatre on September 26 as part of the Biennial of the Americas, has spent the better part of a decade focusing his personal and philanthropic efforts on solving intractable problems — big problems like climate change in the Caribbean — by focusing on how leaders can evolve solutions through engagement with big ideas, disruptive change and a sensitivity to human experience.
Branson's well-known explorations into space travel evolved out of a customer-driven approach to long-distance airline travel with Virgin Airlines, a brand that secured his place in the celebrity stratosphere. Turning his attention to global leadership on his 65th birthday, Branson announced he would accept 65 crowd-sourced challenges throughout his 65th year. Branson spent the year exploring how he went from a 16-year-old school dropout to a household name on multiple continents, writing 65 thank-you cards to spending 65 minutes sitting in silence, all to demonstrate to the power of vulnerability and mindful leadership.
Branson is no stranger to using competitive challenges to solve problems. He recently launched the Global Cooling Prize, offering $3 million dollars to the inventor who develops a more efficient air conditioner. Branson's unique blend of competition and empathy will be on display at the upcoming Biennial, as Univision star anchor Jorge Ramos guides him in an intimate discussion of his environmental conservation efforts, his quest to win the race to bring tourists to space and his own prolific business approach.
Branson recently explained on his blog that "The only reason I'm able to do all the things I do and to keep on top of a busy schedule without getting too stressed is because I stay fit…. I find exercise the most natural and effective mood booster there is."  Whether exercise or ambition is fueling his super-human success, Branson's upcoming appearance is certain to entertain and inspire a crowd searching for empathy in a deeply divided world.
Richard Branson at the Biennial: Ticket information
What: Richard Branson at the Biennial of the Americas Symposium
When: 6 p.m. September 26
Where: Buell Theatre
Moderator: Jorge Ramos, anchorman of Noticiero Univision
Tickets: $35 at axs.com
This article was submitted by The Biennial of the Americas
https://www.denvercenter.org/wp-content/uploads/2019/09/Richard-Branson.jpg
334
500
DCPA Press
DCPA Press
2019-09-16 00:31:49
2019-09-16 09:14:49
Sir Richard Branson will explore the business of empathy at Biennial