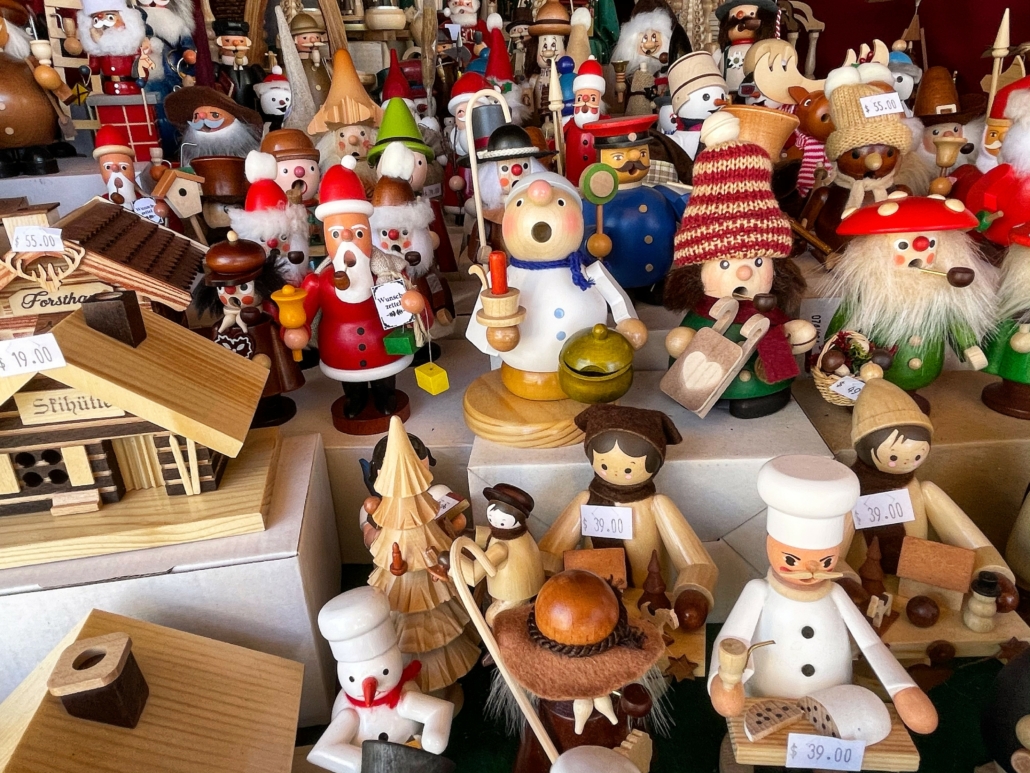 European Christmas in Denver
By Rich Grant, a freelance travel writer in Denver, Colorado
There's nothing more wonderful than an Old-World European Christmas, and it's even more magical when you experience the joys of Europe without leaving Denver. Here's how to do it.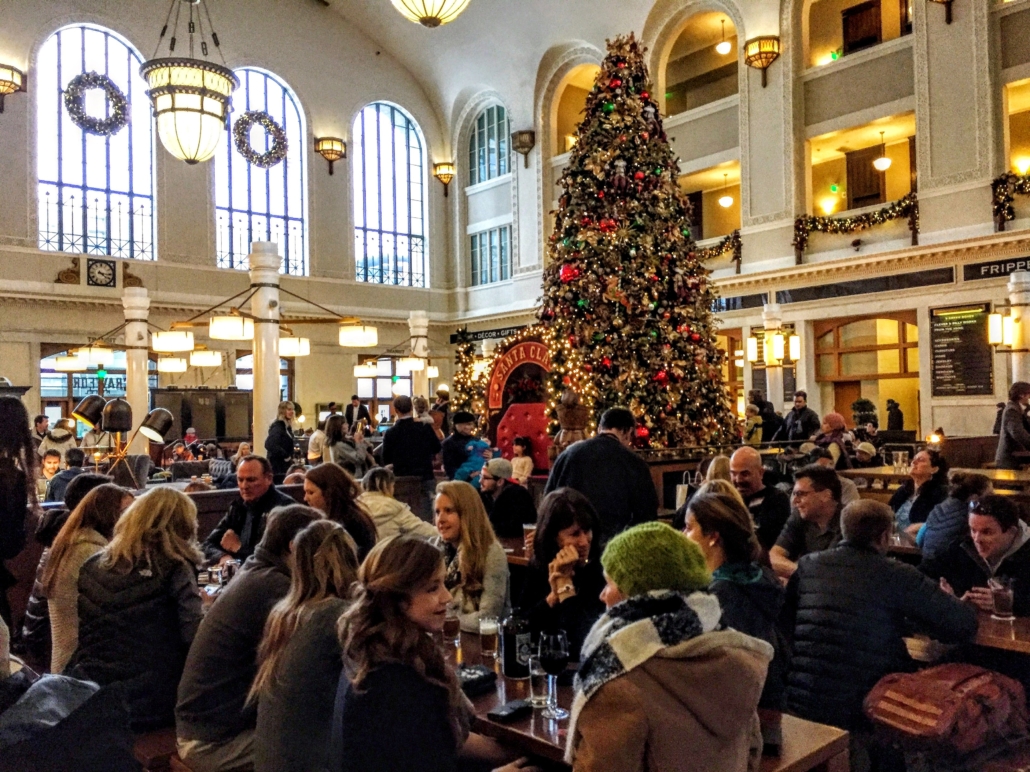 First step, leave the car at home and travel by train. No one drives to the center of European cities, and you can create the same illusion by parking at one of RTD's free lots and riding the rails to Union Station.  Once you open the doors to this magnificent building, you enter a world of holiday cheer with festive decorations, 7,000 lights, a 40-foot tree, and the "Miracle at Union Station" pop-up-bar, overflowing with Christmas cheer and holiday cocktails.  Join one of the European-style communal tables in the great hall and make new friends.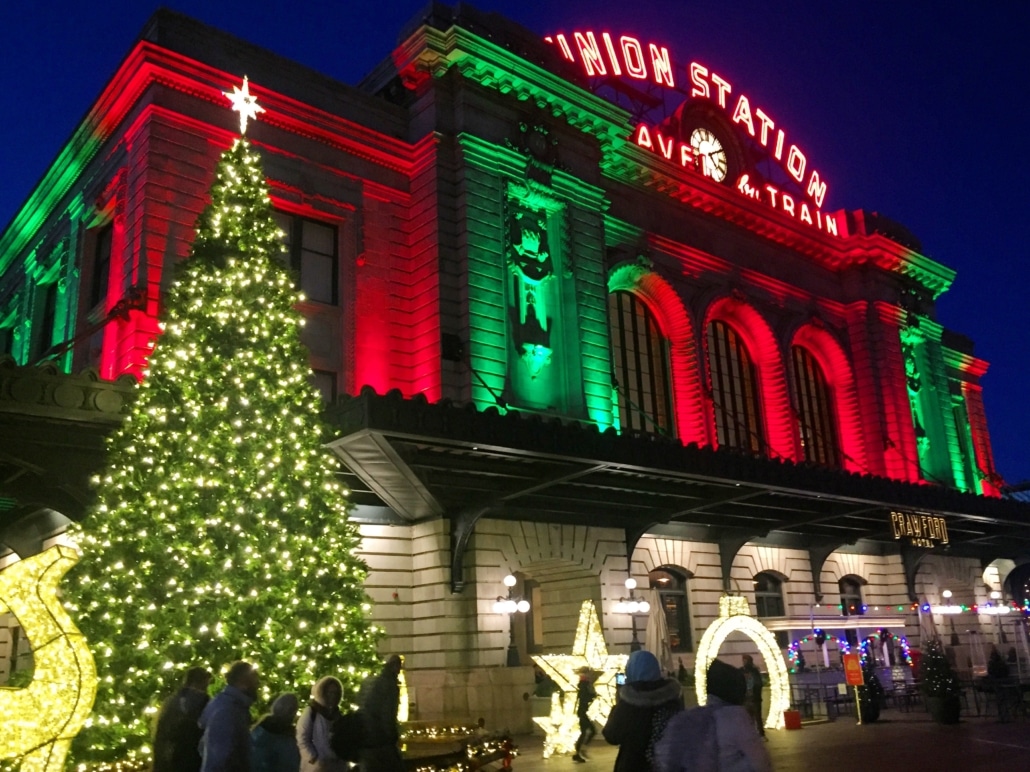 Then it's out into the city to watch "Merry & Bright Lights," a European style light show where the landmark Union Station building becomes a canvas on which visual holiday imagery is projected, all to a soundtrack of Christmas music.
Feeling a chill?  Walk a block and duck into the wildly decorated lobby of the Oxford Hotel.  The city's oldest hotel has the only crackling wood fireplace in downtown Denver and you'll feel like you're in England as you warm your hands by the fire.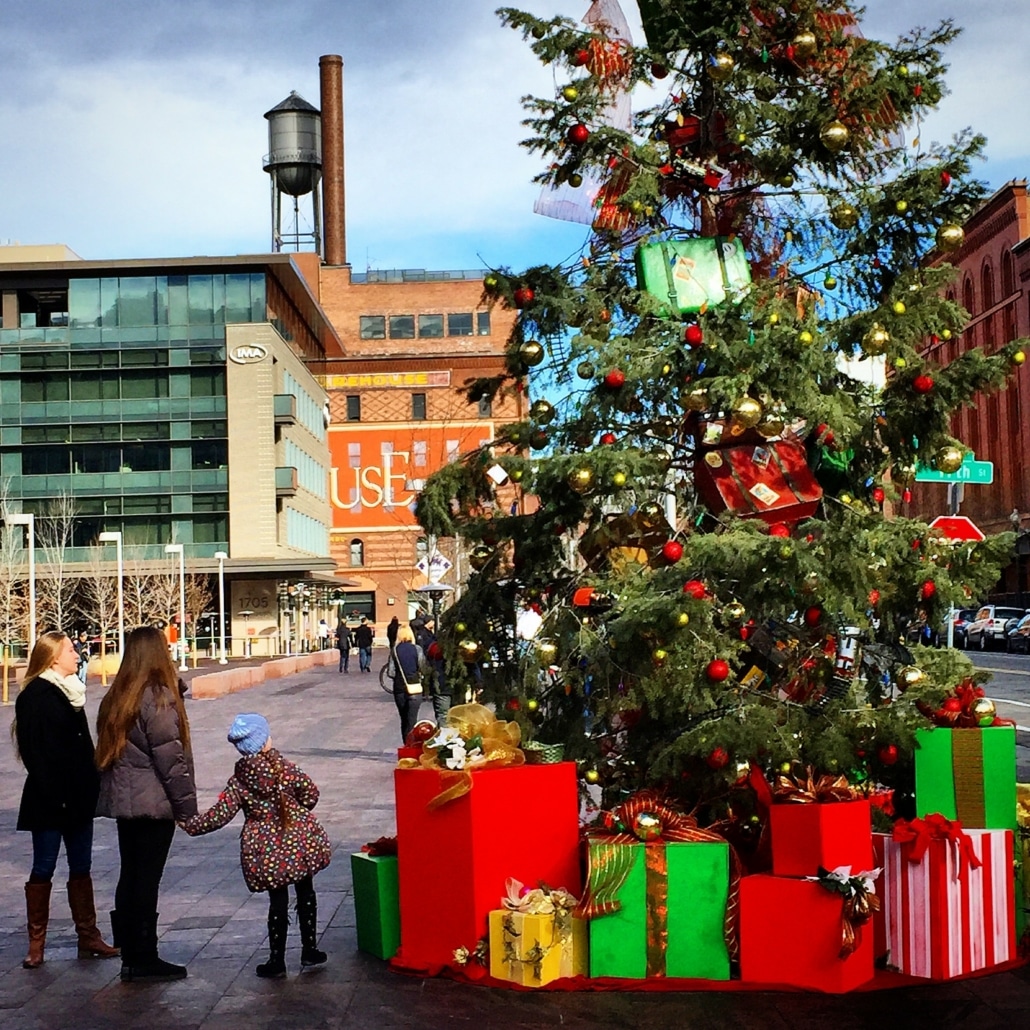 A short stroll brings you to the Dairy Block Alley, home to the Après Ski Holiday Market, an outdoor shopping extravaganza with booths selling candles, perfumes, leather goods and hats.  The whole block is licensed, so you can grab a beer or cocktail, munch on a snack and listen to live music (including the popular local group, the Jingle Belles) as you wander through the pop-up market designed to simulate a European ski village.
Of course, Larimer Square is Denver's oldest and most charming street, and now with traffic closed, the most European.  Special at any time, this year the Square will feature on Dec. 11-15, a Holiday Market with 40 curated locals selling home décor, fashion and crafts.  Live music, pop-up bars and outdoor cafés will make you think you are far far away.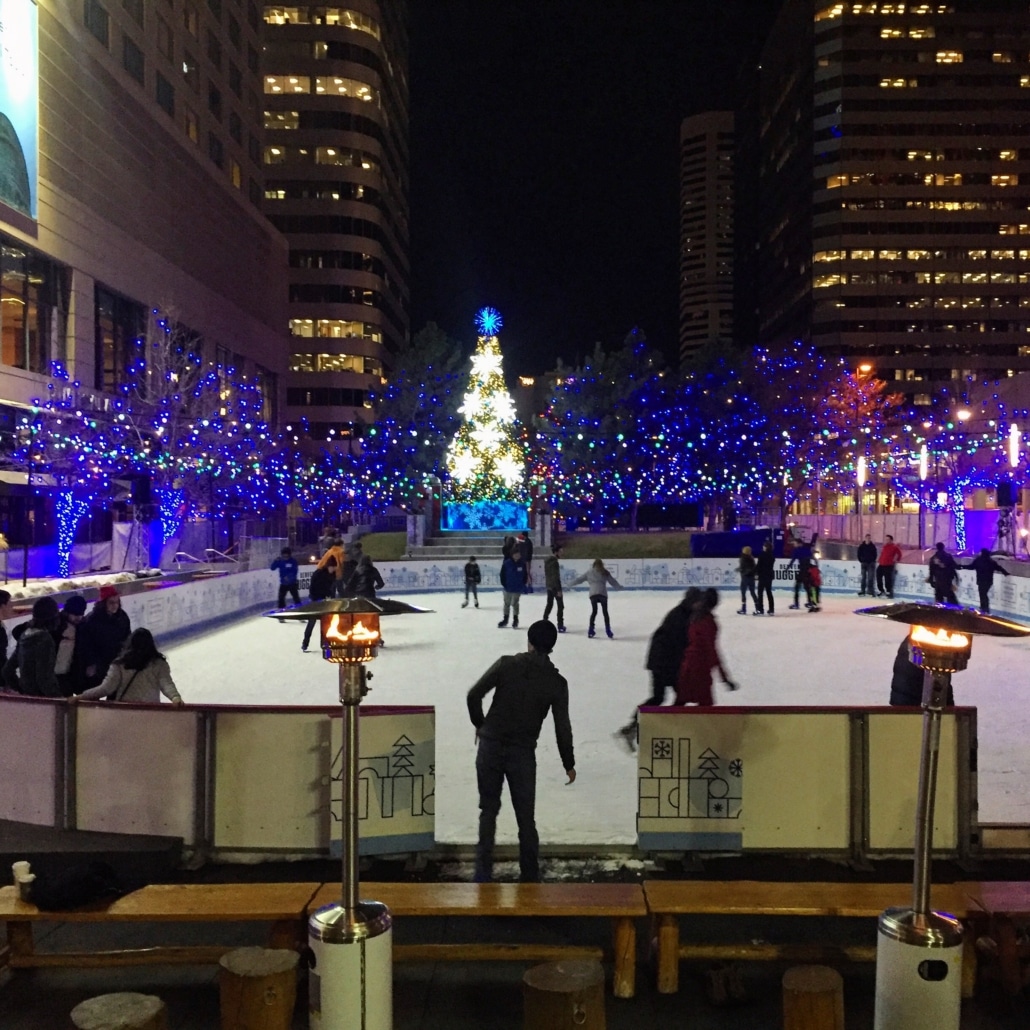 Continue your walk just a block walk to the D&F Tower. A one-third replica of the Campanile of St. Mark's in Venice, the historic structure will be covered with moving lights.  At the base, you can go ice skating in Skyline Park before you grab a horse-drawn carriage and snuggle up under a blanket as you clip clop down the 16th Street Mall under a canopy of trees ablaze with 100,000 lights. There are more lights at the Mile High Tree on 16th & Welton.
The 110-foot tree comes directly from Madrid, Spain, where innovative European artists have created a high-tech marvel of constantly changing lights and patterns choreographed to music.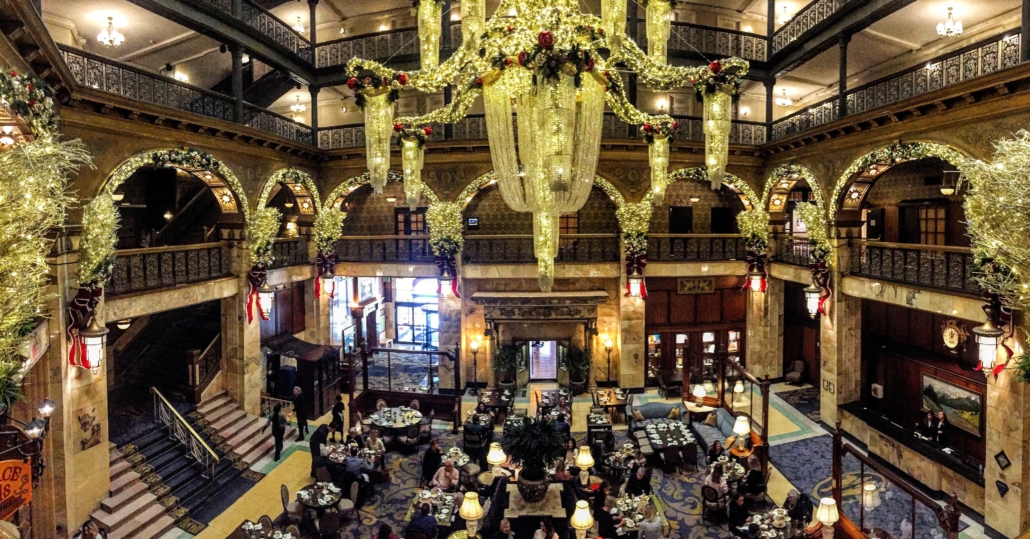 For a more Old-World feel, swing by the eight-story atrium lobby of the 1893 Brown Palace Hotel, where you can have a Christmas high tea or cocktails under a 25-foot chandelier decorated with 100,000 lights and 4,800 ornaments.
Finally, end your European holiday at the Christkindlmarket in Civic Center Park.  Stroll down alleys of cozy wood huts offering European treats like traditional glühwein, German biers, warm pretzels, strudel, knodels (boiled dumplings), pierogies, speck (Austrian cured, smoked and aged ham), Blinchiki (Russian style crepes) breads, cookies, and French cheeses, all mixed with booths selling European ornaments, toys, sweaters, scarves and spices.  Returning this year is Chef Neuhold, who has cooked for Queen Elizabeth, and will offer a brat haus, a cookie haus, smoked salmon and more.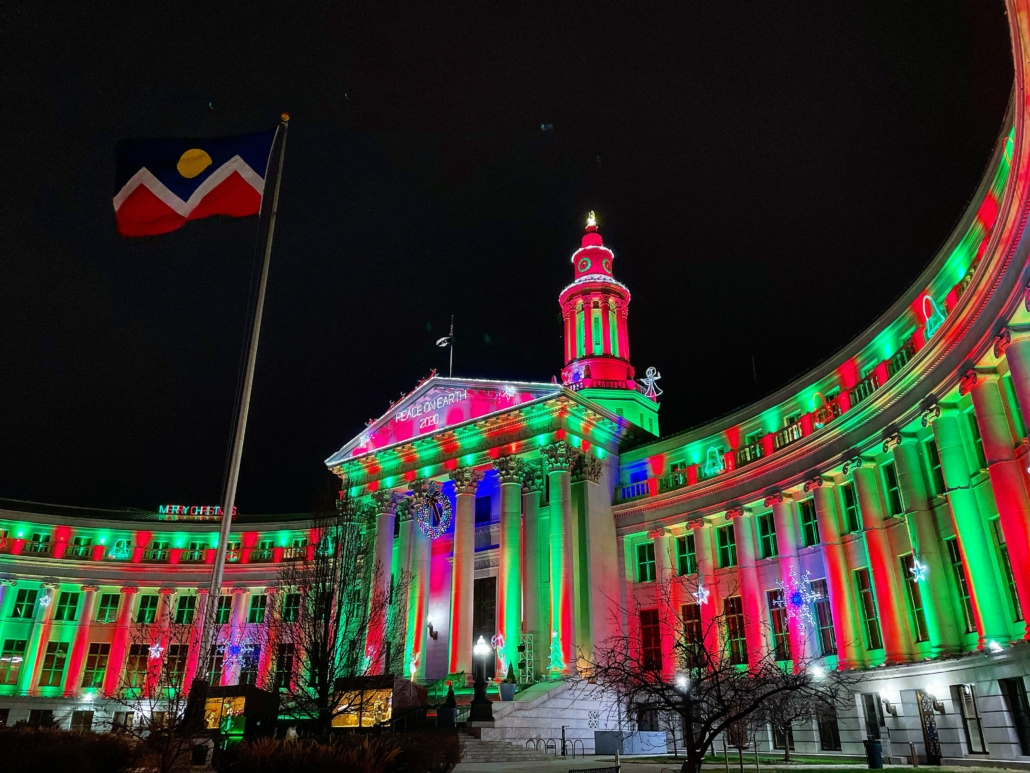 And as a backdrop to your European village is the lavishly lighted City & County Building, a Denver tradition since 1938.  Have another bier, listen to some polka music and bite into a bratwurst and you are sure to feel the thrill of a European Christmas.