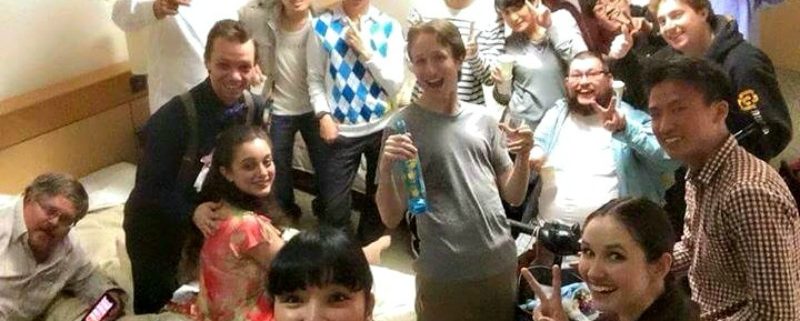 A farewell to Japan: Forever changed, and committed to change
Note: This is our final report from Japan, where members of Denver's handicapped Phamaly Theatre Company participated in a 10-day goodwill trip that culminated with a performance of "The Fantasticks":
​
Heavyweight champion Muhammad Ali wrote – and delivered – many rhymes in his boxing career.
Mark Dissette, a founding actor with the Phamaly Theatre Company, kept thinking back to one particular poem Ali penned as Denver's handicapped troupe wrapped up its life-changing, 10-day goodwill tour to Osaka, Japan.
Ali delivered his poem during one of his Harvard University graduation speeches. It is believed to be the shortest poem in the English language, and it goes like this:
Me. We.
It is a poem, Dissette said, "that speaks to how all of us are alike."
It also speaks to how members of the Phamaly contingent felt earlier today as they boarded a plane to Denver via San Francisco.
"We have made such good friends here, and I am so sad to leave them now," said actor Jenna Bainbridge. "I cannot wait to collaborate with the incredible (Japan) team again soon. We are leaving Japan far too soon. Hopefully we've lit the spark in someone that will burn into something as beautiful and vibrant as Phamaly here in Japan."
Phamaly has started a new chapter under recently named artistic Director Bryce Alexander, who oversaw this first-ever international venture for Phamaly. And after what actor Jeremy Palmer called "our sake-fueled final night," he was taken by the "seemingly limitless possibilities that lay before Phamaly in the years to come."
"I am so grateful to have been a part of this first chapter in our exciting history," he said.
Palmer's wife, actor Lyndsay Palmer, comes home with a new perspective on her home country.
"I was treated kindly, respected and felt so loved and cared for from people who could barely speak a word of English and have completely different lifestyles," she said. "The culture, the people, the country are beautiful, unique and peaceful. They are a big community who respect and take care of their country and their people. The crime rate is next to none, and the country is well preserved and taken care of."
By comparison, she added, the United States is spoiled and greedy.
"My goal is to live like the Japanese," she said. "Care more for my environment and be even more respectful. That way I will have a little of Japan everywhere I go, and maybe just bring more happiness to the people I pass and meet."
Harpist Barb Lepke Sims found "participating in something bigger than oneself" to be both humbling and inspiring. The trip put her life into a new perspective.
"No matter what country we are from or what circumstance we may find ourselves in, being part of a loving and accepting community can help each of us reach our full potential," she said. "Remember to be kind and helpful to one another can make a lasting impact on another person, which may in turn positively affect the larger community.
"I think we all, Americans and Japanese alike, have touched each other's hearts and souls in a way that will stay with us and help us be better people by reaching out to others, whether it be in our local community or internationally."
For Dissette, a founding member of Phamaly dating back to 1989, "I guess dreams really do come true," he said. "Not in ways I could even have imagined, but to their own tune and in their own time. Goodbye Japan … for now."
CLICK HERE TO WATCH OUR JAPAN YOUTUBE PLAYLIST
​
Above: Our Phamaly photo gallery in Japan.
SOME FINAL POST-SCRIPTS FROM JAPAN:

Members of Denver's handicapped Phamaly Theatre Company enjoyed their final two days in Japan as tourists, including tours of local temples and a stop at Universal Studios. There, a woman had her son join the Phamaly group for a greeting and photo. The little boy in the video above ran up to Jenn Bainbridge's wheelchair and kept trying to make the wheels spin. "There seems to be no fear of disability here," Bainbridge said.
In parts of Japan, deer apparently run rampant. And they can be very aggressive when it comes to begging for food. In the video above, Daniel Traylor is accosted. But actor Jenna Bainbridge had a deer bite her chest. Another reached into her bag and stole her itinerary. Actor Robert Michael Sanders got yelled at for touching the deer in an attempt to get Bainbridge's paper back.


Jeremy Palmer, on the trip to Universal Studios: For weeks, a few of us planned to go, if we could figure out how to get there. Some of the college students who helped us "dub" The Fantasticks into Japanaese for the local audience were not only willing to guide us around th park, they went out of their way to pick us up and take the hour-long train ride with us. There is no way we could have made it there with a wheelchair without their help – and we wouldn't have made heads or tails of anything inside Universal Studios anyway because it has very little English anywhere (except "Harry Potter World"). So Jenna, Daniel, Lyndsay and I spent the day getting to know Shinsuke, Rina, and Ayaka, despite their small amount of English contrasting with our nonexistent Japanese. But still we talked about life, school, acting, movies and Phamaly — all by applying a little patience and judicious word choice. Then of course, they insisted on riding the train back with us, again out of their way, to make sure we got home safely. We are so lucky to have met them and so glad they created Facebook accounts to keep in touch. Here's hoping we meet again some sunny day.


Robert Michael Sanders, on the visit to local temples: We spent the day touring temples around Osaka and Nara.There was beautiful art and history to be found everywhere, and we again had gracious hosts and interpreters. It was a perfect day to pay respects to the culture that has treated us so well.
OUR PREVIOUS JAPANTASTICK PHAMALY JOURNAL ENTRIES:

No. 1: Phamaly's 'massive moment' in Osaka begins
No. 2: It's raining yen​
No. 3: Boundaries created by war can be broken
No. 4: Overcoming barriers and finding commonality
​No. 5: Making music with total strangers
No. 6: Tears of joy as personal stories are turned into theatre
No. 7: Historic performance before Phamaly's largest audience ever

OUR RECENT NEWSCENTER COVERAGE OF PHAMALY:

Phamaly to take The Fantasticks to Japan
Phamaly picks Bryce Alexander as new artistic director
Video: Phamaly says thanks to artistic director Steve Wilson
DCPA Access-Ability Video featuring Phamaly actors
https://www.denvercenter.org/wp-content/uploads/2018/04/featured-image-2228.jpg
600
800
John Moore
John Moore
2015-04-01 13:50:00
2015-04-01 13:50:00
A farewell to Japan: Forever changed, and committed to change