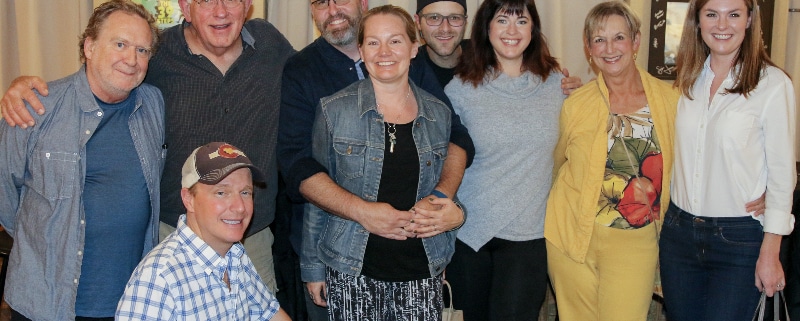 BETC wins national grant to encourage youth, seniors to tell their stories
Dallas theatre company will come to Boulder to learn from Colorado Shakespeare Festival's anti-bullying campaign
Boulder Ensemble Theatre Company has been named one of six recipients of the Theatre Communications Group's national Audience (R)Evolution Exploration Grant. Funded by the Doris Duke Charitable Foundation, this nationally recognized program awards up to $5,000 to each winning theatre to deepen their audience engagement work and strengthen relationships with local communities.
Here's a description of BETC's project:
Boulder Ensemble Theatre Company will create an intergenerational theatre program for youth ages 14-18 (high-school students) and seniors ages 55 and older to be offered in Boulder-area schools and senior facilities beginning in the summer of 2020. Over multiple class meetings, senior and youth playwrights will write original short plays inspired by each other's life experiences. The plays will then be performed. BETC will begin with a pilot program pairing one high school with one senior center, then expand the program across two counties and multiple school districts as they refine their program model and gather evidence of the program's successes and impacts. This grant will allow BETC to observe the "Mind the Gap" intergenerational theatre program at New York Theatre Workshop. BETC will observe NYTW's program once mid-session and once during the final production process.They''ll consult with NYTW staff and teaching artists to learn what makes their program effective. On the second trip, a BETC staff member will attend a multi-day training on arts and creative aging led by experts at the Creative Center at University Settlement, learning theoretical and didactic approaches to implementing and sustaining high-quality arts programming for older adults.
Another winning proposal came from Shakespeare Dallas, whose education team will travel to Boulder to observe and learn from Colorado Shakespeare Festival's staff:
Colorado Shakes' outreach and education team has developed a significant program in public schools that combines Shakespeare and violence prevention. It has been developed over several years with support from University of Colorado researchers, and combines an on-campus one-hour performance of a Shakespeare play and workshops that are conducted in classrooms by the actors. The Shakespeare and Violence Prevention program has proven to change the way students perceive bullying and engage in diffusing bullying and other threatening behavior. Shakespeare Dallas team members will attend performances and workshops taught by Colorado Shakes actors in Denver-area public schools, interview artists and staff members. Shakespeare Dallas will then bring Colorado Shakes' Director of Outreach Amanda Giguere to Dallas to train actors in workshop development for Shakespeare Dallas. The goal is to learn best practices in a statewide tour, as well as the efficacy of violence prevention programs, and replicate the program in Texas. Shakespeare Dallas will meet with the research team from the University of Colorado that has developed metrics and measurement tools and continue developing specific tools for a Shakespeare Dallas Texas state tour.
The other winning proposals:
"This latest round of Exploration Grants shows the potential power of engaging intergenerational audiences to bridge and build communities," said TCG Executive Director Teresa Eyring. "Thanks to our partnership with the Doris Duke Charitable Foundation, these grants will empower peer-driven exchange of knowledge and innovative models that work."
TCG exists to strengthen, nurture and promote professional theatre in the U.S. and globally. Since its founding in 1961, TCG's constituency has grown to more than 700 member theatres (including the DCPA Theatre Company)  and nearly 10,000 individual members. The mission of the Doris Duke Charitable Foundation is to improve the quality of people's lives through grants supporting the performing arts, environmental conservation, medical research and child well-being, and through preservation of the cultural and environmental legacy of Doris Duke's properties.
https://www.denvercenter.org/wp-content/uploads/2019/07/Members-of-BETC.jpg
563
800
John Moore
John Moore
2019-07-09 11:31:09
2019-07-11 09:41:50
BETC wins national grant to encourage youth, seniors to tell their stories