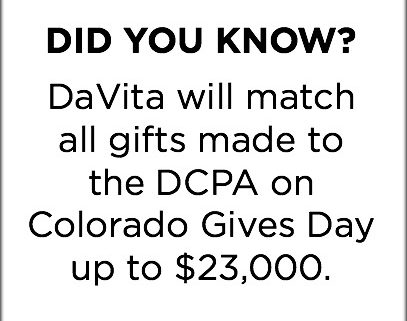 Colorado Gives Day: Why choose the DCPA?
This video shows how the DCPA, Colorado Symphony and Youth of Record collaborated with the Public Education and Business Coalition to develop a classroom initiative that would afford at-risk students the opportunity to hone their writing skills and transform their own words into a fully realized public performance piece. The Creative Classroom Collaborative was backed by a grant from DaVita and culminated with a raw and emotionally charged performance of slam poetry, dance, song and theatre. Video by David Lenk and John Moore.
By John Moore
Colorado Gives Day presents charitable donors with both a privilege – and a predicament. On Dec. 9, altruistic givers will have the opportunity to support a wide variety of worthy local non-profits with online gifts that will be boosted by a $1 million incentive fund made possible by FirstBank.
So what's the predicament?
Givers have nearly 1,500 non-profits to choose from.
With so many deserving organizations out there, one might naturally ask, "Why should I choose the Denver Center for the Performing Arts?" You already know the DCPA is the flagship theatre of the Rocky Mountain region. That it creates and presents exceptional theatre by embracing the classics while also striving to create new plays and musicals that advance the American theatre. That the DCPA aspires to be the most engaging theatre company in the nation.
But as one of the largest regional theatre organizations in the world, with a $50 million annual budget, you might naturally wonder how much your modest individual donation on Colorado Gives Day would really mean in the overall scheme of things.
It would mean everything, actually, says DCPA Associate Director of Development Tiffany Grady. Really.
The DCPA Theatre Company has been producing world-class, homegrown theatre for 35 years. But "revenue from ticket sales is never enough to cover the costs of producing that theatre," Grady said. "The remainder comes from generous donors.
"And what many people do not know is that the majority of our donations do not come from corporations or foundations. They come from individuals like you and me who value theatre and know that the DCPA adds to the quality of life in our community."
Many people don't even realize that the DCPA is, in fact, a community-supported non-profit organization. One whose mission goes far beyond producing and presenting theatre. It includes community outreach, school programs and an entire teaching academy that last year served more than 68,000 students from tots to at-risk teens to seniors. Last year, the DCPA welcomed more than 763,000 overall visitors (more than the entire population of Denver) who took advantage of an astonishing breadth of services that depend on more than $9 million in contributed support from 7,000 donors each year.
"Those donations not only support the work on our stages; they also help us provide matinee performances for students," Grady said. "We recently had nearly 7,000 students attend our production of Lord of the Flies. Many of them were attending a live performance for the first time."
Grady saw students jumping out of their seats at the end of the show. "It was the most moving standing ovation I have ever seen," she said. "And we literally couldn't offer opportunities like this without the support of our donors."
There was a time when the Bonfils Foundation, which built the DCPA, could support the Theatre Company with as much as $6 million toward its operating budget each year. But in recent years, many economic factors have conspired to reduce the Foundation's annual contribution to just $1 million. The DCPA Theatre Company has made new-play production a cornerstone of its mission, presenting 135 world premieres to date. But in order to continue to produce debuts like the new The Unsinkable Molly Brown and the upcoming world premieres of Benediction and Appoggiatura, the rest of the budget must be made up from other sources.
"And here's another thing: The major funding that arts organizations have counted on in years past has tended to be reduced," said Producing Artistic Director Kent Thompson. "National foundations are turning their eyes toward other issues like access, diversity, education, health and social services — which is totally legitimate given what is going on in the country."
Last year, the DCPA raised $18,000 from 160 donors on Colorado Gives Day. This year, the DaVita health-care company will match all gifts made to the DCPA up to $23,000. The DCPA's combined goal for Dec. 9 is to raise $41,000. You can schedule your gift to the DCPA in advance of Colorado Gives Day by clicking on this link now.
"There are so many deserving nonprofits in need of your support on Colorado Gives Day," said Grady. "But we hope you will remember the Denver Center as well."
More than 68,000 students are serviced each year through DCPA programming. Pictured above (indented into the text): Korean-born sophomore Laurain Park (top) had her play selected for full production in Denver Center Education's first statewide teen playwriting competition. Click here for more on the story, or see the video at the bottom of the page. Also indented: A student applauds 'Lord of the Flies' after a recent matinee. Photos by John Moore.

The DCPA/By the numbers
913: Performances in the 2013-14 fiscal year
58: Percent of revenue generated by ticket sales
18: Percent of revenue generated by donors
7,000: DCPA donors
68,000: Students (of all ages) served
281: Schools directly served by DCPA teaching artists
17,000: Students who attend Theatre Company matinees each year
​
Lyndsay Palmer performs in a DCPA Education master-class performance consisting of songs by Stephen Sondheim. Photo by Brian Landis Folkins.
Local students head into the theatre for a recent DCPA Theatre Company matinee performance. Photo by John Moore
This video tracks the development of Denver Center Education's first statewide teen playwriting competition and performance.
https://www.denvercenter.org/wp-content/uploads/2018/04/featured-image-1191.jpg
358
407
John Moore
John Moore
2014-12-03 14:00:00
2014-12-03 14:00:00
Colorado Gives Day: Why choose the DCPA?