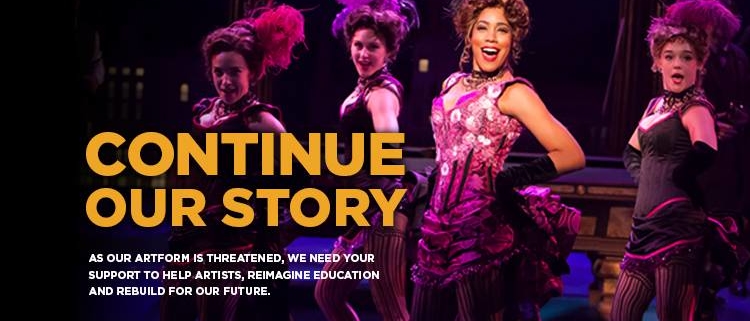 Continue Our Story. Give to the Recovery Fund.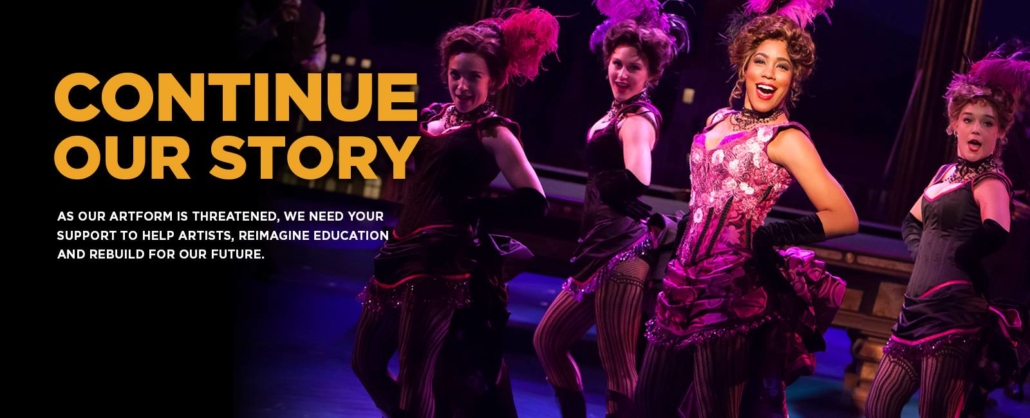 On March 13, 2020, the world as we in nonprofit theatre knew it, stopped. In response to COVID-19 and a subsequent City mandate, our theatres were forced to close.
While numerous national reports note that the live events industry was the first to close and likely to be the last to reopen, the impact hits even closer to home.
"The local creative sector is a significant driver of our economy, supporting nearly 100,000 employees in the metro region and generating more than $16 billion in sales," said Mayor Michael B. Hancock, stressing that the value of local creative industry goes beyond sales revenue. "But it's more than just that economic impact; our creative industry gives us the music, art, literature, and entertainment that makes Denver and Colorado great places to live."
Give to the Denver Center Recovery Fund at denvercenter.org/Recovery
In a report by Denver's Arts & Venues, the city's creative industries have lost an estimated 29,840 jobs and $1.4 billion in sales revenue between April 1 and July 31.
As of September 25, the DCPA has canceled or postponed 32 shows, dozens of events, hundreds of classes, and the organization's two signature fundraisers. This loss wiped out all profits and resulted in a deficit of millions of dollars as our fiscal year ended on June 30. Add to that the unrealized revenue that was budgeted for our current fiscal year would have been tens of millions of dollars.
In response, the DCPA has taken swift and responsible action to maintain its viability and emerge resilient for the coming season. Leaders applied for and received a Paycheck Protection Loan, furloughed 130 team members, and reduced hours, salaries and/or benefits for remaining staff.
"While drastic, our goal is to make smart decisions now in order to recover from our deficit and be set up for a full lineup of programming in our 2021/22 season," said DCPA President & CEO Janice Sinden. "These reductions allow us to reduce our staffing expenses by more than half while still maintaining essential business functions."
As importantly, the DCPA started a Recovery Fund, which had a soft launch in mid-March. "When our theatres were closed and we canceled hundreds of individual performances, we appealed to our patrons," Sinden explained. "We knew that everyone in our community was hurting and that it wasn't the appropriate time to launch a major fundraising appeal. But many people opted to donate the value of their tickets while others made outright gifts. With that early and much-appreciated support, we are now $1.7 million toward our $4 million goal. People's generosity is really overwhelming."
Gifts to the Recovery Fund will be directed toward general operating expenses, including education, producing virtual interim content and events, employee insurance premiums, and season planning.
In order to ease the burden of our furloughed team members, the DCPA offered to cover insurance premiums through the end of the year. "The absence of our team members is heartbreaking," Sinden continued. "Many individuals on our artistic staff have highly specialized skills which make them invaluable to a theatre company but may limit their viability in the job market. We wanted to ease their burden for as long as we could afford to do so."
While the DCPA was putting its locally-produced plays on hiatus, the Education and Department were able to nimbly adjust its programs. "We're delighted to be able to repackage Book Stars, Dramatic Learning, Shakespeare in the Parking Lot, and our Middle and High School Playwriting program into live, interactive workshops that can be in person or online according to a school's preference," said Allison Watrous, Executive Director of Education and Community Engagement. "Plus, we quickly pivoted our acting classes into virtual instruction and have more than 90 classes scheduled for the fall. We hope to broaden our reach across the state and interact with 40,000 students through our established, dynamic programs."
As the 42-year old organization looks ahead, "we are optimistic that our Broadway programming will resume in 2021 and are planning for a robust 2021/22 Theatre Company season," Sinden continued.
"Unfortunately, we couldn't be present when our community needed us the most. But we are hopeful that our amazing community and audiences will stand by our side in our time of need so that we can once again gather to share stories, reconnect with friends and, ultimately, recover together."
To make sure the DCPA's story continues, please give to the Denver Center Recovery Fund at denvercenter.org/Recovery or call Erin Walker, Senior Development Office at 303.446.4840.
https://www.denvercenter.org/wp-content/uploads/2020/09/DCPA_RecoveryFund-Homepage-750x400-1.jpg
400
750
Suzanne Yoe
Suzanne Yoe
2020-09-25 14:04:05
2020-09-30 13:51:50
Continue Our Story. Give to the Recovery Fund.