Book Stars: Bringing stories to life in the classroom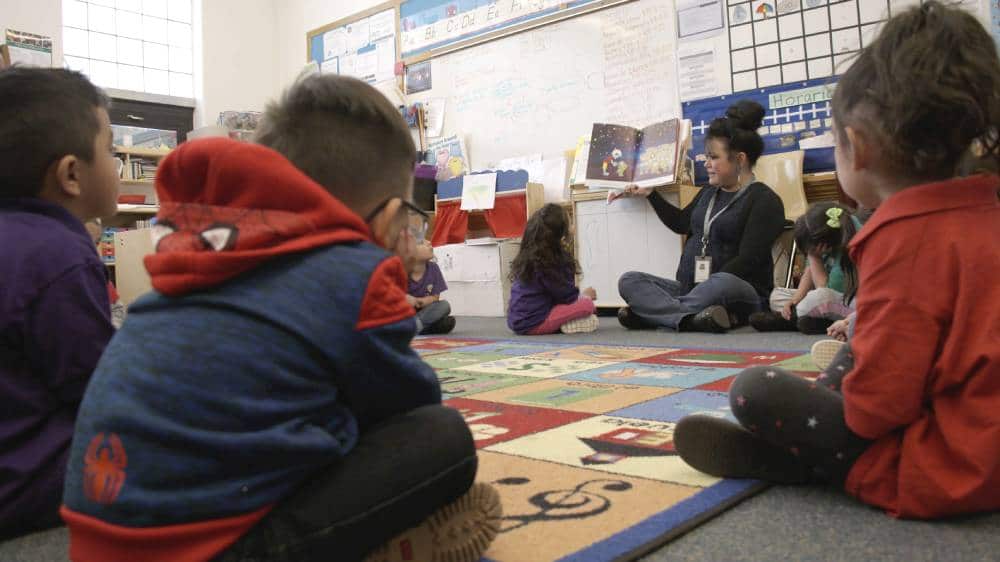 "Everybody! Ms. Rachel's here! Time to use our in-naaab-bin-a-natin! (Imagination)," a PreK student at Park Lane Elementary shouted as Teaching Artist and Education Program Coordinator Rachel Taylor entered the classroom for the class's Book Star Experience last year.
Book Stars, part of the Denver Center for the Performing Arts' (DCPA) larger Dramatic Learning program, provides in-school workshops designed to integrate theatre arts within the core curriculum. This preschool and kindergarten program promotes emergent reading and literacy skills through kinesthetic learning, critical response and creative play by activating picture books through props, hands-on activities and dramatic play.
Five years ago, the DCPA Education Team wanted to start a program that aligned reading with theatre practices so that early learning students could experience theatre for the first time. Book Stars is available to all participating schools free of charge to support classrooms and the importance of literacy skills in early childhood. The program especially focuses on reaching Title One schools that might have socio-economic restraints. By introducing theatre to young people, Book Stars is part of the Denver Center's larger mission to engage and inspire through the transformative power of live theatre and the Education department's specific mission to foster the next generation of theatre lovers.
In its first year, the program featured two books and engaged 1,000 children. Under the guidance of Education Program Coordinator Rachel Taylor, the program grew to engage 11,000 children at 304 events in recent years — an average of more than one every workday. While the program will be adapted for online workshops due to COVID-19, DCPA Education still plans to reach 10,000 students this school year.
All of the books are accompanied by a story box including a lesson plan, a tactile element related to the story, and a costume piece. Each Book Star experience shares the same formatting: Children are welcomed by the Teaching Artist and gather in a circle. The children are then introduced to the concept of theatre-based learning.
Teaching artists invite the students into a warm-up to engage their voice, body, and imagination centered on the story box.
After the story has been read, the class discusses different themes throughout the story and the concepts from the lesson plan. For example, in Pet Show by Ezra Jack Keats, Taylor draws concepts such as community building, biology, and animal care from the story.
"I try to really think about what is needed with the concepts," Taylor said. Due to the nature of the program, each book is theatrically activated in a way that embraces the underlying concept of the story.
"For example, We're All Wonders is about a little boy who has one eye. He feels isolated and different from the other kids at school. We follow his journey as he navigates his hurt feelings, uses his imagination to blast off to Pluto where everyone has one eye, and eventually finds a friend, someone who is different in appearance but shares interests."
Educators hosting Book Stars understand how the program addresses Colorado State standards including socio-emotional components of emergent literacy and its ties with social skills development. The program is a learning experience incorporating prediction, inference, and reflection, students apply these skills to story comprehension and their experience as members of communities.
Following the reading, the class moves into a theatrical activation of the story. For Keats' Pet Show, the large group matches each animal to a chore and then recites a hand chant and pantomimes the chore. The lesson then finishes out with a closing circle.
These 30-minute lessons allow children to engage in active reflection, critical inquiry, sequential prediction, and connection-making between the text and creative dramatic play activities. And most of all, they have plain 'ol fun.
For the past two years, Teaching Artists have taken the Books Stars program into kindergarten classrooms at Holm Elementary School. Samantha Davis, one of the teachers at Holm, expressed how impressed she was with the program and the teaching artists.
"The artists are SO good with the students!" Davis said. "These are some of the best interactions I have witnessed with my students." Unlike some volunteers who seem uncomfortable with her students, Davis felt like the artists were in their zone. "They can hold students' attention because of the engaging props and students are often seen laughing and being silly."
"Even though it isn't a performance, these programs let the kids perform for a minute. It's a primary version of what we do across the street", Taylor explained referring to the Theatre Company shows at the DCPA.
"The DCPA has given students a taste of what performing arts are and what an important role they play in society and education," Davis said.
One of the greatest compliments Taylor receives from educators is when they implement skills learned from the teaching artists into their classrooms. "Book Stars excites them to look at other things they do with their curriculum and find opportunities to make it more theatrical and interactive."
Teaching literacy allows students to see stories come to life. Book Stars is just one way to open up their imagination. Inspiring emergent readers in this way not only helps connect the words on the page to the image or to theatre through acting but also invites students of all socioeconomic backgrounds to experience the transformative power of live theatre.
To schedule a virtual Book Stars workshop for your PreK-K group, please contact DCPA Education at education@dcpa.org. For more information on all of the DCPA's education opportunities, visit denvercenter.org/education.
https://www.denvercenter.org/wp-content/uploads/2020/08/Book-Stars.jpg
562
1000
Madison Stout
Madison Stout
2020-08-20 11:43:04
2020-08-25 14:56:46
Book Stars: Bringing stories to life in the classroom