Flexible Schedules Boost Enrollment for DCPA Education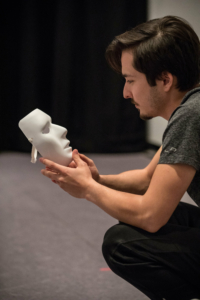 A study by Pew Research Center shows that a majority of Americans were able to find a personal silver lining in the pandemic. Many people noted that having more flexibility in their working schedules, remote or hybrid work environments, and the implementation of video meetings has allowed them to dedicate more time to personal activities.
In returning "back to normal," work/life balance is still a priority for many. Tim McCracken, Head of Acting for the Adult Program for DCPA Education, notes that more class offerings have been listed during the workday than ever before. In addition, enrollment is higher than pre-COVID levels with interest in DCPA Education classes continuing to grow.
DCPA Education is listening and responding to student interest and feedback, the result being a constantly evolving program. "We've seen a strong shift very quickly," McCracken said. "We're still early in the enrollment period for our winter session, but classes are filling quickly, many classes are already sold out, and we have a waitlist."
"The pandemic has been a wake-up call for so many of us in terms of self-examination and perspective," he noted, "People are interested in taking a class, whether that's due to more flexibility in their schedule, reinforcing the desire to learn and grow, or just to meet and connect with a community."
And a sense of community is something many people have been sorely lacking since the pandemic. "One of the core values of our program is creating community, and that comes before all else," explained McCracken. "Students are putting themselves in vulnerable positions when taking a class, no matter the subject. To be surrounded by people taking the same risk and to feel celebrated and supported is life changing."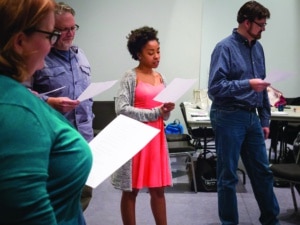 These classes aren't limited to professional actors or theatregoers. "There is such a broad range of classes for all skill levels and interests," McCracken said. "There is something for everyone." Whether you're looking to try something new, to develop your interpersonal skills for your career, want to get back into acting after years offstage, or want to switch from on-camera acting to stage acting, the DCPA has a class for you.
McCracken emphasized how beneficial these in-person classes are, even if performing is not your end goal. The experience is not something that can be duplicated through an online course. "There is so much we do that depends on physical presence," he explained. "From positioning to body language and energy. There's something special about being in a space with people who are just as invested in the process as you are. It creates a thrilling environment to learn."
If you're interested in taking a class or finding out more about the program, you're encouraged to reach out to DCPA Education to ask questions. Enrollment is currently open for the winter session, but classes are also available year-round. Visit denvercenter.org/education to view the course offerings and sign up for a class.
https://www.denvercenter.org/wp-content/uploads/2022/05/169A2780.jpg
4480
6720
Emma Hunt
Emma Hunt
2022-12-15 09:01:40
2022-12-15 09:01:40
Flexible Schedules Boost Enrollment for DCPA Education