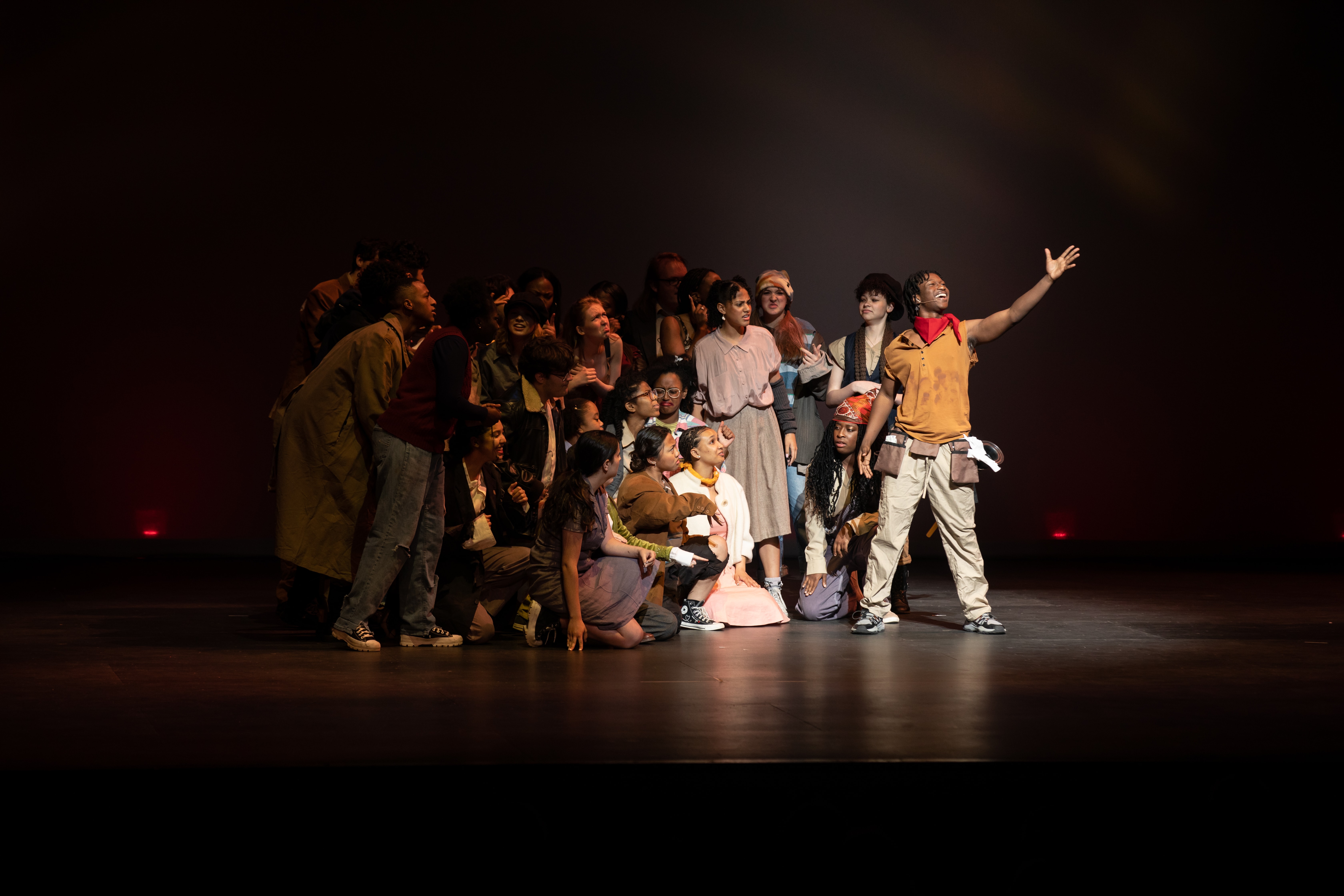 The Roar of the Bobby G's
"Raise the roof," "sonic boom," and "break the sound barrier" are somewhat pale descriptions of the cacophony that emanated from the Ellie Caulkins Opera House on May 18. More than 2,000 students, families and educators attended the 9th Bobby G High School Musical Theatre Awards and the enthusiasm was thunderous.
This annual awards ceremony spotlights the best talent in high school theatre from across the state. More than 50 schools nominated their annual school musical for adjudication by nearly 50 theatre professionals.
With more than 15 categories, 112 individuals were nominated including recognition in an all-new category — Stage Management. Bobby G Program Manager Claudia Carson long advocated for the addition of this category and, following the announcement of her upcoming retirement, the award was named in her honor. As the audible gasps from the crowd quieted, Allison Watrous, Executive Director of Education and Community Engagement, spoke the words on everyone's minds: "Claudia Carson has been with the DCPA for over 20 years and her contribution to the theatre and theatre education is immeasurable.… You are loved, my dear friend. You are loved and will be missed by this team every day. Thank you, thank you, thank you, Claudia."
Both on the red carpet and throughout the ceremony, participants elaborated on the importance of the Bobby Gs, theatre and support of community. Jason Watkins said, "Because of you, I now know what I want to do with my life." He, along with Lyric Bishop, Kaiya Brown and Paige Ioerger, won Outstanding Achievement in Scenic Design for Disney's Beauty and the Beast by Niwot High School. "The best experience has just been meeting everybody and performing with everybody," said cast member Juliet Molina who was nominated for Outstanding Performance in a Lead Role for her portrayal of Belle. "Everyone's so talented and so kind and it's just the most exciting experiencer ever."
"It feels great to see that so many other people are achieving their dreams along with me," said Mark Gomez who was nominated for Outstanding Performance in a Lead Role for his portrayal of Gomez Addams in The Arts Academy at Pueblo High School's production of The Addams Family. "It just feels magnificent to share this with these people."
As much as the event fosters camaraderie and collegiality, only one production and two performers can go home with the evening's most coveted awards — Outstanding Overall Production of a Musical and Outstanding Performance in a Leading Role.
Out of five nominees for Outstanding Overall Production — Newsies by Central High School, Bright Star by Fossil Ridge High School, Something Rotten by Lakewood High School, Urinetown by Overland High School and The Addams Family by ThunderRidge High School — Lakewood took home five awards including top honors. Among its other awards, Sophia Navarro and Tami LoSasso won for directing the musical comedy. It was a bittersweet win for LoSasso who, on the cusp of her departure from Lakewood, snagged her third best director award and her first for Outstanding Overall Production. In her remarks, she said: "Everybody in this room, we all come together to tell stories, we have a passion for it and we have a passion for this community. Thank you for lifting each other up. I love you so much."
LoSasso had extra reason to be proud when her student, Connor O'Brian, received the award for Outstanding Performance in a Lead Role for his portrayal of Shakespeare in Something Rotten. After crediting LoSasso as his mentor and his parents who "never said no to my dream," he gave a huge shout out to the Lakewood High School Theatre Company: "You have given me a home, somewhere to belong, somewhere where I can embrace who I am, and each and every one of you has inspired me to do my best. I love you all. Thank you so much!"
Camille Nugent joined O'Brian in winning Outstanding Performance in a Lead Role for her appearance as Alice Murphy in Fossil Ridge High School's Bright Star. "I am endlessly grateful to Claudia Carson and DCPA for recognizing the importance of this art and giving it such a beautiful platform," Nugent said in her acceptance speech. "You are teaching the next generation that this, what we're creating, is important and deserves to be celebrated."
In fact, the Bobby G Awards were created in 2013 by the DCPA's late President Randy Weeks, who wanted to give theatre kids their version of a varsity letter. The local award ceremony is one of more than 40 similar programs across the country that attracts 140,000 participants annually. Each program designates two outstanding lead performers to represent their state at the national Jimmy Awards® where they compete for scholarships and are mentored by icons in the Broadway industry. O'Brian and Nugent will represent Colorado June 26 in New York City.
For a complete list of this year's winners and nominees, visit denvercenter.org.
https://www.denvercenter.org/wp-content/uploads/2023/05/Overland-High-School-Urinetown.-Overall-Production-Nominee-2023-Bobby-G-Awards.-Photo-by-McLeod9-Creative.jpg
4480
6720
Suzanne Yoe
Suzanne Yoe
2023-06-08 10:00:34
2023-06-08 10:01:55
The Roar of the Bobby G's