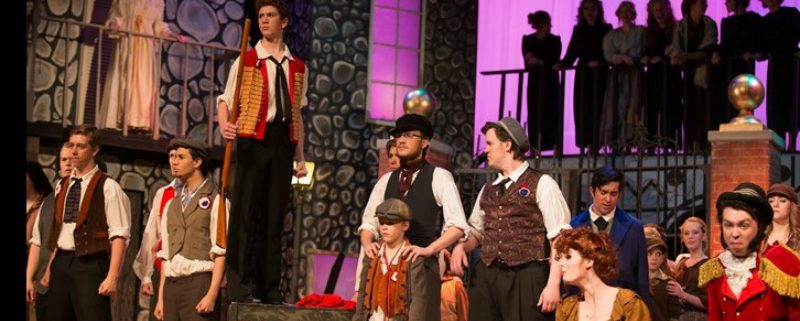 Countdown to the Bobby G Awards: Arvada West High School
Arvada West is the fifth of five schools nominated for Outstanding Musical we have been featuring here in the DCPA NewsCenter leading up to the May 26 Bobby G Awards at the Buell Theatre. 'Les Misérables' is nominated for 10 awards.
ARVADA WEST HIGH SCHOOL

Les Misérables
11595 Allendale Drive, Arvada CO 80004 MAP IT
WEB SITE
The Arvada West Theatre Company almost had a much more interesting name. "We wanted to go by The Negative Wing Space Theatre Company given our very limited wing space in our theater," joked teacher Lindsey Welsh. "We nixed that idea, but ultimately we are very blessed with our space." Welsh, a graduate of Colorado State University, never took a course in theatre and didn't direct her first show until she got to Arvada West. "My first show was The Curious Savage because that was the last straight play I had acted in," she said. "We had a very small cast and crew, but it was a roaring success. After that, our theatre company has grown exponentially. More students join the company with each production." Welsh is now in her fourth year at the school. "I love to challenge my students," she said. "We have taken on shows such as Noises Off!, The Phantom of the Opera, The Laramie Project, Jekyll and Hyde, and finally Les Mis. It has been quite the adventure."
Reserve your seat for the May 26 Bobby G Awards

Tell us a little about your school's theatre tradition and history: "Before I came to Arvada West, the theatre department was small and not yet established. The program had gone through six directors in five years. When I walked in, I had no idea what to expect. My two performing-arts colleagues, Chris Maunu and Craig Melhorn, showed me the ropes. It was through them I discovered that the performing arts are incredibly high-achieving departments, and I wanted my theatre department to rise to its former glory. I grew up in Arvada and remembered going to Arvada West musicals as a child and loving them. I remember being captivated by those seemingly professionally executed shows. I wanted to instill that feeling in our theatre company again. I believe we are definitely on the road to that, but there are a few individual students who have really helped shape the program into what it is today. On the technical side, Stage Manager Mikayla Assmus has been a blessing for our department. She has completely transformed the work ethic and expectation of what stage crew means. And on the acting side over the past four years, Jordan Crout, Bradley Becker, Emily Holtz, Stephanie Bess, Danny Miller, Rowan Anderson, and Joe Lopez (just to name a few) have truly set the bar for students to come.
Your program goals: Without a doubt, my goal is always to put on a Broadway-worthy production every time. I want their performances to be clean, crisp and genuine to the human experience. I want them to elicit some emotion from every individual in the audience. But at the end of the day, I also want them to have fun and to love what they do. (Pictured above: Garrett Charles, left, and repeat nominee Danny Miller, right, are both nominated for Outstanding Actor for their work in 'Les Misérables.')
What kind of general support do you get? Our school is incredibly supportive of the arts, as they are with all extra-curricular activities. However, the performing-arts department is consistently pushing the envelope, and I am so blessed to have a school and district that allows for that kind of artistic freedom and exploration. We are urged to challenge our students and go above and beyond every time. From our department to our administration, we have a shared vision.
What would you say to a younger student at your school who might be nervous or unsure about participating in the performing arts? It's like a family, so come on in. We might get cranky or overly boisterous but in the end, every one in our department loves each other and would do anything for one another. I would also say that everyone, no matter what their talents are, can find success and a home in the performing arts. They just have to keep an open mind.
What does it mean to your school for your show to be nominated for Outstanding Musical by the Bobby G Awards? We are incredibly humbled and honored. This show has been a dream of ours for the past two years, and this nomination means our blood, sweat and tears have paid off.
What does this whole experience tell you about the value of arts education and extracurricular activities at your school? We have loved participating in the Bobby G Awards because it does very much validate the how much arts education means for our school.
Last word: I can't wait to see where the next four years take the Arvada West Theatre Company.

​More Colorado theatre coverage on the DCPA NewsCenter

Arvada West's orchestra is among the school's 10 nominees for Bobby G Awards on Thursday.
Arvada West's 2016 Bobby G Award nominations

Overall Production of a Musical (Les Misérables)
Outstanding Direction: Lindsey Welsh
Outstanding Musical Direction: Chris Maunu and Craig Melhorn
Actor in a Leading Role: Danny Miller, Jean Valjean
Actor in a Leading Role: Garrett Charles, Javert
Choreography: Angie Dryer
Hair and Makeup Design: Kendall Mesch
Lighting: Whitney Larson and Kayli Porterfield
Chorus
Orchestra




Previous 2016 Outstanding Musical Nominee profiles:
Cherry Creek High School
Fairview High School
Mountain View High School
Denver School of the Arts
Arvada West High School

Bobby G Awards: Ticket information

Thursday, May 26
Buell Theatre
7 p.m.
Tickets: 303-893-4100 or BUY ONLINE

Selected recent NewsCenter coverage of the Bobby G Awards:
2016 Bobby G Award nominations: The complete list
​Bobby G Awards a triumph for Durango High School
Video: Outstanding Actor Nominee Performances
Video: Bobby G Award winners sing National Anthem at Rockies game
Video: The Acceptance Speeches
Video: A look at Durango's Outstanding Musical, Les Misérables
Photos: The 2015 Bobby G Awards. (Download for free)
Andre' Rodriguez's stirring Bobby G Awards speech
Video: See how we introduced all 30 participating schools
Video: Page to Stage highlights with Bobby G Awards winners
Meet your Bobby G Awards nominees, in their own words
Video: Coloradans on Broadway to high-schoolers: 'Be relentlessly yourself'
2014-15 Bobby G Awards: Complete list of nominations


https://www.denvercenter.org/wp-content/uploads/2018/04/featured-image-3354.jpg
501
800
John Moore
John Moore
2016-05-23 15:33:00
2016-05-23 15:33:00
Countdown to the Bobby G Awards: Arvada West High School