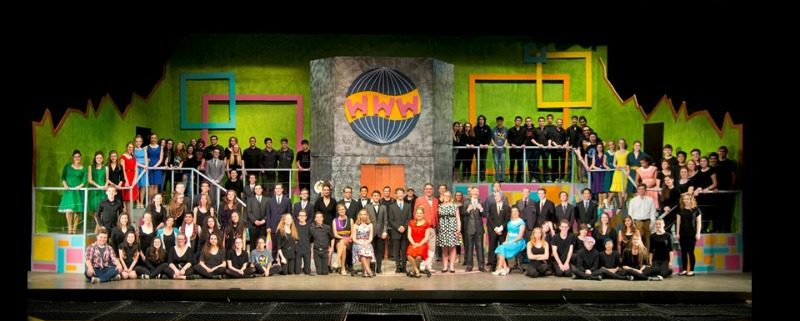 Countdown to the Bobby G Awards: Cherry Creek High School
Cherry Creek High School is the first of five schools nominated for Outstanding Musical we will be featuring here in the DCPA NewsCenter in the days leading up to the May 26 Bobby G Awards at the Buell Theatre.
CHERRY CREEK HIGH SCHOOL
How to Succeed in Business Without Really Trying
9300 E. Union Street, Greenwood Village, CO 80111 MAP IT
WEB SITE
The Cherry Creek High School Drama Club is called the Union Street Players, Troupe 1730. We received our Charter from the International Thespian Society in 1957. The program is run by local actor and costumer Jimmy Miller, who is in his 18th overall year teaching and his third year teaching at Cherry Creek. He recently earned his masters degree in Theatre Education at the University of Northern Colorado Greeley. Miller is a graduate of Cherry Creek and a member of Troupe 1730 since 1981. "It is a wonderful experience to lead about 200 exceptional students in Creek's theatre program," he says.
Reserve your seat for the May 26 Bobby G Awards

Tell us a little about your school's theatre tradition and history: Our program was started in 1973 by Bob Wells (currently resident director at the Town Hall Arts Center). When I took this job three years ago, I wanted to return the program to how it was when Michelle Busti taught here. I have worked with Creek's thespian board and all my theatre students to build positivity and inclusivity in our program.
Your program goals: My goal is to run our theatre program like a professional theatre and to give my students as much of a professional experience as possible. My objective at the beginnings of shows is to help students create memorable, authentic character choices to bring our productions life and energy. I also strive to have as many original elements designed by students as possible. We have meetings for set and lighting design, costume design, and overall production. We have structured rehearsal times and organized tech weeks to help create the best shows possible.
What kind of general support do you get? The administration, faculty, and community at Creek have been incredibly supportive of our theatre program. While we do not have the same recognition as the football team, we have earned a reputation for putting on professional-quality shows and for raising the bar in production qualities and acting values.
What would you say to a younger student at your school who might be nervous or unsure about participating in the performing arts? Our thespian board has made it a goal to make strong connections with younger thespians and with students outside of our theatre community. Theatre teaches so many aspects about dealing with the challenges of life, and we work to be welcoming of all students who want to participate, be it on the stage or behind the curtain.
What does it mean to your school for your show to be nominated for Outstanding Musical by the Bobby G Awards? Considering the excellent productions also named, we are deeply honored to be nominated this year for our work on How to Succeed in Business Without Really Trying. The Bobby G Awards are the gold standard of excellence in Colorado high-school theatre, and we are humbled to receive this recognition.
What does this whole experience tell you about the value of arts education and extracurricular activities at your school? We have worked incredibly hard this school year on all our productions, and I know our school and community highly value arts education and extracurricular activities here at Creek. A perennial goal of our program is to maintain a professional atmosphere that encourages further support and respect from our school and community.
Last words: We are honored to be a part of the Bobby G Awards this year, and we cannot wait to see all of the amazing work put on by our fellow thespians.

​More Colorado theatre coverage on the DCPA NewsCenter

Cherry Creek High School is nominated for Outstanding Costumes.
Cherry Creek High School's 2016 Bobby G Award nominations

Overall Production of a Musical
Direction: Jimmy Miller
Hair and Make-up Design: Marrisa Hadden
Costume Design: Jimmy Miller and Katya Zabelski
Lighting Design: Yasmin Farsad
Scenic Design: Jack Hagen, Yuuki Hashimoto and Caleb Nghe
Choreography: Ronni Gallup
Chorus




2016 Outstanding Musical Nominee profiles:
Cherry Creek High School
Fairview High School
Mountain View High School
Denver School of the Arts
Arvada West High School

Bobby G Awards: Ticket information

Thursday, May 26
Buell Theatre
7 p.m.
Tickets: 303-893-4100 or BUY ONLINE

Selected recent NewsCenter coverage of the Bobby G Awards:
2016 Bobby G Award nominations: The complete list
​Bobby G Awards a triumph for Durango High School
Video: Outstanding Actor Nominee Performances
Video: Bobby G Award winners sing National Anthem at Rockies game
Video: The Acceptance Speeches
Video: A look at Durango's Outstanding Musical, Les Misérables
Photos: The 2015 Bobby G Awards. (Download for free)
Andre' Rodriguez's stirring Bobby G Awards speech
Video: See how we introduced all 30 participating schools
Video: Page to Stage highlights with Bobby G Awards winners
Meet your Bobby G Awards nominees, in their own words
Video: Coloradans on Broadway to high-schoolers: 'Be relentlessly yourself'
2014-15 Bobby G Awards: Complete list of nominations


Jimmy Miller, right, won a 2014 Bobby G Award. The production was 'Joseph and the Amazing Technicolor Dreamcoat.' Photo by John Moore for the DCPA NewsCenter.
https://www.denvercenter.org/wp-content/uploads/2018/04/featured-image-3366.jpg
450
800
John Moore
John Moore
2016-05-18 16:58:00
2016-05-18 16:58:00
Countdown to the Bobby G Awards: Cherry Creek High School