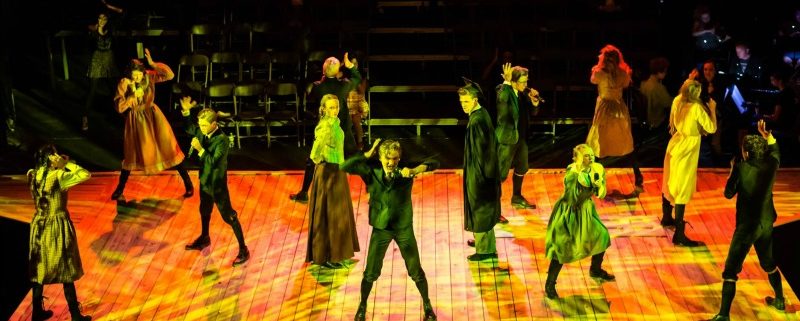 Countdown to the Bobby G Awards: Denver School of the Arts
Denver School of the Arts is the fourth of five schools nominated for Outstanding Musical we will be featuring here in the DCPA NewsCenter in the days leading up to the May 26 Bobby G Awards at the Buell Theatre. Denver School of the Arts. Spring Awakening is nominated for seven awards. Photo by Jennifer M. Koskinen.
DENVER SCHOOL OF THE ARTS

Spring Awakening
7111 Montview Blvd, Denver, CO 80220 MAP IT
WEB SITE
Denver School of the Arts is a comprehensive secondary arts magnet school for grages 6 through 12. It is part of the Denver Public Schools District. In addition to a rigorous academic program, students engage in intensive studies in Creative Writing, Dance, Music, Stagecraft and Design, Theatre, Video Cinema Arts and Visual Arts. DSA is committed to fostering a lifelong love of the arts in a culturally diverse, academically challenging environment. The theatre program itself is made up of about 160 theatre students who auditioned to gain admittance. Its leader is Shawn Hann, who has been at the school for 15 years.
Reserve your seat for the May 26 Bobby G Awards

Tell us a little about your school's theatre tradition and history: DSA, as it is known for short, started as part of Cole Middle School. Arts classes were held in the Byers building fro the late 1990s until the school was opened in its present location 13 years ago. Our most notable graduate and Colorado thespian is probably Gabriel Ebert (pictured at right), who won the Tony Award for Best Supporting Actor for his work as Mr. Wormwood in Matilda. Most recently he appeared in the movie Ricky and the Flash with Meryl Streep and Kevin Kline. Gabe still comes back as an occasional guest artist, and he meets up with DSA students in New York every year to talk about acting. Another notable grad is Justine Lupe (Schomp), who was on Harry's Law, Shameless (with William H. Macy), Younger (with Sutton Foster), and in the film Frances Ha. DSA grad Jesse JP Johnson is currently in SpongeBob the Musical on Broadway. Jesse has done seven national tours, as well as three years in the ensemble of Wicked on Broadway. New York playwright Max Posner (Judy) is also a DSA theater major, as well as his sister Jessica Odede Posner, who founded Shining Hope for Communities in Kenya, Africa. Also five members of the class of 2010 created the Black Actors Guild in Denver, who take Shakespeare into elementary schools and create original work.
Your program goals: Our school is slightly different than a traditional high school in that we are a DPS magnet school. Students audition for one of 11 arts majors and get the opportunity to be a part of that art every single day for 90 minutes. Many of our students travel between 25 minutes to an hour to get to our campus and are very dedicated to studying theatre. Our goal in our performances is to give as many kids mainstage opportunities as possible in any given year, to challenge them with difficult material, and to work together with dancers, musicians, vocalists, and stagecraft majors. Spring Awakening, however, is cast with only acting majors as it is a theatre major performance not an all-school musical.
What kind of general support do you get? We are a "do it yourself" organization. The tickets for each show pay for each show. Most of the time we barely break even on any show that we put on our mainstage. Support live theatre! .
What would you say to a younger student at your school who might be nervous or unsure about participating in the performing arts? Our department motto is this: Step into the fear and be brave. We talk a lot with our students about how taking risks and putting yourself out there, being vulnerable, is the only way that you will get rewards back from this art form. I would say have fun and go for it.
What does it mean to your school for your show to be nominated for Outstanding Musical by the Bobby G Awards? We are beyond thrilled to be nominated for Outstanding Musical. The students have worked so hard on this production and believe so strongly in the message this musical carries. When we performed the show at our own school, many audience members were so moved and touched by the story that they opened up to cast members and school counselors about problems they had been dealing with at our school. The whole point of Spring Awakening is to encourage that kind of communication.
What does this whole experience tell you about the value of arts education and extracurricular activities at your school? Theatre changes students' lives. It gives them skills that will transfer into any occupation after high school. From self-esteem to coping skills to organizational skills to working as a team and/or leading a group, stidents walk away with a massive skill set.

​More Colorado theatre coverage on the DCPA NewsCenter

Denver School of the Arts' is nominated as Oustanding Supporting Actor for 'Spring Awakening.' Photo by Jennifer M. Koskinen.
Denver School of the Arts' 2016 Bobby G Award nominations

Overall Production of a Musical (Spring Awakening)
Outstanding Direction: Shawn Hann
Actor in a Leading Role: Michael Kosko, Moritz
Actor in a Supporting Role: Jimmy Bruenger, Hanschen
Hair and Makeup Design: Skylar Arterburn and Owen Nuss
Costume Design: Mary V Benoit and Lara Kirksey
Orchestra




Previous 2016 Outstanding Musical Nominee profiles:
Cherry Creek High School
Fairview High School
Mountain View High School
Denver School of the Arts
Arvada West High School
Bobby G Awards: Ticket information
Thursday, May 26
Buell Theatre
7 p.m.
Tickets: 303-893-4100 or BUY ONLINE

Selected recent NewsCenter coverage of the Bobby G Awards:
2016 Bobby G Award nominations: The complete list
​Bobby G Awards a triumph for Durango High School
Video: Outstanding Actor Nominee Performances
Video: Bobby G Award winners sing National Anthem at Rockies game
Video: The Acceptance Speeches
Video: A look at Durango's Outstanding Musical, Les Misérables
Photos: The 2015 Bobby G Awards. (Download for free)
Andre' Rodriguez's stirring Bobby G Awards speech
Video: See how we introduced all 30 participating schools
Video: Page to Stage highlights with Bobby G Awards winners
Meet your Bobby G Awards nominees, in their own words
Video: Coloradans on Broadway to high-schoolers: 'Be relentlessly yourself'
2014-15 Bobby G Awards: Complete list of nominations


https://www.denvercenter.org/wp-content/uploads/2018/04/featured-image-3356.jpg
448
800
John Moore
John Moore
2016-05-21 15:54:00
2016-05-21 15:54:00
Countdown to the Bobby G Awards: Denver School of the Arts